The Seahawks will be without both of their starting cornerbacks when they take the field vs. Jared Goff and the Rams this Sunday. After not practicing all week, Shaquill Griffin (concussion/hamstring) and Quinton Dunbar (knee) were both officially ruled out this afternoon. The defense will also be without defensive tackle Bryan Mone, who suffered a sprained ankle during Sunday's loss to the Bills.
Head coach Pete Carroll had been cautiously optimistic with Griffin and Dunbar, stating that decisions on both players would need to wait until later in the week when addressing the media on Wednesday. Griffin was ruled out prior to practice on Friday, with Dunbar originally listed as questionable before being downgraded after today's practice.
"He's quieted down," Carroll said on Dunbar. "We're trying to do rehab work with him right now. I saw him this morning and he's in the mode of getting back. It's going to be a bit before we get him back and get him right, it's going to take some time to take advantage of the rehab. He's making good progress but not enough progress to play in the game."
With Mone out, Seattle plans to activate defensive tackle Damon "Snacks" Harrison. The nine-year veteran would be making his Seahawks debut after signing to the team's practice squad in early October. "I am really excited to see him play," Carroll said. "He's been a unique player for a long time. He's worked really hard to get ready to go. I'm really hoping he'll have some success and have some fun playing football again … the style of play that he brings fits really well."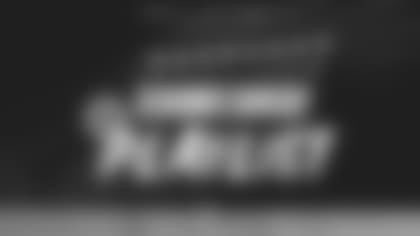 Follow the Seahawks Gameday Playlist on Spotify
Follow this playlist to hear what the Seattle Seahawks will be listening to all season long, curated by DJ Supa Sam, the official DJ of the Seahawks. Now playing: Week 1 at Colts
On the offensive side of the ball, questions remain at running back. Carroll noted that as of today, RB Carlos Hyde (hamstring) has a better shot of playing than Chris Carson, who continues to nurse a foot sprain. Both backs are listed as questionable for Sunday.
"Carlos practiced today and got work done for the first time in a bit," Carroll said. "Chris is running today and tomorrow and is going to run on game day, see if he's ready to go. We're waiting as long as we can to help him out. We think Chris has a chance if we don't overdo it early. That's why we decided not to put him on the field today. He still worked out and ran and all of that."
Carroll noted that Carson and Hyde add unique elements to the offense, but that other players are able to leave their imprint on the game if needed as well.
"Chris Carson is Chris Carson, he's got a style all his own," Carroll said. "And Carlos has got his own. So we love the way those guys play, and you do miss them. But other guys have their own, so they bring their styles as best they can."
Regardless of who gets the carries, they'll be doing so without center Ethan Pocic blocking for them. Pocic is listed as out for Sunday as he remains in concussion protocol. Carroll spoke about the prospect of Kyle Fuller, Pocic's backup, facing Rams DT Aaron Donald.
"Kyle's a good athlete," Carroll said. "He's real strong, athletic, physical kid. He's played quite a bit of football now in the league, so we've seen him for years. He's ready to go. He's been right there at the edge of getting in and playing."
Some other updates Carroll provided Friday:
K.J. Wright (questionable — ankle): "He looked very good today. We waited until today, he looks fine today. So there's a really good chance he'll be okay for the game."
Neiko Thorpe (hip): "Neiko's ready to go. We're really excited about getting him back. He's been a real centerpiece on special teams — captain of the special teams — and we've really missed him."
Mike Iupati (back): "Mike had a real good week, he's ready to play football."
WRs Penny Hart (knee) and Freddie Swain (foot), and DE Alton Robinson (illness) are listed as questionable.