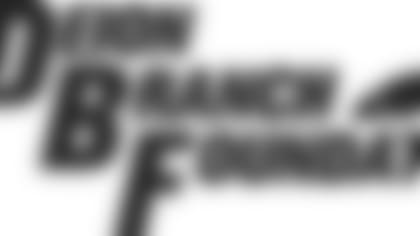 BELLEVUE – Over 150 fans and supporters packed Lucky Strike in Bellevue's Lincoln Square Mall on Tuesday, September 9th to help Seattle Seahawks Wide Receiver Deion Branch and his wife Shola raise more than $10,000 for Seattle Children's Hospital during the annual Deion Branch "Charitabowl" Celebrity Bowling Tournament.
Proceeds from the event will help fund research on Group B Streptococcus (GBS), bacteria that is essentially harmless in healthy adults, but can cause potentially deadly infections including meningitis, in premature babies and neonates. If a child survives GBS infection, he or she may suffer long-term problems such as severe neurological impairments and/or developmental disabilities.  The study of GBS infections will help improve the lives of some of the most vulnerable of children, and will also advance the study of afflictions that threaten all children.
Over 40 Seahawks players participated in the event as bowling lane team captains, along with former Hawks players Warren Moon and Mack Strong.  SportsRadio 950 KJR AM host Dave "Softy" Mahler emceed the evening's activities.
"We are so grateful to my teammates, our sponsors and everyone that contributed to making this year's event so successful," said Branch who established his foundation in 2002 after his son, Deiondre was diagnosed with Meningitis. "The people in this community are the most generous I have ever been around.  I know next year's will be even bigger."
The evening kicked off with a "first choice of celebrity bowler" auction that drew $1,000 for Hawks Defensive End Julian Peterson.  The Karmichael Auto Salon team took home first place for the highest bowling score of the night.
A 12th Man Flag signed by the Seattle Seahawks in attendance was the top draw at the auction, raising $1,300. A framed, game-worn New England Patriots jersey signed by #12 Tom Brady brought in $1,025.
Other auction items included: A School Assembly with Deion Branch; A signed Matt Hasselbeck Framed Jersey; a Seattle Seahawks Build-A-Bear built by #83 Deion Branch
The Deion Branch Charitable Foundation is a non-profit organization whose mission is to offer support to children's mental, physical, and emotional well-being by assisting programs and initiatives aimed at improving their quality of life. For more information please go to www.deionbranch83.com.