Philip Feliciano's 2016 NFL Draft experience started with an unexpected phone call.
On the line with the 55-year-old vascular surgeon was Seahawks ticket sales and service manager Lindsay Walker, who informed the Bellevue, Washington season ticket holder that he had been hand-picked to represent the club at the League's annual selection process in Chicago, Illinois.
"I was really shocked," Feliciano said via e-mail this past week. "... I just got done with a surgical operation and picked up my phone and it was ringing. I didn't recognize the number and typically I don't answer it, but I did and it was Lindsay. She told me I won and I didn't remember that I had entered the contest."
The contest in question called on Seahawks season ticket holders to submit a photo that best displayed their 'We Are 12' spirit. Feliciano's photo, selected from more than 700 entries, featured a shot of his three children attending a Seahawks game at the Kingdome coupled with a more recent shot of the trio attending a game at CenturyLink Field, a setup Feliciano said he loves "because it reminds me of how my kids grew up with the Seahawks."
"I had no idea I had any chance of winning," Feliciano said. "In fact, this is the first thing I have really ever won in a contest."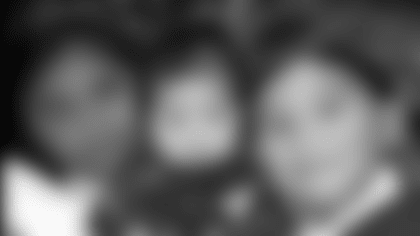 What Feliciano won included unique behind-the-scenes access to all things NFL Draft, from pre-draft parties, lunch with NFL Legends and current players, a customized team jersey, a walk on the red carpet, and even a backstage visit with NFL Commissioner Roger Goodell. Feliciano was accompanied by his son, Philip Michael, who presented a Seahawks jersey and draft cap to Goodell, and his daughter, Hannah, who announced Seattle's sixth-round pick, TCU center Joey Hunt, on stage in a "moment of Seahawk glory," as Feliciano put it.
"The Seahawks have become a very big part of our family," Feliciano said. "It is a family tradition for almost 20 years that we go have dim sum before the game. We look forward to both the food and the game every Sunday. We have been there for the Tony Romo fumble, the MNF hail mary against Green Bay, the NFC championship against SF. There have been so many great moments.
"I have always said that it is hard to find something that the whole family enjoys, but all of us love the Seahawks," he added. "The draft experience has only strengthened those ties to the Seahawks. We were so incredibly proud to represent the Seahawks at the 2016 NFL Draft."
Season ticket member Philip Feliciano represented the Seattle Seahawks at the 2016 NFL Draft, going behind the scenes at various draft festivities in Chicago.