This week, several Seattle Seahawks players, coaches, and others are participating in the NFL's My Cause My Cleats Campaign.
The beginning of Week 13 signifies the kickoff of the 2021 My Cause My Cleats campaign, and players across the country will "wear their hearts on their feet" through customized cleats that represent organizations that are significant to each of them.
This year, the 35 participants will be supporting youth empowerment, social justice and environmental causes, and healthcare accessibility. For many, the annual My Cause My Cleats game is an opportunity to continue longtime support for their organizations.
Players like L.J. Collier and Brandon Shell will be supporting healthcare organizations that are personal to them. Like last year, Collier will raise awareness for the Pancreatic Cancer Action Network in memory of his mother, Ruby, who he lost to pancreatic cancer when he was a freshman at TCU. Brandon Shell, who struggled with a stutter growing up, will once again be representing the National Stuttering Association which aims to empower and support children with speech impediments through education, advocacy, and research.
Bryan Mone and Freddie Swain will also be representing their healthcare and accessibility organizations for the second year in a row. Mone will represent Choice Supports, an organization working to provide support services to those with developmental disabilities, and Swain will support the Alzheimer's Association.
Many players are using the My Cause My Cleats campaign as an opportunity to address social justice issues. For the second consecutive year, DeeJay Dallas will be supporting Justice For Black Girls — an organization which intends to expand global knowledge of how U.S.-based systems of power respond to and perpetuate the abuse of Black girls in schools, prisons, and protests — and DK Metcalf will continue to support the Prison Fellowship which works to serve those affected by crime and incarceration and aims to see lives and communities restored in and out of prison.
Some players have chosen to represent new organizations. Specifically, Will Dissly and Tyler Lockett have chosen causes with a focus on environmental sustainability. Dissly will raise awareness for 4ocean, a corporation committed to ending the ocean plastic crisis, and Lockett will support Gathering Place, a cornerstone for the Tulsa, Okla. community while also improving social, economic, and environmental sustainability.
Other players and participants are using this year's My Cause My Cleats game to raise awareness for their own organizations. Russell Wilson is raising awareness for the newly opened Why Not You Academy in Seattle. Schneider will again represent Ben's Fund, a nonprofit established with his wife, Traci, in honor of their son who was diagnosed with autism at the age of three and, in partnership with the Seattle Foundation, is intended to provide financial support and guidance to children and young adults in the state of Washington who have autism.
New this year, Carlos Dunlap II will represent the Carlos Dunlap Foundation which strives to bridge the gap between post-high school life and career-ready resources to allow more athletes and underserved youth to pursue educational and entrepreneurial aspirations with fewer barriers. Gerald Everett will represent the Gerald Everett Foundation intended to bring better change and coexistence in society and communities, and to bind stronger resources into the communities that are easily accessible. Alex Collins will also represent his own organization, Adversity Killers, which inspires people to attack adversity head on and overcome any obstacle that life presents.
Similarly, team mascot Blitz will also be representing his own organization, Kicks4Kids, which has been dedicated to donating shoes to children in need throughout this season. Plus, for the first time ever, the Seahawks Dancers will also be participating in the My Cause My Cleats campaign and will support the Broadview Domestic Violence Center which uses a trauma-informed care model to provide case management, children's programs, domestic violence and addiction support groups, parenting classes, and housing search assistance.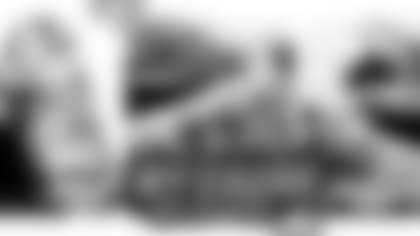 My Cause My Cleats
"My Cause My Cleats" allows players to wear customized cleats designed in collaboration with artists that reflect their commitment to charitable causes.
Here's a full list of causes that will be represented by the Seahawks on Sunday:
Social Justice
Healthcare & Accessibility
About the Artists
Sean Vergara — Designer of Cody Barton, Nick Bellore, Will Dissly, Penny Hart, Sidney Jones IV, Walter Jones, Colby Parkinson's Shoes
Vergara is a Seattle-based visual artist with heavy focuses in painting, drawing, illustration, and design. He uses his experience in sports and the arts to merge visual cues from a variety of cultural sources, such as photography, fashion, architecture, and design, to create pieces that tell unique visual stories.
Marcus "Cus" Williams — Designer of Chris Carson, L.J. Collier, Alex Collins, DeeJay Dallas, Carlos Dunlap, Gerald Everett, Poona Ford, Stone Forsythe, Kyle Fuller, Gabe Jackson, Damien Lewis, Bryan Mone, D.J. Reed, Alton Robinson, Brandon Shell, Geno Smith, Freddie Swain, Darrell Taylor, Al Woods, and John Schneider's Shoes
Williams is a self-taught Seattle born and raised artist. Inspired by bright colors, character drawings, and graffiti, he has been working as an independent artist for nearly 12 years, six of which has been spent working with the Seahawks for the My Cause My Cleats campaign. Over the years, he has designed cleats for Cliff Avril, Michael Bennett, Frank Clark, and Russell Wilson.
Stevie Shao — Designer of Russell Wilson's Shoes
Shao is a Seattle born-and-raised illustrator and muralist whose work features bold colors, folk art inspired imagery and a love for the plant and animal life from the region. She is passionate about local causes related to environmental stewardship, racial justice and preserving historic community roots.
Mohammed Gafar — Designer of Pete Carroll's Shoes
Gafar is the Maryland-based artist behind Head Coach Carroll's customized Nike Monarchs which highlight the Washington-based nonprofit Choose 180. Gafar is a multi-medium artist and has focused on the customization of footwear for nearly seven years. In addition to his work with My Cause My Cleats, Gafar has worked with companies like Under Armour, several NFL teams and players and numerous NBA players.
Jalanda Marie — Designer of the Seahawks Dancers' Shoes
Marie is a Florida-based designer for Nordstrom and other private label brands. After studying art and design at Parsons in New York City, Marie moved to Nashville where she owned her own boutique and spent two seasons with the Tennessee Titans cheerleaders before joining the Seattle Sea Gals. She recently moved back to South Florida where she enjoys sewing, painting, and decorating.
Brad Torf — Designer of Blitz's Shoes
Torf is a Chicago-based artist who started designing shoes in 2012. From kids to adults, celebrities to athletes (and mascots), to charities and fundraisers, Torf offers a diverse body of work.
Seahawks players, dancers, and staff will wear custom designed cleats and shoes supporting causes they feel passionate about during Week 13 vs. the San Francisco 49ers on December 5.