Keenan Reynolds joined the Seahawks in May having spent most of his two seasons in the NFL on practice squads. Even so, Reynolds made an impression on his teammates right away, and not just because of his talents as a receiver, but because of who he was as a person who'd been shaped by his time attending the United States Naval Academy.
"He's very on the details and he expects a certain level and a certain standard from people that he interacts with, which is great for our room because it sets a precedent," fellow receiver Doug Baldwin said earlier this year. "Even though he's still young by NFL standards, he's a great leader already. He's going to be a very pleasant presence for our team moving forward.
"We've talked about his experience at the Naval Academy and just what all that entails and what that comes with, the pressure that that comes with. I think he's handled it pretty well. He's told us some stories that are different, interesting. Just his character as a human being is really broad, it's a different perspective than a lot of the guys in that room. He brings a special element to our team for sure."
The NFL is honoring veterans and active duty service members in November with its annual Salute to Service month, and when teams host their Salute to Service games, they can be significant to numerous players and coaches, whether because they have relatives in the military or simply because of the respect they have for those who serve. But for Reynolds, Seattle's Salute to Service game, presented by USAA against the Packers is particularly meaningful because he is one of the few athletes who has gone from a service academy to the NFL. Making Reynolds' time in Seattle even more meaningful has been the large military presence in the region, which has allowed him to connect with local members of the armed service, including people he went to school with in Annapolis.
"It's awesome to see the military getting its own month," said Reynolds, who is a cryptologic warfare officer with a rank of Lieutenant Junior Grade. "That's pretty dope. It's also nice being in a military city. I've got guys I went to school with that hit me up here and there, so that's pretty cool."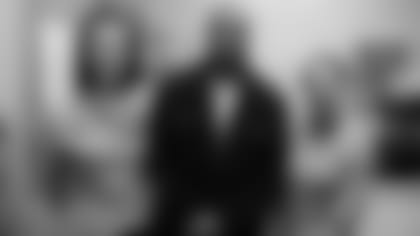 Reynolds also has a unique level of appreciation when the Seahawks host visitors from the armed forces at practice.
"I've got a lot of respect for those guys—we had SEALs out, we had the Blue Angels one day—a lot of respect, because those are the people actually out there in the mud really getting after it," Reynolds said. "So any time I get to meet them, I'm very grateful for their service and their commitment."
Reynolds, who as Navy's quarterback set an NCAA Division I record with 88 career touchdowns, was a sixth-round pick in 2016, making the move from option quarterback to receiver, and after spending most of his rookie season on Baltimore's practice squad, he earned a late-season promotion to the 53-man roster, though he was inactive for his one game after being called up. He spent the 2017 season on Washington's practice squad, then signed with the Seahawks this offseason. Reynolds opened the year on Seattle's practice squad, then was called up to the 53-man roster in September, appearing in two games on special teams, before eventually landing back on the practice squad.
While pursuing a roster spot is a full-time job for any young NFL hopeful, Reynolds still makes time in his offseason to serve in the U.S. Navy Reserve, a requirement since he was given a waiver that allowed him to forgo active service time to pursue his NFL career. And while Reynolds would never compare playing football to serving in the military, the latter has helped him in his current career.
"It has been a big part of my development, I've learned a lot," Reynolds said of his time in Annapolis. "Obviously being in the NFL, I've also learned a lot about myself. A lot of the things I had to endure at the academy definitely helped my mindset coming here. I don't like to compare the military to the NFL, but there are some similarities as far as the mindset needed to be successful in both areas."
For the Seahawks "Salute To Service" game, presented by USAA on Thursday night against the Green Bay Packers at CenturyLink Field, 96-year-old U.S. Air Force combat veteran Staff Sergeant Art Unruh, a B-17 waist gunner for the 32nd Fighter Group during WWII, will raise the 12 Flag prior to kickoff. Unruh visited Seahawks practice on Tuesday, meeting with players, coaches, and staff. During a six month span in 1944, Unruh participated in 243 hours and 15 minutes of aerial combat. His awards and decorations include a Silver Star, Air Medal, WWII Victory Medal and the European-African-Middle Eastern Campaign Medal. Unruh has lived in Everett, Wash. since 1952 and serves as a docent at Paul Allen's Flying Heritage & Combat Armor Museum.