SEATTLE -- Thursday night marked the first time C.J. Prosise has heard plays called in the huddle since, well, ever.
The way the rookie running back describes it, he played in an up-tempo, no-huddle offense in high school and in college at Notre Dame. The last time he was told what to do in the huddle rather than looking to the sideline for a signal came in "rec league," but "even then they'd just tell me which way to run."
"So I really was never in a huddle I guess," Prosise said following the Seahawks' 27-17 win over the Dallas Cowboys at CenturyLink Field. "So it's pretty cool."
The game against the Cowboys marked Prosise's first action of Seattle's preseason. Selected by the Seahawks in the third round of the 2016 draft with the No. 90 overall pick, Prosise hurt his hamstring on the opening day of training camp and missed the first two exhibitions as a result. The coaching staff called Thursday's game against Dallas an important one for Prosise, who the club has expressed it has plans to use as a third-down back this season, as well as on special teams.
"You just want to be out there and you want to be out there competing," Prosise said of being forced to play spectator the past two weeks. "It was tough at first, but I had to focus on myself mentally and get those mental reps and still learn the offense as much as possible. I knew once I got in there, I was going to be thrown in there and expected to know what I was doing. That's what I did. I just got out there and I was just ready to go when I got out there."
While Prosise didn't receive any action on special teams against the Cowboys, he saw 16 snaps at running back, which accounted for 25 percent of Seattle's offensive plays. He saw the most rushing touches behind starter Christine Michael, carrying four times for 23 yards (5.8-yard average) with a long run of 11.
"He looked good," said Seattle head coach Pete Carroll. "He looked just fine. He was very comfortable. I want to see what he looks like when he comes off the field after getting hit for the first time. He was smiling and looking forward to another chance. He went out a couple more times, and he handled it well. He's played a lot of big games, and it wasn't any big deal. He didn't know that until he did it, but once he got out there, he realized it was just the same as football has been for him. That's a great sign.
"We're going to use the heck out of him this week, and expect him to play a lot and have a big role in preparation for the opener."
Prosise added: "It felt great just to get my first action. It was fun. You go out there kind of nervous at first, got a little butterflies, but once you get that first play it's all gone and you play football again."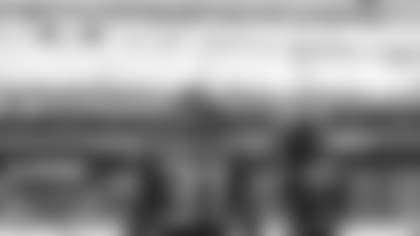 Another name making their preseason debut for the Seahawks was strong safety Kam Chancellor, who saw his first snaps of 2016 after nursing a groin injury during Seattle's previous two exhibitions.
Coming into this week's game, Chancellor said he was "itching" for contact, and against the Cowboys, the 6-foot-4, 225-pounder was involved in a few big hits early on, including collisions with first-year running back Ezekiel Elliott, who Dallas took with the No. 4 overall pick in the draft. The first hit from Elliott, who's listed at 225 pounds himself, left Chancellor a bit surprised as the rookie initiated contact.
"I was, because there was no film on him, so I didn't know if he was going to juke or whatnot, so I was a little surprised, but not the second time," Chancellor said. "The second time, you know I'm bringing that wood. I was a little surprised the first time, but he's got a lot of courage for that. I'll give it to him."
Chancellor recorded two tackles on the night and played 15 snaps, noting it "felt good" to "knock the rust off," especially against a physical back like Elliott.
"Oh I love it," Chancellor said. "That's my type of game because I'm willing to go toe-to-toe all game. I don't ever quit, so that's my type of game."
Chancellor was reluctant to come out of the game, "I just want to play as long as they let me play," he said. But Carroll felt comfortable with what he saw from the seventh-year pro.
"He felt really good," Carroll said of Chancellor. "He wanted to play more. I think he's in great shape to get through this preseason, ready to go. He should come out this next week strong and we're ready for him to be at full speed for the opener."
RELATED
Look through some photos of Seahawks vs Cowboys during Preseason Week 3 at CenturyLink Field.