The Seahawks wrapped up the 2021 with a flourish, taking down the Cardinals on the road, 38-30. Let's rewind. Subscribe and listen to the Seahawks Rewind podcast.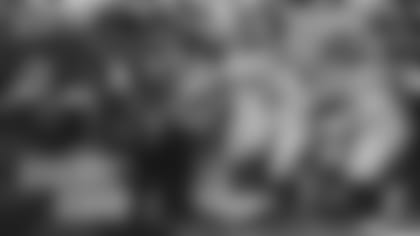 Re-live Each Game With The Seahawks Rewind Podcast
Re-live every Seahawks game this season with game highlights, player and coach postgame interviews, and a whole lot more. Available on Spotify, Apple Podcasts, Stitcher and wherever else you might get your podcasts.
Steve Raible Interview (01:38)
Pete Carroll Postgame Presser (19:37)
Jordyn Brooks Postgame Presser (36:23)
Tyler Lockett Postgame Presser (41:04)
Rashaad Penny Postgame Presser (50:00)
Russell Wilson Postgame Presser (01:04:17)
Carlos Dunlap II Postgame Interview (01:19:15)
Darrell Taylor Postgame Interview (01:28:15)
Cody Barton Postgame Interview (01:31:56)
John Clayton Interview (01:39:23)
Ethan Pocic Postgame Interview (01:45:21)
Highlight Recap (02:04:54)
Game MVP (02:13:58)
The Seattle Seahawks take on the Arizona Cardinals for Week 18 of the 2021-2022 season. This album will be updated throughout the game. Game action photos are presented by Washington's Lottery.