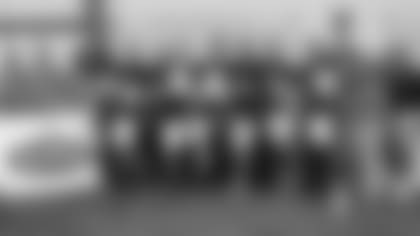 KIRKLAND, WASH. -- The Seattle Seahawks High School 7-On-7 team won the NFL's HSPD National Tournament Championships after beating the New York Jets, 37-10, this past weekend.
Comprised of 12 high school football players from around the State of Washington they represented the Seattle Seahawks in the tournament competing against 15 teams from NFL markets across the country. Riding a wave of momentum, the team finished undefeated with a record of 11-0.
Quarterback Jake Heaps, from Skyline High School, was named tournament MVP and Coach Chad Barrett was awarded the Coach Character Award voted on by his fellow tournament coaches.
"Getting the opportunity to participate in the NFL's HSPD National 7-on-7 Tournament was tremendous," said Coach Chad Barrett. "To have our team meet players and coaches from across the country was a great learning experience and something we really enjoyed. The tournament competition was tough but we showed everybody that we play good football in Washington. It was an honor to represent the Seattle Seahawks, the NFL and the State of Washington."
All of the student-athletes selected to represent the Seattle Seahawks completed the NFL's Character Development and life skills sessions during the spring of 2008. The NFL's nationwide HSPD program focuses on character development and specific skill training and provides participants with a curriculum that focuses on inspiring excellence in the classroom, community, and on the playing field.
The 2008 National 7-On-7 Tournament took place at the New Orleans Saints training facility. The Seahawks team was coached by Skyline's Chad Barrett and Mat Taylor.
Seattle Seahawks 7-on-7 Team Roster
---
D'Mario Carter, LB/RB, Kennedy High School William Chandler, WR/DB, Skyline High School Grant Gellatly, DB/RB, Issaquah High School Jake Heaps, QB, Skyline High School Jake Knecht, WR/DB, Skyline High School Casey Locker, S/QB, Ferndale High School Kirby Moore, DB/WR, Prosser High School Gino Simone, WR/DB, Skyline High School Nathan Tonani, LB/FB, Ferris High School Nolan Washington, DB/QB, Kennedy High School Tre Watson, DB/RB, Kennedy High School Kasen Williams, WR, Skyline High School