Ben Obomanu understood the deal coming in.
The third-year wide receiver from Auburn had been through two other second week of training camp scrimmages before with the Seattle Seahawks. The first year he got his feet and his second year he raised some eyebrows.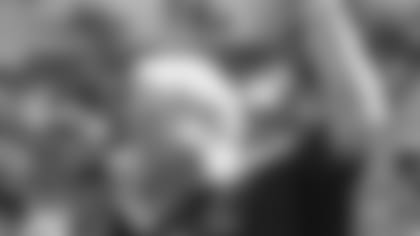 So it came as no surprise that Obomanu spent the past week raising his level of play, so when the team had its first public appearance Saturday before an estimated 11,000 at Qwest Field. Obomanu scored the first touchdown on a 13-yard pass from Seneca Wallace, and added two more impressive receptions as well during the one hour-and-15-minute scrimmage.
In the battle for the final two or three spots on the roster as wide receiver, Obomanu made a strong statement. He made a particularly aggressive player on the touchdown, catching the ball in the flat, sprinted and then dove to the pylon for the score.
"Part of it, as you get closer and closer to the preseason games, you have to take your game to another level," said Obomanu, who caught 12 passes in 12 games last season with an average of 15.0 yards a reception.
"Being in pads, getting a second wind, and being in the cold pool to get your legs refreshed ... it's a combination of things that have helped me get going. I'm just trying to put myself in a good position by the time the season starts."
Overall, Wallace was 7-of-8 for 69 yards and the touchdown in that impressive series. Matt Hasselbeck threw just one pass and played sparingly, as most of the starters were inactive in the game. Third quarterback Charlie Frye really saw the most action and he responded by completing 10-of-14 passes for 137 yards and touchdown passes of 23 yards to Michael Bumpus and 53 yards to Jordan Kent. Rookie tight end John Carlson led everybody with four receptions that were good for 33 yards - two of them for first downs.
There was never any intention for Hasselbeck to see much action, and really coach Mike Holmgren wanted to give Frye a good look. And Wallace was perfectly amenable to that situation after his impressive first drive with the first team offensive line, capped off by the touchdown collaboration with Obomanu.
"It felt to get that drive going," Wallace said. "All the receivers are working hard, and they came out to make big plays. For the young guys, it's like a game for them. A lot of guys are excited about the scrimmage and we've still got four preseason games. Coach said he got what he needed out of me and get Charlie some reps. Hopefully, that will help me out in the long run and I can get out on the field and so some other things catching the ball and returning kicks to help the team win."
It gave the coaches something to think about
"I usually try to reserve (judgment) until I see the film," Holmgren said. "But I thought the effort was good. This was a little different scrimmage than we've had in the past. We kept a lot of guys out of it because we really wanted to look at some people that were competing maybe not for starting positions, but certainly the depth and making the football team. In fairness to those young guys, we set it up a certain way."
He definitely wanted Frye to take as many live snaps as possible to get a read on how well he's executing the offense, and then he noted the receivers in particular. Logan Payne, like Obomanu caught three balls, and Kent's touchdown reflected the kind of big-play capability the 6-4, 220-pound sprinter was projected for when drafted last year from Oregon with very little football experience. And then there was Bumpus, whose 23-yard touchdown was a beauty, especially considering he took a nasty shot from Josh Wilson just as he caught the ball, but retained possession and balance to get into the end zone.
"We're counting on somebody from that group - or a couple of them - step up and play a lot," Holmgren said.
He noted the hard work put in by the offensive line, especially at center, where starter Chris Spencer has yet to participate since July 25 with a strained back, and backup Chris Gray went down three days later. That's left Steve Vallos, a tackle his senior year at Wake Forest who was projected as a guard in the 2007 draft, to play center with the first team.
"The center position has been a little problematic so far because of injury," Holmgren said. "Vallos is getting valuable, valuable work and he's getting better ever day. Every scrimmage there's some good and bad, but all in all I was very pleased with how things went today."
Moving the ball on the ground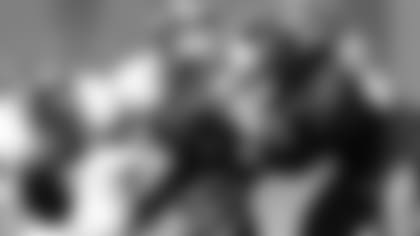 It was apparent the coaching staff wanted to get a good long look at the non-starters in the backfield as well. T.J. Duckett proved to be a load. On one particular series during the "Red Zone" drill, he had runs of 6, 3 and 7 yards before bolting into the end zone with a 6-yard touchdown. And there was no question that diminutive rookie Justin Forsett turned some heads as well.
The numbers cruncher from California, led everybody with 51 yards on 9 carries. The big one was 33 yards, a play during which defensive tackle Brandon Mebane shoved guard Pat Murray straight back into Forsett, only to have him bounce out around tackle and head up the sidelines for 33 yards. He broke another run for 9 yards despite getting hit in the backfield as well. The other eye-opener came from fullback Owen Schmitt catching a checkdown pass, getting hit in the backfield, only to break the tackle and turn it into a 9-yard gain.
"Hopefully, it helps ... the only thing I can do is go out and work hard every day and let everything else take care of itself," Forsett said. "I was blessed enough to get drafted by the team and they gave me the opportunity. Now I have to seize the opportunity."
It was tough to get a handle on all the players running in and out on defense, with so few starters seeing time. But there was little doubt the line was having a rough go with the likes Jason Babin, Chris Cooper and Nu'u Tafisi as they were constantly pressuring Wallace and Frye.
Among the defensive backs, Kevin Hobbs continued to take his stake at one of the cornerback spots, while rookie free agents David Hawthorne and Jamar Adams shared the lead with six tackles apiece.
Despite the modest crowd, he got a taste of what the noise level can be about - even comparing it to the "Big House" and the 110,000 people that showed up every week at the University of Michigan.
"That wasn't my best game out there," Adams said. "I was able to do a few things out there and I wasn't able to do a few things out there. I had a lot of opportunities because we were out there a lot. It was great. This is my first time being in this stadium. It's better (than the Big House). This was louder than 110,000.
"It's different at Ohio State-Michigan, that's another level there. But this was louder than a regular game."
Holmgren noted the superb punting again of Reggie Hodges, while incumbent Ryan Plackemeier is still recovering from a torn pectoral muscle. And the place-kicking battle between veteran Olindo Mare and rookie Brandon Coutu continued to be intense.
Coutu ended the scrimmage with a 56-yard field goal to top off the day.
"As I told the team, there were a lot of good things, and a lot of things we'll be critical of and teach to," Holmgren said. "That's what this scrimmage is for ... for the coaches too. Both sidelines were a little chaotic. I want the coaches to tighten up things just a little bit."
"It's real close (in kicking). That's going to go right down to the wire. They both did some good things today. I was happy on the last kick. We kind of set it up that way to end the scrimmage. And I thought our punter (Hodges) - Plackemeier gets hurt and we're concerned ... Hodges punted the ball very well. And he's been very consistent at camp, so we'll see. Those will be tough calls at the end."