The Seahawks looked like they might be headed for a comfortable win as they raced to an early 14-0 lead, but the Cleveland Browns prove to be a resilient opponent. But after Cleveland battled back to take an eventual 20-17 lead, Geno Smith and the offense, which had been struggling since the first quarter, put together a game-winning drive to give the Seahawks a 24-20 lead.
With the win, the Seahawks move to 5-2 and moved into first place in the NFC West thanks to Cincinnati's win over the 49ers.
Here are six rapid reactions to Sunday's win: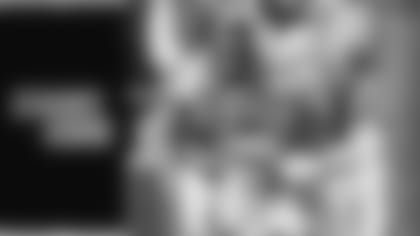 Re-live Each Game With The Seahawks Rewind Podcast
Re-live every Seahawks game this season with game highlights, player and coach postgame interviews, and a whole lot more. Available on Spotify, Apple Podcasts, and wherever else you get your podcasts.
1. Geno Smith and the offense started off great, cooled off, then pulled off a clutch drive to win it.
Facing one of the NFL's best defenses, the Seahawks looked great to start the game. With Geno Smith locked in, the Seahawks drove 80 yards on eight plays to take a 7-0 lead, then after a Cleveland turnover, Seattle made it 14-0 with a touchdown drive that was capped by a beautiful Geno Smith touchdown pass to Tyler Lockett. The Seahawks would add a field goal late in the quarter to take a 17-7 lead, and looked to be in control of the game with their offense humming against a talented defense.
For much of the rest of the game, however, it was a struggle for Seattle's offense, which went three-and-out on the next two possessions, then saw its next drive end on an interception. Seattle next four possession in the second half went punt, interception, punt, punt, and things were looking bleak as Cleveland built a 20-17 lead.
With the game on the line, however, Smith and his weapons came through in the clutch. After a Julian Love interception gave the offense one more shot at taking the lead, a drive that started at the 44-yard line with 1:57 left on the clock, Smith and the offense went to work.
Smith opened the drive hitting Tyler Lockett for 7 yards, then went to DK Metcalf for 9 more. Noah Fant then turned a short pass into a 27-yard gain with a nice run after catch. Then, following an incomplete pass and a defensive penalty, Smith connected with Jaxon Smith-Njigba, who thanks to a good block by DK Metcalf, was able to score a 9-yard touchdown that proved to be the game-winner.
2. The defense came up with three big turnovers.
For all the things the Browns have done well this season, one weakness for them has been their ball security, with their 14 turnovers coming into the game ranking second to last in the NFL. And on Sunday, the Seahawks were able to keep that trend going, forcing three turnovers, two of which set up touchdowns. Jordyn Brook, coming off a great game last week, had another big day, including a sack/forced fumble in the first quarter that Boye Mafe recovered.
Riq Woolen added his first interception of the season later in the game, and though the offense couldn't get points out of that one, it did kill a promising drive deep in Seahawks territory.
Finally, the defense came up with the takeaway that set up with go-ahead score. With the defense needing a third-down stop to give the offense a shot at a game-winning drive, safeties Jamal Adams and Julian love came through with one of the biggest plays of the game. Coming on a blitz, Adams leapt to attempt to bat down the pass, though it actually hit him in the helmet, sending the ball high into the air and right to an awaiting Love.
The defensive numbers weren't as dominant overall as they have been in the past three weeks, but that unit still came through with some very big plays, including three game-changing takeaways.
3. Jordyn Brooks and Bobby Wagner had another really productive day in the middle of Seattle's defense.
The return of Bobby Wagner and Jordyn Brooks' remarkable recovery following an ACL injury—he's still barely nine months removed from surgery—have both been huge factors for Seattle's defense, and that duo came through in a big way again on Sunday.
Wagner had a team-leading 13 tackles, one tackle for loss and a pass defensed, his fourth game with double-digit tackles this season. Brooks, meanwhile, had a sack that forced a fumble to set up a Seahawks touchdown, as well as 10 total tackles and two quarterback hits.
4. Tyler Lockett remains elite.
Given the weapons the Seahawks have on offense, not every pass-catcher can have a big game every week, and last week proved to be a bit of a quiet game for Tyler Lockett. On Sunday, however, Lockett had a huge hand in Seattle's victory, leading the team with eight receptions for 81 yards, including a first-quarter touchdown.
5. The rookie receivers keep making plays.
While Jaxon-Smith Njigba and Jake Bobo weren't as involved in the offense as they were a week ago—they combined for five catches for 59 yards on Sunday—they did both find the end zone once again, the second straight game in which both rookies scored touchdowns.
Bobo opened the scoring for Seattle not with a touchdown catch, but a run on a fly sweep where he cut inside for a score. Smith-Njigba, of course, scored his touchdown late, giving the Seahawks the comeback win.
6. Boye Mafe just keeps getting sacks.
Boye Mafe has been earning praise from coaches and teammates alike since training camp, and the second-year outside linebacker just keeps backing it up every week. On Sunday, Mafe had a sack, eight tackles, a fumble recovery and four quarterback hits, giving him a sack in five consecutive games, the second-longest streak in franchise history.
Check out some of the best action shots from Week 8 vs. the Browns at Lumen Field on October 29, 2023. Game action photos are presented by Washington's Lottery.