Roughly six months removed from a torn patellar tendon that brought an early end to his first season in Seattle, tight end Jimmy Graham was seen jogging and catching passes from quarterback Russell Wilson as the Seahawks held the third of nine Organized Team Activities (OTAs) on Thursday afternoon at Renton's Virginia Mason Athletic Center.
Running back Thomas Rawls, meanwhile, who saw his rookie season cut short because of a broken ankle he suffered last December, was also present. Neither player was full-go for the team's voluntary offseason workout as they continue to focus on rehab, but head coach Pete Carroll said Seattle is "kind of counting on" both individuals to be ready by the start of the regular season, adding, "We're thinking that that's real possible."
"Those guys are both making really good progress," Carroll said. "Thomas is running and Jimmy is back to running on the field for the first time in the last couple days, which is great. He's made terrific progress and both of those guys' attitudes are really good. They're really positive about making it. So it's a long haul for those guys and we feel for them because they want to be part of it like everyone else, but they're doing a great job of going through what they need to do."
Carroll said the Seahawks will "ease into training camp" with Graham and Rawls, not wanting to push either player too quickly with their respective recoveries.
"We won't rush them at that time," Carroll said. "So we'll use all of that six weeks or something in there that we can take advantage of."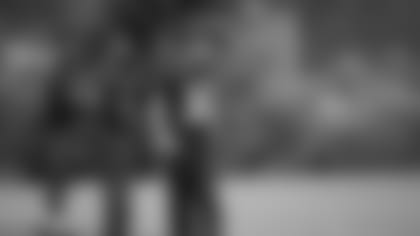 Wilson also commented on what he's seen from Graham and Rawls through the Seahawks' offseason workout program.
"Jimmy's healing really fast and he's getting out there catching footballs as much as he can," Wilson said. "Just the communication and the meetings and all that, he's on it as good as can be. He's a great friend, he's a guy that's so competitive in a good way, too, and he's a fighter, so he wants to get back out on the field quickly. He's going to be back sooner, I think, than people think. He looks really, really good, obviously as you guys probably saw catching and moving a little bit. Not too much, but just the right amount.
"Then Thomas Rawls, too. He's in the training room every day getting ready to go and his mentality in the weight room is fiery as can be. He brings that to the table. You guys noticed that when he was playing on the football field. Every time he's walking around the facility he's ready and thinking about making plays."
Extra Points
Left tackle Garry Gilliam had a cyst in his knee removed on Wednesday and was not present at Thursday's OTA. Carroll said "everything went fine" and that Gilliam is expected to be "out a couple weeks."
Right tackle J'Marcus Webb was sidelined Thursday with what Carroll called a calf pull and is "still about another 10 days" from seeing the field.
Rookie running back C.J. Prosise sat out Thursday with a hip flexor injury. Carroll said he doesn't know how long Prosise will be out, but expects the setback to be minor.
The Seahawks held the third of nine Organized Team Activities (OTAs) on Thursday, May 26 at Renton's Virginia Mason Athletic Center.