Seahawks running back Rashaad Penny helped carry the offense on his back in Week 4 (pun intended), rushing for 151 yards and two touchdowns on 17 carries. As Seattle climbs back to .500, Penny is keeping the momentum going from his 2021 season.
"I feel like I wasn't making myself happy," said Penny. "I feel like I was always trying to make everybody's expectations," he said. "The last month or two months of last season, I was happy with myself, so I felt like that kind of played into how I played."
Penny currently ranks No. 5 in yards per carry league-wide (6.0), and ranks twelfth in yards (292).
In his postgame presser following the win, Penny discussed his late-game touchdown to secure the win. As the Lions loaded the box to prepare for the inside run, Penny took the handoff and bounced it outside to daylight for the score. The spectacular play was actually designed to go inside - but Penny and rookie tackle Charles Cross redirected outside to spring the run for the score.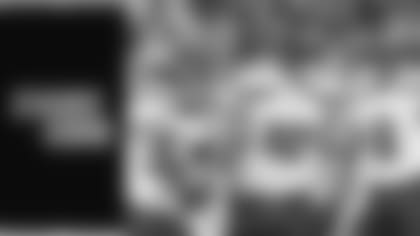 Re-live Each Game With The Seahawks Rewind Podcast
Re-live every Seahawks game this season with game highlights, player and coach postgame interviews, and a whole lot more. Available on Spotify, Apple Podcasts, Stitcher and wherever else you might get your podcasts.
Seahawks quarterback Geno Smith had quite the day himself, throwing for 320 yards and two touchdowns. But the veteran showed his enthusiasm postgame for Penny, as he continues to lead the way for Seattle on the ground.
"It's so fun just watching him score, running down the field and making guys miss," said Smith. "Penny's an exciting player, explosive player. I'm just happy for him to really be able to just lead the charge, really lead the charge. He's doing an outstanding job and we're going to count on him. We're going to need him all year."
The Seahawks face the Lions in Detroit for Week 4 of the season at Ford Field on October 2, 2022. Game action photos are presented by Washington's Lottery.