Through the Seahawks' first four games, Russell Wilson and the offense have been the story of the season.
Wilson leads the league in passer rating (136.7), completion percentage (75.2), touchdown percentage (11.7%), and his league-leading 16 touchdown passes are tied with Peyton Manning in 2013 for the most ever through the first four games of a season. DK Metcalf has shown more than just flashes of being an elite wide receiver in his second season, leading the league in receiving yards (403) and yards per reception (25.2).
Overall, the team is second in the league in scoring at more than 35 points per game, third in total offense and passing offense, while leading the league in total touchdowns. And with 30 more points on Sunday night, the Seahawks would become the sixth team in league history to score 30 points in each of their first five games to start a season — four of the previous five made it to the Super Bowl.
In Wednesday's press conference, Wilson spoke about the offense that he says "playing at the highest level we've ever played."
"I think in terms of what Schotty's calling, he's doing a great job of mixing it up and challenging the defenses and everything else," Wilson said. "But then also on top of that, our playmakers, our players that we have. Just the versatility at all positions — at the receiver position, tight ends, running backs, everybody all together. It's been special. We've had some good ones before for sure, too. I think guys like DK and Tyler, they're as good as it gets."
Emergence of David Moore
Beyond the big names like Metcalf and Tyler Lockett, another wide receiver has stepped up and taken on a larger role in the offense — fourth-year man David Moore. Through four weeks, Moore has matched his touchdown total from last season (2), including one in the victory against the Dolphins last week that gave the Seahawks the lead in the fourth quarter.
"I've always had this belief that I think he can be one of the best receivers in the game," Wilson said about Moore. "He's an unbelievable athlete, he's a confident catcher. He catches the ball clean every time he puts his hands up. He's extremely fast, he's got unbelievable explosiveness in terms of jumping and just running through guys, so he's really hard to tackle. I think he's just an ultimate, ultimate, put-together receiver. He can do it all. I think just him getting more opportunities, him getting more chances is always key."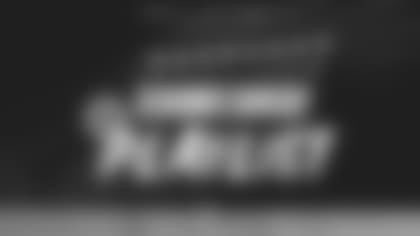 Follow the Seahawks Gameday Playlist on Spotify
Follow this playlist to hear what the Seattle Seahawks will be listening to all season long, curated by DJ Supa Sam, the official DJ of the Seahawks. Now playing: Week 1 at Colts
Chris Carson and Carlos Hyde
Wilson gushed about the backfield duo of Chris Carson and Carlos Hyde when asked what he likes most about the combination of the two. ESPN's Mike Clay recently ranked Carson and Hyde among the top 10 running back tandems. Carson, who suffered a sprained knee in Week 3 against the Cowboys, displayed his toughness Sunday against the Dolphins, finishing the game with 80 rushing yards and two touchdowns. Hyde didn't play Sunday, but has served as Carson's primary backup this season and scored a touchdown in Week 1 against the Falcons while playing 21 snaps on offense.
"What could you not like?" Wilson said. "These guys run the ball well, they're physical, they block extremely well, they really care about the game. They just want to be great. They want to win, they'll do whatever it takes to win. Obviously Chris Carson, he's been a great teammate and a great friend in terms of just how he's approached everything that he's done. He's an over-comer in every way.
"And Carlos Hyde coming into our team, I was really fired up just because I know that he could really run the football, he's such a physical player. I heard that he was extremely smart and knew his stuff, as well. Soon as he got here he was just on top of his details and everything. No wonder why they're a top-ranked type running back duo."
DK Metcalf's Year 2 Leap
When asked about Metcalf's progression, Wilson cited the receiver's first game as a Seahawk last season against the Bengals as the point when he saw what Metcalf could potentially become.
"I think he's just continued to evolve into one of the best receivers in the game," Wilson said. "Not to be shy about it, I think that he is one of the top receivers in the game. He can do it all. He can run by you, he can jump over you, he can be physical with you as you guys saw on the little pass to the right there at the end of the game. He just approaches the game in the right way. He's a professional."
Solid Offensive Line Play
Finally, Wilson credited the offensive line for making it all possible. Ethan Pocic has played well back at his original college position of center, while rookie guard Damien Lewis has drawn attention for his study habits and eagerness to learn. Brandon Shell and veterans Duane Brown and Mike Iupati make up the rest of the starting group. Wilson has been sacked 11 times through four games, which is tied for ninth most in the league with Lamar Jackson, but he's looked extremely comfortable in the pocket behind a line that has given him time to survey defenses and make the right throws.
"It all starts with the offensive line obviously," Wilson said. "I think it starts with your quarterback and what he can do and all that, but I think without the offensive line, there's only so much you can do and I think we can do everything because of those guys.
"We wouldn't be able to do all the stuff we do — throw the ball down the field, throw it quick and mix it up, mid-range game and run the ball as well as we do, keep the tempo up and have these crucial situations — without extremely, extremely smart, talented, diligent offensive linemen … They're nasty as could be up front, and we love them because of it. They want to win, and they're focused every day."