Here's a look at what's 'out there' for today – Monday, February 8 – about your Seattle Seahawks.
Russell Wilson Is An "Overcomer By Nature"
In his two Super Bowl appearances, Russell Wilson has gone toe to toe with Peyton Manning, who was inducted into the Pro Football Hall of Fame in his first year of eligibility this weekend, and Tom Brady, the winningest player in Super Bowl history who now has seven championship rings.
But nerves? Pressure? Anxiety? Nah.
"I think pressure's a privilege," Wilson said in an interview with Colin Cowherd last week. "That's something that I've always visualized since I was a young kid. I've had tons of people tell me I can't do this, I can't do that. I'm used to overcoming, I'm an overcomer by nature."
In his NFL career, he has proved doubters wrong since the day he was drafted. In 2012, the Seahawks draft class, which also included the likes of Bruce Irvin and Bobby Wagner, was ridiculed in early reactions, one outlet going so far as to assign an F grade. Nine seasons later, all three were still suiting up in Seattle and Wilson keeps that chip on his shoulder. His birthday wish to Wagner last summer led with the infamous grade and ended with one of their favorite mantras: "Don't get bored with consistency."
This year's off-season presents a new challenge for QB1: adjust to a new offensive coordinator and chase another Super Bowl.
"In terms of the next offensive coordinator and us deciding on Shane [Waldron], I was very adamant that we needed to have a mixture of all the different things that we can do. Continue to progress, continue to grow, continue to challenge. I think Shane definitely brings that to the table."
Wilson said he and the first-time play caller have already gotten to work. "I've had some great dialogue with him over the past several days. I just got off the phone with him earlier as well. I think that's really important throughout this journey."
Cowherd asked about the late-season offensive struggles, which Wilson acknowledged, but he also made it clear that he's already looking ahead. "We had a couple games where we could have adjusted better... But that was last year. Ultimately, this off-season's really about, 'How can I be the best version of myself?'. We should be playing [in the Super Bowl this] weekend and I think that's what really matters most to me when I wake up every day, every morning."
The full interview is available to watch on The Herd with Colin Cowherd YouTube channel.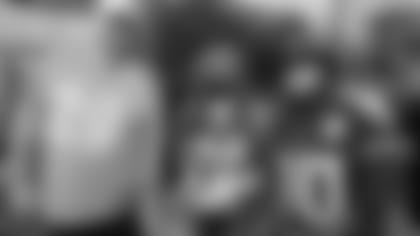 Mama Blue Finishes Second Place In NFL Fan Of The Year
Patti 'Mama Blue' Hammond, who was selected as the Seahawks' Fan of the Year, finished second out of 35,000 submissions for club nominees. The 90-year-old Hammond has been a passionate, devoted Seahawks fan ever since the team's inception in 1976.
"I've never felt so much love and support," she said when she received the news that she had been nominated.
Hammond was recognized at Super Bowl LV and, because she could not travel, was represented by her granddaughter Desirae and great grandson Deon.
Social Post Of The Day
12sEverywhere Super Bowl edition! Four vaccinated healthcare workers of Virginia Mason Franciscan Health, the Seahawks' official healthcare partner, attended Super Bowl LV in Tampa, Florida this weekend. Learn more about our guests.