Here's a look at what's "out there" for today - Monday, Feb. 8 - about your Seattle Seahawks:
Is This It For Peyton Manning?
After the Broncos topped the Carolina Panthers 24-10 in Super Bowl 50, Denver quarterback Peyton Manning, who will turn 40 years old this March, was asked if he was going to call it a career after 18 seasons in the NFL. 
"I'll take some time to reflect, I got a couple priorities first," Manning told CBS' Tracy Wolfson in a postgame interview. "I'm going to go kiss my wife and kids. I want to hug my family. I'm going to drink a lot of Budweiser tonight, Tracy, I promise you that. I'm going to take care of those things first. Definitely got to say a little prayer to thank the man upstairs for this great opportunity. I'm just very grateful."
From all the wins, to the few tough losses. From the 71,000 yards, to all the touchdowns, to the few interceptions.*
From all the meetings, to all the hard practices, to all the film, to all the blood, sweat and tears.
From all the Pro Bowls, to the handful of MVPs, to the two Lombardi trophies. From all the teammates, to all the opponents, to all the fans.
From the blue and white, to the blue and orange …
If this is it, there's one moment I won't forget.
10th grade. Louisiana. At your quarterback camp.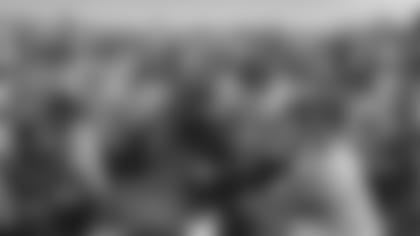 You inspired the kid in the green shirt.*
You inspired me to work hard. To be disciplined. To be respectful. To take notes.
You inspired me to love the process. To love the sweat. To love the tears.
You inspired me to love the game.
Tweet Of The Day