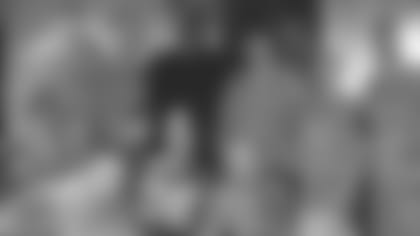 **FB Mack Strong and soldiers from Fort Lewis
Tacoma, WA - On January 23rd, former Seahawks fullback Mack Strong and Sea Gals Melanie and Nicole, made a special trip at Madigan Army Medical Center at Fort Lewis to visit with some wounded soldiers. The visit, courtesy of Seahawks corporate partner USAA, was an extension of Military Appreciation Night, celebrated at the November 12 Seahawks game vs. San Francisco, honoring men and women in the military. At the game, a group of twenty were sworn into duty before kickoff, and five Purple Heart recipients were honored on the field and hosted in a suite by USAA.
Mack and the Sea Gals chatted with soldiers, signed autographs, and handed out team buttons and posters.
"It was a life changing experience for me to meet young and old soldiers who have been wounded in combat." said Mack Strong. "Regardless of your stance on the war, it reinforces the impact it has on people's lives. I am thankful that I had the opportunity to visit Fort Lewis and spend some time with the men and women who protect our country."
USAA's Rear Admiral John Townes, vice president, military affiars, U.S. Navy Retired, on Mack Strong and the Sea Gals visiting Madiagan Army Medical Center. "The men and women who volunteer to serve our nation ask for very little, if anything, for their sacrifices. We were glad to help facilitate Mr. Strong's visit with the wounded heroes, and we knew he would get as much out of the visit as they did. At USAA, we are fortunate to support our military members each and every day, and teaming with the Seahawks and Mr. Strong has allowed us to go one step beyond."