USO Northwest and 15 to 1: Jermaine Kearse Foundation announced a new partnership on Wednesday afternoon at Renton's Virginia Mason Athletic Center, where the Seahawks wide receiver who grew up attending school at nearby Joint Base Lewis McChord explained how the partnership will better serve and support military families.
"I wanted to expand 15 to 1 and just be able to reach out to as much area as I could to be able to support and I got the wonderful opportunity to [partner] with USO," Kearse said. "… Being able to create good opportunities for the youth and the military families and be able to show our support in a huge way, so I'm very thankful and blessed for this opportunity."
Kearse, a Lakewood, Washington native who played his college ball for the Huskies, started the 15 to 1 foundation during the Seahawks' 2015 offseason. Having established himself as an NFL receiver, Kearse found himself searching for ways to give back, and when discussions came up about how he could support his community, Kearse "always brought up the military."
"The military shares a special place in my heart," said Kearse. "I lived in a military family. My dad served 18 years. Dealt with moving around, lived in Germany for a couple of years — I was super young, but I have a glimpse of memories of there — dealing with seeing my dad when he was stationed in another state, or dealing with deployment and just hearing the stories with my mom and how she dealt with that and the struggles. I knew it was an area that I could definitely tap into.
"Being able to just show my support for all the families and the youth who struggle with some things that comes with that sacrifice, not only the men and women that serve in the military that sacrifice, but the families and children who do as well. I thought it was important to show my support and help in any way that I can."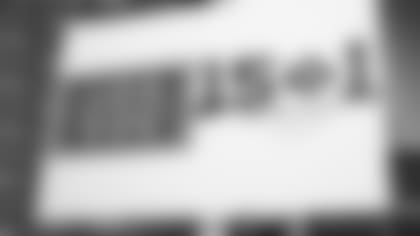 With the help of his wife Marisa, Kearse's 15 to 1 foundation has provided increased educational opportunities, physical activities, on-base assemblies, camps, and outreach programs for military youth and their families. On a personal level, Kearse has also got involved with Gold Star youth, kids whose mothers, fathers, or immediate relatives have fallen in military service.
"Working with the Gold Star program is probably my favorite aspect of being able to create this foundation and have this opportunity," Kearse said. "The lives of those kids have been changed forever since their parents were lost. Being able to interact and have the conversation and just to ultimately show my support. For them to know that someone cares, that I want to be there for them and be able to have those conversations with them and be able to show my support 100 percent, and ultimately be there for them in any way possible."
Kearse called Wednesday's partnership with USO Northwest "vastly important" to making even more of a difference in the military community.
Said Kearse: "To be able to have this opportunity to reach out and be able to reach more families, more kids, I think is very helpful to be able to expand these programs and be able to help in other areas other than the Seattle-Tacoma area."
The 15 to 1: Jermaine Kearse Foundation sponsored 20 Gold Star family members, which are survivors of fallen American service men and women, to participate in tours of the Washington Capitol campus in Olympia and meet Gov. Jay Inslee and state lawmakers.