Longtime Seattle Seahawks fan Geralyn Shreve attended the 2017 Pro Bowl after winning the drawing for the Pro Bowl Experience. 
An inaugural Seahawks season ticket holder since 1975, Geralyn was surprised at halftime of the Seahawks' Thursday's Night Football matchup against Los Angeles after a presentation for ticket holders who have supported the team since Day 1. Geralyn entered a drawing for the promotion, which sent all Seahawks ticket holders an email and required them to vote for Pro Bowl players and complete a short form to be eligible. 
Geralyn received two tickets and brought along her son, Gary, and his wife, LaVeta (who she bought a ticket for), to Orlando. Traveling on Delta Air Lines, the Official Airline of the Seattle Seahawks, the three departed last Thursday where they were surprised and flew back the following Monday. at Sea-Tac by Blitz and the Sea Gals who escorted them to the new Delta Sky Club where they were able to relax before their departure.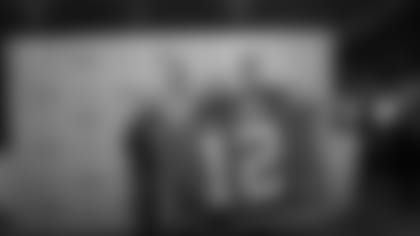 While at the Pro Bowl, Geralyn took in practices leading up to the Sunday evening game, and briefly talked to Seahawks cornerback Richard Sherman, who made his fourth career appearance.  Meeting Sherman was one of several great experiences Geralyn had while in Orlando as part of her one of a kind trip with family. 
"When we went out to practice, the Seahawks (players) actually stayed much longer than anybody else," she said. "A lot of little kids got selfies and I was really impressed that they stayed. They stayed probably 45 minutes after practice.
"It was wonderful, there we so many surprises that they did. There were a lot of things that were fun and a lot of interaction."
Photos of Seahawks fans at the 2017 Pro Bowl in Orlando, Florida.