While the Seahawks wrap up rookie minicamp with one last practice on Sunday morning, the loved ones of Seattle's 10 NFL Draft picks will be watching closely from the sideline along the shores of Lake Washington, just as they have all weekend at Renton's Virginia Mason Athletic Center.
As it has done in the past, the Seahawks organization invited family and friends to attend the three-day welcome-to-the-NFL event to give those closest to Seattle's latest selections an up-close-and-personal look at what NFL life is like in the Pacific Northwest. The fact that the final day of the rookies' NFL introduction falls on Mother's Day is an added bonus, and one that NFL moms like Pam Hunt, mother of Seahawks sixth-round pick Joey Hunt, are sure to remember for the rest of their lives.
"I was a little upset because he was leaving so soon," Pam said of her son's agenda after learning Seattle had made him the No. 215 overall pick in last week's draft. "And then he came in about five minutes later and he said, 'Hey mom, the Seahawks called. They want to fly you and dad out for the weekend.' I was like, it's my birthday on Saturday and Mother's Day on Sunday, this is the best present ever! I will remember this birthday for years, for my life. It was awesome."
Under general manager John Schneider and head coach Pete Carroll, the Seahawks have established a unique NFL experience that's big on brotherhood, togetherness, and ultimately, family. Rookie minicamp provided parents like Carol Vannett, mother of Seattle's third-round pick Nick Vannett, with a sense of relief knowing her son will be in "great hands" as he begins his professional career.
"I couldn't ask for a better situation," said Carol. "It's been incredible. Coach Carroll, the staff, everyone has been so wonderful for us. It is truly a dream come true for parents to see their sons and children succeed and realize his lifelong dream. It's just a huge gift to us.
"I love the fact that the Seahawks really engage families and it's important for them to make families feel comfortable," she added. "We're from Ohio, so we're way across the country, so coming here, experiencing the whole atmosphere, meeting and chatting with a lot of the staff makes us feel very comfortable and I promise you we're going back to Ohio feeling he's in great hands."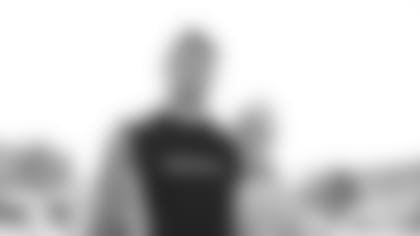 Regina Ochola, aunt of Seahawks third-round pick Rees Odhiambo, echoed Carol's sentiment.
"Words can't even express how we feel, how grateful we are for the opportunity, and how grateful we are that he has got this opportunity," Ochola said. "It's just awesome. It's a beautiful place. The organization is awesome and we're just very thankful, very thankful."
As we celebrate this Mother's Day, we'll leave you with a bit of real-world advice, words of wisdom, and thank you messages to the Seahawks' newest draft picks from those that love them most.
Victoria Ifedi, Germain Ifedi's Mom: "God is with you. Be a leader and be a team player. Work hard. The sky is your limit."
Ginia Prosise, C.J. Prosise's Mom: "C.J., I'm very proud of you. We all are proud of you. We love you. Just continue to work hard, stay grounded, and just keep working. You're going to be successful."
Carol Vannett, Nick Vannett's Mom: "Continue to be the good person that you are. That's what got you to this point. Continue to work hard, be kind, and know that you have a responsibility to help other people because there's so many people that look up to you. We couldn't be prouder and more excited for you that you've achieved your dream. Continue doing what you're doing. We love you."
Regina Ochola, Rees Odhiambo's Aunt: "Rees, auntie first of all just wants to say I am very, very proud of you. You have done an awesome job and your mom would just be so proud of you as well. I'm very thankful to God that he's given you this opportunity and just like I tell the boys all the time, Rees, I want you to push and push some more. Just keep pushing, and I want to let you know God did not bring you this far to leave you now. He will be there with you, I will be there with you, and keep pushing."
Pam Hunt, Joey Hunt's Mom: "I just told him to stay true and the reason you're here is because of your work ethic. Stay true to who Joey Hunt is and you will be successful."
Nadia Jackson-Jefferson, Quinton Jefferson's Wife, and a mother to their three kids: "I love you. Every day I know you work hard, you provide so much for our family that it's beyond words what you do for us and I'm so thankful every day."
Not only did the Seahawks add 10 drafted rookies to the roster, but also 26 free agents, check out some of the new faces signed to the roster for Rookie Minicamp.