Good morning, 12s. The team is on a bye this week, but here's what else is out there today — Friday, October 16 — about your Seattle Seahawks.
Bobby Wagner Joins Mark Ingram And Cam Jordan on "Truss Levelz" Podcast
Former New Orleans Saints teammates Mark Ingram and Cam Jordan are two of the biggest personalities in the league. So it's fitting that The Players' Tribune chose to partner with them for the "Truss Levelz" podcast, a podcast "where the best and brightest in the NFL share stories that go beyond the X's and O's while spreading good vibes far-and-wide," according to the show's website. The podcast launched late last month with Ingram and Jordan interviewing Saints running back Alvin Kamara.
This week, the hosts were joined by Bobby Wagner. The three chop it up about a number of different topics, as Wagner reflects on the 2012 Seahawks draft class that some pundits graded an F, gives some insight and information about him being his own agent, talks about a time where he took out Richard Sherman in practice, and mentions a Seahawks uniform color combo that he says the team must wear before he retires.
On shifting from basketball to football as a kid:
"I hooped first, and then realized I wasn't going to be as tall as I thought I was going to be. I thought everybody was 6'8" and I was on my way, but that didn't happen. So I kind of shifted into playing football, probably like my junior year in high school. I had one offer coming out of high school, which was from Utah State, went there, ran with it. After that, it was done. I wasn't even going to take it, I was going to go to JuCo, and my mom basically told me if I didn't sign the letter she wasn't going to let me come home. So I signed it."
On moving from California to Utah for college:
"It was a culture shock. When I went on my trip — my official visit — you know how in the cartoons, when they step in the snow and they sink in? I didn't think that was real. So I wasn't prepared, I had just normal sweats on. Bro, I stepped in the snow and I went straight in. Probably like waist-deep. It was over. I was just like 'Yo, I don't know if I can do this. Everything's wet.' But come my junior, senior year, I got used to it. I started wearing shorts when it was snowing outside. You get used to it."
On the Seahawks' 2012 draft class:
"That whole class, when we got drafted, I just remember watching the guys on TV talk about every pick that they made was trash. I was a reach, Bruce [Irvin] you shouldn't have did, Russ was too short, Turb [Robert Turbin] is not fast — literally every time Seattle picked in 2012, they just had nothing nice to say. And then we got our grade, I think our grade was an F … Two years later we won a Super Bowl. We let them know what's up … And the majority of us lasted at least more than four or five years in the league, which y'all know is not common."
On his dream uniform combo:
"I'm trying to get Nike to agree with this. We're going to get black jerseys with lime green trim. I'm not retiring until that happens, so it's going to happen. That's going to be my favorite jersey combo … It'll probably still be the blue helmet, but you know, black looks good with everything. Green trim. I'm trying to tell you, Nike, I'm trying to tell y'all. We've got to do this."
The Athletic's Michael-Shawn Dugar tweeted this jersey mockup made by Bleacher Report. We'll have to wait and see if Nike takes notice and fulfills Wagner's request.
Homegating Recipe of the Week Presented by Safeway – Crispy Chicken Nuggets
Who doesn't like chicken nuggets? Enjoy this childhood favorite with a slight twist for a great gameday snack. It uses crackers and parmesan cheese to create a crunchy breading for buttermilk-marinated chicken tenderloin. Check out the recipe here.
In addition to providing detailed instructions, Safeway has also added a "Shop the Recipe" feature to each recipe page, making it easy to add all the ingredients (or just the ones you need) to your cart for a Safeway DriveUp & Go or Delivery order.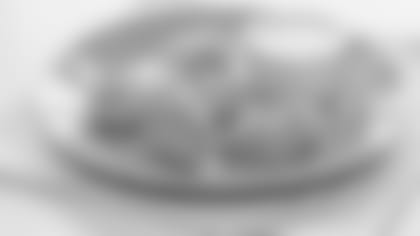 Crispy Chicken Nuggets
Whip up a childhood favorite for a Seahawks gameday. These nuggets are crispy on the outside and juicy on the inside, and ready in under 30 minutes. Pro tip: Use a resealable sandwich bag to crush the crackers to reduce the mess.
Social Post Of The Day
Jamal Adams lets us know that he cannot wait to be introduced in front of the 12s at CenturyLink in this clip from his 17 Weeks podcast. We can't wait either, Jamal.