The Seahawks used their first pick of the 2021 NFL Draft, the 56th overall selection, to acquire D'Wayne Eskridge, a speedy receiver out of Western Michigan. To learn more about the newest member of the team, here are five things to know about Eskridge: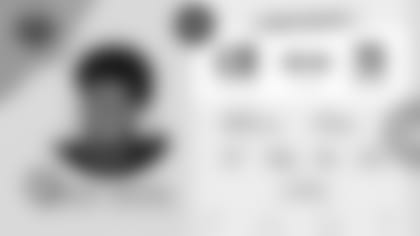 1. Eskridge felt he was destined for Seattle. 
When Seattle's pick finally came around on Friday evening, Eskridge had a really good feeling his phone was about to ring, and sure enough, Seahawks general manager John Schneider called him a few minutes later. Eskridge got a good vibe from his interactions with the Seahawks in the pre-draft process, and even shared a screen grab of a text exchange predicting he would end up in Seattle.
"I had a lot of great interviews with pretty much all the staff," he said. "So just going through it, they made me feel more comfortable when it comes to being taken care of when I come to Seattle, so I know I could just come there and be able to get better, I wouldn't have to worry about too much of the nonsense. I felt that energy directly, so it's just great to be able to go into something that's already written. I put that energy into the world and obviously it's been written, I'm a Seahawk now. I'm definitely grateful for it."
2. He's versatile. 
Eskridge said he's planning on coming to Seattle and learning all three receiver positions, but his versatility goes beyond where he can line up as a receiver. Eskridge was a star running back in high school, and also spent a little bit of time at cornerback in college. He was also the MAC Special Teams Player of the Year as a senior, starring as a kick returner who average 28.8 yards per return. 
While Eskridge will come in looking to establish himself as Seattle's No. 3 receiver, he also said he plans on making his mark on special teams, something the Seahawks already talked to him about. 
"Even if they didn't talk to me about special teams, I'm going in there making a name for myself regardless," he said.
And that experience at cornerback also helps him as a receiver, Eskridge said: "It just really slowed the game down for me. When I'm going against a DB, I think to myself, 'What could me uncomfortable if I was going against a receiver of my stature?'… That helped me a lot going to the offensive side again in 2020."
3. He's got legit speed. As in, state-champion-sprinter speed. 
Eskridge ran a 4.38-second 40-yard dash at Western Michigan's pro day, blazing speed by just about any standard but his own, because Eskridge was expecting to run even faster. And before he became a DI football player or an NFL Draft hopeful, Eskridge was a track and field standout at Bluffton High School. Eskridge won two state titles in the 200-meter dash and one in the 100-meter dash, posting personal best times of 10.5 and 21.3, respectively. Ultimately, however, football was the sport that captured Eskridge's heart. 
"I just always had a different type of love for the game," he said. "Track was pretty stagnant. I was a dominant athlete at track, but there's something about playing football when it comes to the locker room, when it comes to the wisdom you can gain from different people. It's definitely life-changing more than track.
4. A season-ending injury was a blessing. 
Eskridge was in this year's draft class and not last year's because a broken clavicle cut short his 2019 season, allowing him a medical redshirt year. And while missing most of a season is tough for any athlete, Eskridge said in some ways it was the best thing that could have happened to him. 
"My injury in 2019, it was probably the best and the worst thing that happened to me in football," he said. "I learned much more about myself, I learned that I was much more than a football player when it comes to what I want to do later in life. That helped me bring more love for the game. I just go out there and have fun, do what I do beat, and keep it at that—keep the main thing the main thing. So my injury helped me so much more than anything I could have asked for, because no one asks for an injury, but the things that came from that injury, it's priceless to me."
5. He's playing for small-town kids without a lot of options.   
Born in Mississippi, Eskridge moved with his family to Bluffton, Indiana as a young child, a city with a population just under 10,000. Playing football in a smaller town—and being only 5-foot-9—Eskridge wasn't a big-time recruit and had just two offers from FBS program, Western Michigan and Ball State. Despite limited options, Eskridge made the most of it, turning himself into a second-round pick.
"I'm just thanking the man above for all that he's provided me with, and this is just the beginning," he said. "I'm going to keep it going for all the guys and girls to be inspired from little old Bluffton, Indiana and all the towns in Fort Wayne to be able to do what they want to do, because all it takes is hard work and dedication and sacrifice."