SEATTLE - As Seahawks head coach Pete Carroll entered University of Washington's Neil Dempsey Indoor Practice Facility's playing field for the Husky football program's annual Pro Day workout, he zinged a one-liner at a group of reporters observing the on-field session from the sideline.
"You guys aren't running today, huh?" said Carroll.
It was a reference to last month's inaugural Seahawks.com Media Combine held at Renton's Virginia Mason Athletic Center that provided the press with a humbling - and somewhat humiliating - opportunity to experience the same workouts NFL hopefuls go through each spring.
While not quite as entertaining as those drills held at Seahawks headquarters, UW's Pro Day offered a handful of former Huskies striving to become football professionals a chance to shine in front of representatives from around the League. The athletes were put through a series of assessments, including the vertical jump, broad jump, 40-yard dash, pro shuttle, agility testing, and position workouts as NFL coaches, scouts, personnel staff, and media looked on.
Here are five key takeaways from the Huskies Pro Day:
1. The Participants
Thirteen individuals were listed as participants at Washington's Pro Day, though not all took part in on-field drills, namely linebacker Travis Feeney, who competed at the NFL Combine last month but sat out Thursday as he recovers from a recent hernia surgery.
Outside of Feeney, the list included offensive lineman James Atoe, defensive back Brian Clay, punter Korey Durkee, wide receiver Marvin Hall, linebacker Corey Littleton, long snapper Ryan Masel, wide receiver Jaydon Mickens, tight end Josh Perkins, offensive lineman Siosifa Tufunga, defensive tackle Taniela Tupou, and running back Dwayne Washington, all former Huskies. Also taking part was Issaquah, Wash. native and former Skyline High School star quarterback Jake Heaps, who played his college ball at BYU, Kansas, and Miami. Heaps, who was with the New York Jets last summer, was the workout's lone quarterback, so his arm was busy during position drills for the pass catchers.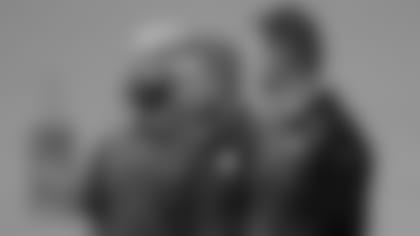 2. The Seahawks Were Well Represented
Roughly 20 NFL teams were on site, including several representatives from the Seahawks, which shouldn't come as too much of a surprise given the team is headquartered less than 10 miles away from UW's campus.
Seattle's personnel contingent was led by Executive VP/General Manager John Schneider, co-director of player personnel Scott Fitterer, and college scouting coordinator Kirk Parrish. It'd be easier on my fingers to type out the Seahawks coaches who weren't in attendance rather than listing the ones that were, but I'll give it a go anyway. Carroll was joined in the Huskies' house by offensive coordinator Darrell Bevell, defensive coordinator Kris Richard, assistant head coach/defense Rocky Seto, linebackers coach Michael Barrow, assistant linebackers coach Lofa Tatupu, defensive line coach Travis Jones, defensive line coach Dwaine Board, tight ends coach Pat McPherson, defensive backs coach Andre Curtis, assistant offensive line coaches Pat Ruel and Brennan Carroll, assistant wide receivers coach Nate Carroll, assistant quarterbacks coach Will Harriger, running backs coach Sherman Smith, special teams coordinator Brian Schneider, assistant special teams/running backs coach Chad Morton, and assistant special teams/defensive backs coach Nick Sorenson.
"To see those guys, to see championship caliber coaches - which I believe all these teams are championship caliber, it's the National Football League - but to actually win one and have conversations with those guys, pick those guys' brains, it was surreal," said Mickens, who noted he met coach Carroll once before as a 10th grader at Los Angeles' Dorsey High School.
A slew of individuals with historical ties to the Seahawks were also on site, including Randy Mueller, the team's former vice president of football operations who now works as a senior executive for the San Diego Chargers; Will Lewis, Seattle's former vice president of football operations who now works as director of pro scouting for the Kansas City Chiefs; Lance Lopes, the Seahawks' former senior vice president and general counsel who took a job as Washington's senior associate athletic director; and Terry Wooden, a former Seahawks linebacker turned scout for the New Orleans Saints.
"I feel really honored, honestly, that we'd have this many scouts come out here and check all of us out because I honestly believe that we have great athletes here right now participating in this Pro Day," said Littleton. "For them to come out and check us out and actually give us that opportunity to take our numbers and actually evaluate us, it feels really good."
---
3. LB Travis Feeney Expects To Be "Fully Healthy" Next Month
Feeney, the 6-foot-4, 218-pound linebacker who recorded 56 tackles (17.5 for loss), eight sacks, two passes defensed, and three forced fumbles in 13 games played for the Huskies in 2015, expects to be "fully healthy and ready to go" by the end of April after undergoing hernia surgery two weeks ago, an injury he said he's had "the whole year."
"We got it done and I'm ready," Feeney said of his operation, which he elected to have after competing in February's NFL Combine. "After my rehab I'm ready to go. About four more weeks, a month."
A year after three former Huskies - Danny Shelton, Marcus Peters, and Shaq Thompson - were selected in the draft's first round, and a fourth - Hau'oli Kikaha - was selected in the second, Feeney projects as one of Washington's top prospects, though he's expected to land in the later rounds. As one of two Husky players - the other being fellow linebacker Littleton - invited to Indianapolis' combine earlier this year, Feeney said he doesn't expect his recent surgery to hurt his draft stock.
"I don't feel like this hurts me at all," he said. "I performed at my combine. I feel like I did what I was supposed to do, I did my goals. With that, I didn't have to do nothing at the Pro Day. I was cheering the guys on and just enjoying it."
Feeney admitted to feeling a little anxious and nervous as next month's draft approaches, wishing the selection process would just "be here already."
"You dream about being in the League," he said. "You're watching all your favorite football players play, you're watching all your favorite sports teams, you're cheering these guys on and you want to be in their shoes. I'm right there now. I'm so close to it and we'll see what happens in April. April 28 the draft starts, so we'll see what happens."
---
4. DT Tani Tupou Can Play Some Fullback, Too
It came as a surprise to some onlookers to see 6-foot-2, 282-pound defensive tackle Tani Tupou lining up at fullback and catching passes out of the backfield from Heaps during position drills. But Tupou said it's a spot he played in high school and one he gained more experience at in recent seasons at UW.
"I was in on some packages here at UW ever since last year," Tupou said. "They put it in toward the end of the season when like Danny and them were here. Then they carried it over to this year, too. So I got in quite a bit at fullback this year, too."
'The more you can do' is a common phrase heard around the NFL as players look to latch onto whatever coaching staffs ask of them in order to earn a slot on the 53-man roster. If asked to make a position switch at the pro level, Tupou said he's all in.
"Honestly, it's just whatever I can do to get myself out there on the field," he said. "I played D-line, too, but whatever I can do to help the team out and get on a team, I'm cool with it."
---
5. WR Jaydon Mickens Woke Up To A Text From Kasen Williams
Mickens, the 5-foot-11, 174-pound wideout who made 58 catches for 692 yards and two touchdowns for the Huskies last year, said Wednesday night felt "like Christmas Eve" as he awaited Thursday's Pro Day.
"I went to sleep at 8 o'clock," Mickens said of his bedtime the night before. "I woke up at 5, checked the time. Went back to sleep, woke up at 6, and just was like, 'All right, I'm going to stay up and get ready for it.' I was excited."
Mickens said he woke up to a text from Seahawks wide receiver Kasen Williams, a Sammamish, Wash. native and former standout for the Huskies who signed with Seattle as an undrafted free agent following last year's draft.
"Kasen Williams sent me a text this morning," Mickens said. "He's a humble guy, so he wasn't like, 'Oh man, let's go! Let's go!' He was just like, 'Good luck, bro.' Oh, thanks. So it was good."
Mickens was proud of his performance Thursday, when he unofficially ran "in the 4.4s" in his 40-yard dash and caught every ball thrown his way.
"I couldn't have asked for a better day," he said. "It was just fun being out here with Marvin Hall and Dwayne Washington, Josh Perkins, Tani Tupou, all these guys that I was here with and competed with on the highest level.
"Being out here with those guys to end it off was the best experience."
NFL Draft hopefuls from the University of Washington put on their best performances for NFL scouts and coaches, which included Seahawks Pete Carroll, John Schneider and other members of the coaching staff at the Husky Pro Day.