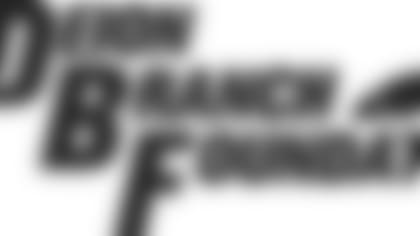 SEATTLE - Seattle Seahawks Wide Receiver Deion Branch and his Deion Branch Charitable  Foundation presented a $10,000 check to Seattle Children's Hospital on Monday, October 13, 2008 at the hospital's downtown research institute.
The monetary donation will help fund research on Group B Streptococcus (GBS), bacteria that is essentially harmless in healthy adults, but can cause potentially deadly infections including meningitis, in premature babies and neonates. If a child survives GBS infection, he or she may suffer long-term problems such as severe neurological impairments and/or developmental disabilities. The study of GBS infections will help improve the lives of some of the most vulnerable of children, and will also advance the study of afflictions that threaten all children.
"I am very fortunate to be in a position to do this," said Branch who established his foundation in 2002 after his son, Deiondre was diagnosed with Meningitis. "I do this to honor my 7-year-old son, who is my strength.  People tend to look at pro athletes as heroes, but to me, the heroes are Dr. Amanda Jones and her research staff at Children's who are working to prevent this terrible disease."
The Deion Branch Charitable Foundation is a non-profit organization whose mission is to offer support to children's mental, physical, and emotional well-being by assisting programs and initiatives aimed at improving their quality of life. For more information please go to www.deionbranch83.com.