The COVID-19 pandemic has hit everyone hard. Many have lost loved ones, lost jobs and lost their overall quality of life. In an effort to navigate through these times, Seahawks Legend Cliff Avril partnered with Safeway and the Odessa Brown Children's Clinic (OBCC) to make a difference.
OBCC first opened in 1970 with the goal of bringing quality healthcare with dignity to children in Seattle's Central District. Fifty years later, OBCC continues to serve medically underserviced Black and Brown families throughout the Puget Sound region. It has since grown into a comprehensive facility with medical, dental and mental health assistance, as well as offering nutrition services for patients and families.
"I love everything about Odessa Brown," Avril said. "During COVID, they've done a wide range of things, and that's another reason why I think it was important for us to partner up. They're not just a normal clinic, they do a wide range of things for their families, like during COVID – emergency relief, rent relief, food, supplies, appliances and utility support for a lot of families."
As soon as the pandemic hit in March, Avril, Safeway and OBCC jumped into action. Antwanette Lyons, the Manager of OBCC's Community Health Programs and Advocacy, reached out OBCC's families to get an idea of their greatest immediate needs.
The resources families most needed were "concrete items," as Lyons described. That included not only food, but laundry detergent, cleaning supplies and toilet paper, among other basic things.
"We were able to tap into our great partners like Cliff Avril and like Safeway to be able to support the needs of our families," Lyons said. "We were able to pull it together within a week and a half and get our families the resources that they needed."
Avril and Safeway were united in their belief that healthy eating is key for children. Without school lunches available once everything shut down, Avril recognized the massive need for food among OBCC patients.
"Safeway and myself partnered up together and we gave gift cards out to all the kids and families that go to Odessa Brown," Avril said. "A lot of these kids depend on those meals at school on top of their education. My foundation decided we wanted to help out in that way – getting these kids food, getting them meals during the day to make sure that they're going to be alright. It shouldn't be a case where because school is out, you don't get to eat."
Lyons was able to hand-deliver the $500 gift cards that Avril and Safeway donated to the OBCC families, and she truly realized how life changing that money was for so many people. With Safeway gift cards, families can purchase those concrete items, as well as groceries and gas for the car.
Sara Osborne, Safeway's Director of External Affairs, added that the gift cards helped get food for families right away when so many didn't know how they were going to get it.
"We wanted to ensure that families could continue to get food in the way they normally do and go to their neighborhood Safeway," Osborne said. "To OBCC's credit, they just got into action immediately and worked with us to order a bunch of gift cards and get them to specific families who needed the food instantly."
Safeway and Avril have been associated with OBCC long before the pandemic.
Safeway has supported Seattle Children's Hospital for decades, and OBCC has been an important part of its efforts. The company first supported OBCC through its sickle cell research and treatment, and has significantly helped OBCC with their food insecure families. After conducting research, Safeway determined that "produce prescriptions" might be useful for OBCC families. Produce prescriptions are essentially a voucher "prescribed" from a medical professional to families in need of more fruits and vegetables in order to maintain a healthy diet.
"(OBCC) was able to implement produce prescriptions in their nutrition programing and really teach the families how to shop healthier and how to afford healthy food with the help of the vouchers," Osborne said. "(The data) proved that it worked well to change the families' habits and the kids' diets."
Safeway and OBCC are also partners in the state's Complete Eats program. According to Osborne, Complete Eats is a two-tiered statewide program that provides around $3-to-5 million in produce vouchers per year. The first tier involved clinics providing $10 vouchers to families with food insecurity or malnutrition issues. The second is for anybody using Supplemental Nutrition Assistance Program (SNAP), who will receive $5 coupon for produce at Safeway for every $10 they spend on produce.
"It just really incentivizes them to buy more produce with their benefits," Osborne said. "Since the program began, the average household doubled the amount they are spending on produce with each shopping trip, which is a huge increase based on state data and clinics data. Clinics have started to track the impact and see that it makes a difference in their diet and health as well."
"Safeway just always answers the call," Lyons added.
Soon after joining the Seahawks in 2013, Avril quickly became entrenched in the Seattle community. His wife, Tia, attended a fundraising event hosted by former Seattle Supersonics player and coach Lenny Wilkens and was introduced to OBCC. Wilkens raised millions of dollars for OBCC through the Lenny Wilkens Foundation. That's when the Avrils knew it was time to get involved.
The Cliff Avril Family Foundation was started in 2014 after Avril lost his grandmother and his mother was diagnosed with diabetes. At that time, he recognized the importance of informing the youth about healthy living habits. OBCC is one of the primary recipients of the foundation's fundraising.
"It's natural for me," Avril said of why he gives back. "I've seen my mom, without even having much, giving herself to people in the community or people back at home in Haiti. I think it's very important that you give back to the community that you're in.
"Seattle has given me a lot, and the people of Seattle have given me a lot. But I also understand that there's a lot of people out there who need a lot of help that are voiceless, that just aren't in as fortunate of a situation as a lot of us, so it's only right for us to give back."
Avril, who last played for the Seahawks in 2017, still resides in Seattle and continues to contribute to the community. Through OBCC, Avril is now a mentor for a group of boys, ages 9 through 11, from Leschi Elementary School in Seattle. Each of the boys are also treated at OBCC. Known as "Cliff's Crew," Avril takes the boys on field trips to explore potential careers.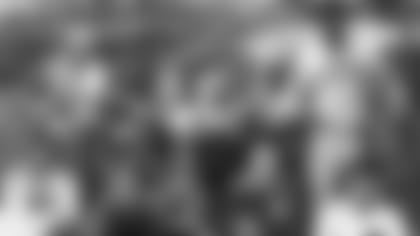 "Exposure and representation matter because a lot of these kids unfortunately – I say unfortunately loosely – all they see themselves as are athletes or entertainers because that's what they see on TV," Avril said. "I want to expose them to other occupations. We did a trip to the VMAC, and I wanted to show them that any and every profession that you can think of is in that facility. If you want to be a doctor, be a chef, be a lawyer or engineer, whatever those things may be, all those things are available in that building.
"A lot of kids don't know that those things exist. So, I think exposing them to that (is key) because you might not be the football player, but you can still be a part of the Seahawks organization and be a doctor, or whatever else it may be."
With the pandemic, Avril and his crew obviously can't meet up in person like they normally do. Instead, they have weekly Zoom calls where they do different activities to stay engaged. He's partnered with Microsoft so the kids are able to do weekly events.
"We're being creative with how we go about it, but it's been fun," Avril said. "I meet with them every week to make sure they're alright and make sure they're on top of their books and staying creative. But also, these are uncertain times, unprecedented times, so I just want to make sure all my guys are doing well and keeping a positive headspace and are continuing to grow as individuals."
Avril's post-playing career continues to be just as meaningful, if not more, than what he did on the field. He was a member of the 2013 Seahawks team that won Super Bowl XLVIII in dominant fashion and made the 2016 Pro Bowl, but helping children in need has been far superior for him.
"The Super Bowl was amazing, and it's one of the best things you can accomplish in the life of a professional athlete," Avril said. "But nothing's better than being able to give back to those in need, those that are going through hard times and aren't as fortunate as you in those particular moments.
"At the end of the day, we're all human beings and we all deserve the chance to live out our dreams – and that's me trying to do that. There's nothing like it. It's definitely a blessing to be able to be a blessing. I think it's our duty as human beings to look out for one another, because nobody else is going to look out for us."