The Seahawks fly to Minneapolis Saturday to play the Vikings in preseason game No. 2, but not before finishing out their practice week with a "Turnover Thursday" practice on Friday, and a "No Repeat Friday" practice on Saturday. Confused? Training camp and the preseason will do that to you. Anyway, here are five observations from—wait, what day is this again?—Friday's practice: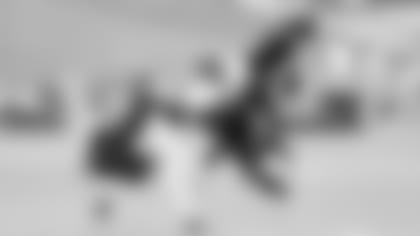 1. Marquise Blair continues to show flashes of big-play ability.
Rookie safety Marquise Blair got his day started with a nice pass breakup on a pass down the sideline to Keenan Reynolds. Blair, who has worked more at free safety this week after working mostly at strong safety earlier, showed good range to break on the ball, then knocked it loose with a harder-than-normal-in-practice hit on Reynolds.
At the end of practice, Blair made a good play in coverage, leaping to intercept a pass down the left sideline on the final play of the day.
"He has shown good man-to-man stuff, his matchup stuff is good," Carroll said. "The plays that he made in the game last week demonstrated really good range, timing and breaking on the ball and all that, the hits that he made on both of his down the field throws, that shows you that he's got good sense and awareness. He had a great play today, on the final play of the day to make a pick for the defense which shows you again. I don't have any reservation in saying that he can do all of the things that we need him to do. He's just got to learn what we're doing, figure it out, and make sure that he's really tight with all of his assignments and responsibilities. That's going to take some time. That takes time before we trust him, we have guys that we do trust and they know what they're doing, so he has to work his way through all of that, so the competition is really stiff. But he has shown great flashes already so we're excited about that."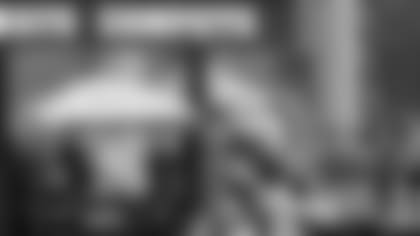 2. Another strong day for defensive backs.
Continuing off of yesterday's theme, Seahawks defensive backs enjoyed a strong day, breaking up a number of pass attempts. Most notably, there were several pass breakups in one-on-one drills, which tend to favor receivers. One standout in coverage of late has been veteran corner Jamar Taylor, who seems to break up multiple passes thrown his way each day.
"He's very competitive," Carroll said of Taylor. "He's really fast and explosive, aggressive in coverage, has been real aggressive at times and drawn a couple calls on him here in practice and otherwise. He's very competitive. He's involved. He'll get a chance to show some stuff again this weekend."
3. Al Woods is poised to have a big role in the defense.
The offseason signing of Al Woods, a veteran defensive tackle who has played for five teams over the past nine years, didn't garner a lot of attention when it happened in May, but he appears poised to be an important part of Seattle's defense. Interior linemen don't always stand out in practice, but Woods has been a solid presence throughout camp, and with Jarran Reed suspended for the first six games of the regular season, Woods figures to have a big role, possibly as a starter alongside Poona Ford.
"Al Woods has done a real nice job, playing great, and we're really excited that we got him," Carroll said when asked about replacing Reed. "His experience, his mentality, the effort that he brings is really good, so he's really been the guy that looks like he could be a factor for us. Really in kind of the typical big guy fashion that we have had. Bryan Mone has also shown that he can contribute there too, we need some more games from him to see what happens, but at 350 (pounds) or whatever he is, he's a monster in there. The thing I like about him, he played for a really good college team and played great run defense, he was right in the middle of all that. He's shown why he was a factor there, we're excited to see if he can contribute."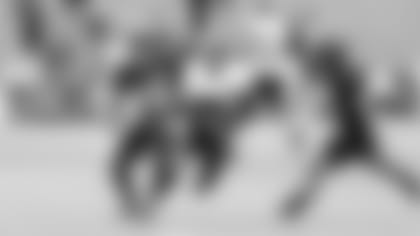 4. John Ursua's movements look familiar.
Let me preface this by stating as clearly as possible that I'm not saying John Ursua is the next Doug Baldwin or that John Ursua is replacing Doug Baldwin or anything like that. Baldwin is one of the best three receivers in franchise history; Ursua is a rookie who has yet to play in a regular season game. OK, now that we've got that out of the way, it's really hard not to think of Baldwin when Ursua is on the field, not just because they're receivers who play in the slot and who are almost the same size, or because Ursua wears No. 15, the same number Baldwin wore as a rookie, but also because of how Ursua moves. The most obvious example was the cut Ursua made after a long reception in Thursday's preseason game, but it's also evident just in how the rookie runs at full stride, and in the way he cuts, or dives forward at the end of a play for an extra yard, etc. Again, Ursua has a long, long, long ways to go to match what Baldwin did for the Seahawks, but it's still kind of interesting how similar those two are in terms of movement.
Ursua is just part of an intriguing competition in the slot receiver competition, one that is a bit harder to figure out because Tyler Lockett is so good in multiple roles. If the Seahawks want to leave Lockett outside and have a true slot receiver, then Ursua, Keenan Reynolds—who had another solid practice Friday—and perhaps even undrafted rookie Terry Wright all are options there. But Lockett is also comfortable in the slot, so the Seahawks could move him inside in three receive sets and use the likes of Jaron Brown, David Moore and DK Metcalf outside.
5. Special guests were on hand Friday.
While the Seahawks have already held their final open-to-the-public practices of camp, there were still hundreds of guests on hand Friday, as game-day employees and guests were invited to watch practice.
After practice Carroll as well as Seahawks president Chuck Arnold addressed the group, thanking them for helping make the game-day experience at CenturyLink Field one of the best in sports. Carroll also took time out early in practice to come say hi and pose for a selfie with a fan who danced non-stop to the music being played at practice.
Photos from Day 15 of Seahawks 2019 training camp, presented by Safeway held on Friday, August 16 at Renton's Virginia Mason Athletic Center.