The Seahawks returned to practice following an off day for players, kicking off their week of preparation for Sunday's preseason game at Minnesota. Here are six observations from the day's practice session:
1. It was a good day for the cornerbacks.
Seattle's receivers have gotten a lot of attention in camp, and for good reason, that group is proving to be deep and talented and it's going to be very difficult to determine who makes the roster there. But on Thursday it was the players covering said receivers who made their mark in a big way, with a number of cornerbacks coming up with impressive pass breakups. Second-year corner Tre Flowers got things started with a nice play on a pass from Russell Wilson to DK Metcalf in the corner of the end zone. While the ball was in the air, it looked like a likely touchdown, but Flowers was able to use his long frame to reach over Metcalf's shoulder just as the ball arrived and knock it loose.
Not long after that Flowers pass breakup, Jamar Taylor knocked away a pass intended for Jaron Brown during that same red-zone session, and a few plays after that, Taylor broke up a pass intended for Metcalf. Later, Shaquill Griffin ran stride for stride with Metcalf to break up a deep pass down the sideline. And to be clear, these plays weren't a case of Metcalf doing anything wrong, it was more just a coincidence that contested passes kept coming his way on this particular day, and the corners kept making plays.
2. Cody Barton is showing his football smarts as well as his playmaking ability.
With Bobby Wagner still sidelined, Cody Barton has frequently been with the No. 1 defense at middle linebacker, the position the rookie has played throughout offseason workouts and training camp. Barton's experience at that spot, as well as his overall football savvy, has been showing up almost every day, so it wasn't too surprising to see him looking comfortable calling plays and making adjustments while being the only rookie on the No. 1 defense—though it appeared veterans K.J. Wright and Bradley McDougald were helping with that as well.
"He's pretty good, he's special," defensive coordinator Ken Norton Jr. said. "He's really smart. You can't give him enough information. He's always trying to get more and more. He has this great ability to take all the information and make it work for him on the field at a very young age. Usually rookies have a little slower process of diagnosing and understanding. He's sharp, he's quick. He's going to help us out early."
3. Wilson to Lockett… yeah, that still works.
As mentioned earlier, Thursday was a good day for the cornerbacks, but it wasn't like Russell Wilson and the offense were getting shut down all afternoon. Wilson completed a number of impressive passes—one of the most impressive saw him drop a pass with perfect touch in between zone defenders to find Keenan Reynolds for a long gain—and not surprisingly plenty of those completions went to Lockett, including a long catch late in practice that showed once again that, given time to get open, the veteran receiver is almost impossible to cover down the field.
4. Xavier Turner is making the most of his opportunity.
When it comes to the regular season, Chris Carson and Rashaad Penny figure to get most of the touches among Seahawks running backs, and both have had very strong training camps, but in the preseason those two will only see limited playing time, and for now at least that means there's a big opportunity for Xavier Turner. Turner, who signed with the Seahawks a day before their preseason opener, then led Seattle in rushing in last week's win over Denver, has gotten a lot of work this week with Travis Homer, C.J. Prosise, Bo Scarbrough and J.D. McKissic battling injuries (more on this below). And so far the undrafted rookie out of Tarleton State is taking advantage of his chance.
Turner has looked quick and elusive in practice and has shown solid pass-catching ability, and even if he might be fighting an uphill battle to make Seattle's 53-man roster if and when everyone's healthy, he'll have a chance in these preseason games to show what he can do on a big stage.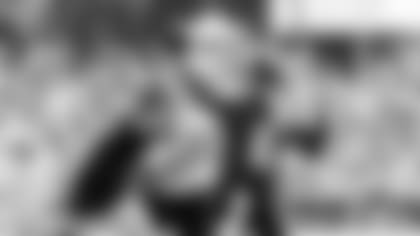 5. J.T. Barrett saw his most practice action.
With Geno Smith's status in question this week following a procedure to remove a cyst from his knee, the Seahawks signed J.T. Barrett earlier this week to add depth at quarterback. Earlier this week Carroll said Smith could still get back for Sunday's game, but the Seahawks want to have Barrett ready in case Smith can't go, and along those lines it was a good sign that on Thursday Barrett took part in the 11-on-11 portion of practice for the first time.
"I'll say this about J.T., he has picked up the offense maybe as fast as anybody," offensive coordinator Brian Schottenheimer said Tuesday. "Tremendous, tremendous worker, we're 10-11 installs in, and I don't think that there's not a play that he can at least begin to draw up… As a quarterback you need to be able to picture the play in your mind, otherwise how do you go out and execute your read? He's done an amazing job of picking it up, so yes, we'd love to get him some work (in the game) if we could."
6. A few players returned after the day off.
As Seahawks coach Pete Carroll had said would be the case, the long week between games, and a rest day Wednesday, allowed some players to get back to work for game-preparation portion of the week. At running back, while Scarbrough remained out for a second straight practice with an undisclosed injury, Homer was back on the field for the entire practice. Prosise and McKissic, meanwhile, worked off to the side for much of practice, but got some work with the team later in practice, a good sign as they try to get back from injuries.
Tight end Jacob Hollister, who had been out with a groin injury since Seattle's mock game earlier this month, was back as well. Also returning to action was receiver Amara Darboh, who had been out with an undisclosed injury.
Photos from the 14th open practice of Seahawks 2019 training camp, presented by Safeway held on Thursday, August 15 at Renton's Virginia Mason Athletic Center.