At the end of the movie "Castaway," Tom Hanks - uncertain which direction to go after years later delivering a package that had gone adrift with him, he went straight ahead leaving us to wonder what happened.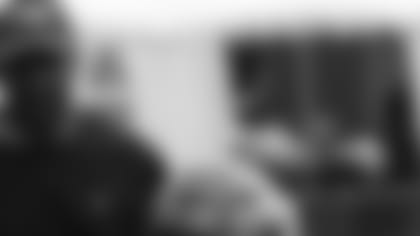 In many ways, that's the way the 2007 NFL season ended for Jason Babin. He hadn't been cut loose by the Seattle Seahawks, who acquired the defensive end the weekend before the regular season began in a trade with the Houston Texas for Michael Boulware. Because of the timing having missed training camp, plus the fierce competition with Patrick Kerney and Darryl Tapp the starters, Babin never got into the defensive line rotation at defensive end and was inactive for all but two games.
Under normal circumstances that would be unusual. But Babin was hardly just another defensive end. He was a first round draft choice of the Texans in 2004 after a record-setting career for sacks at Western Michigan in the Mid-American Conference and started all 16 games with the Texans.
But there was a problem. The 6-3, 267-pounder was moved to linebacker and he started just six games the next two years, prompting the deal with the Seahawks. So after not seeing the light of day in 2007, he didn't know what to think.
So he headed back to his ranch in suburban Houston and went back to work.
"I didn't read anything into the trade - I was just going to do the same thing I've always done - work hard, play hard and do the right things," Babin said. "It was obviously frustrating, and once the season was over I could have gone two ways. I could have spent the offseason sulking or use it as motivation to train, continue to work hard and really focus as much as I could with my time to get ready for football.
He studied film, lifted weights, did martial arts and boxed to get in shape. He participated in the offseason program with the Seahawks when he could. Soaked in as much information from line coach Dwaine "Pee Wee" Board as possible. He had to figure out the next step for his career. The Seahawks couldn't have gotten a good read on him, so he just soaked in everything that was happening on the team - even with the drafting of another defensive end - Lawrence Jackson - with their top pick.
Babin came to camp jacked and in great condition. He loved being back at defensive end, his quickness and raising a ruckus in drills and when they did put pads on. He was a hit in the scrimmage on Aug. 2 and then Friday night he finally got to play against the Minnesota Vikings.
He was virtually unblockable for the Vikings in the second half with four tackles, including a sack and another tackle for a loss, plus a quarterback hurry that was nearly another sack.
"It was nice to finally get out there and hit someone who wasn't in a Seahawks jersey," Babin said. "It's been a long transition for me. I played defensive end in college, coming off the edge and loved it. Then I went to Houston and played outside linebacker, so I never really had a chance to play defensive end.
"Really, the past year has been almost good. I could take some time, without a lot of pressure on me, and just learn defensive end in the NFL game from Pee Wee. The hands, different kinds of pass rush ... the different things I never really had a chance to get a handle on. All of it has come full circle and I understand the game a lot better."
Right now, he's totally about football and re-establishing himself where the great expectations left off after he was drafted out of Western.
"This year they've got a chance to get to know me and this is my opportunity to show how I fit into the scheme," Babin said. "And hopefully, they like what they see and I'll fit into their plans."
---
New long-snapper Tim Lindsey on the Seahawks calling him on his honeymoon to Destin, Fla. that never happened for his wife Casey:
"We had talked about when we would be the safest time to go for her, because she's a nurse and on call. We actually joked the night before in Philadelphia when we were with her family, and said, 'Watch somebody call (me),' and they did. It worked out for me. We had been gone (from the flight) about an hour. We didn't even get to the resort. It's about 65 miles from the Pensacola Airport to the resort and we got about halfway down and had to turn around.
"We're taking it off the cuff right now and playing it by ear (for a follow up honeymoon). She's already has her own plans for what she wants to do if things go as I hope they do. She flew back home to Philadelphia and I came here. She's OK now. Last night my family was calling her, her family was calling her. She ended up turning her phone on silent and hanging out by herself."
---
The signing of Lindsey came on the heels of rookie long-snapper Tyler Schmitt being sidelined both Tuesday and Wednesday with a stiff back. Eric Wicks, a rookie linebacker, was waived to open up the roster spot. ... Speaking of snaps, centers Steve Vallos, Ben Claxton and Nick Jones stuck around after practice with quarterback Charlie Frye to work on the exchange from center. Frye and Seneca Wallace were exceptional throwing in the morning practice, with Jordan Kent, Michael Bumpus, Courtney Taylor and Ben Obomanu the primary recipients. ... Right tackle Sean Locklear did not practice and Ray Willis ran with the first team in his place. ... Rookie linebacker David Hawthorne returned to the field after being banged up from the game Friday, and was a hit again a soon as he hit the field. In fact, it even prompted captain Bobby Wagner to dub him "The Heater." ... During the afternoon practice, defensive backs Brian Russell and Richard Sherman were fielding punts just for fun. First they tried the drill used on Tuesday, of cradling a football in each arm and catching the punt in their hands. The next step was catching it with one hand. Russell snagged one with his off, left hand. "This was just for fun, but in Minnesota they had me with the returners, although I never did it in an actual game. I'd always practice and catch them. I think they were scared to use me in a game because my safety skills were too valuable," he said facetiously.