The last time B.J. Daniels played a position other than quarterback in a game, it was as a 5-year-old defensive end. Ever since then, quarterback has been the only position Daniels has known, but after beginning the transition to receiver late last season, the former South Florida standout fully committed to the switch this offseason, and on Friday night he made his debut at his new position, catching two passes for 15 yards while also gaining 50 yards on a pair of kickoff returns.
Daniels has been impressive at his new position throughout camp, and that continued with Monday's practice, which brings us to observations from Day 13 of Seahawks training camp presented by Bing.
1. B.J. Daniels is making a strong case for a roster spot.
One of the best plays any receiver has made in training camp came Monday when Daniels made a diving, one-handed catch on the sideline despite good coverage from rookie Tye Smith. It would have been an impressive play had it been made by a veteran receiver like Doug Baldwin, let alone someone who is new to the position. It was just the latest display of athleticism from Daniels that showed why he is a candidate to make the roster despite having been a receiver for less than a year.
"It felt good," Daniels said of his first game at receiver. "It's been a long time waiting. I've put in a lot of work throughout my entire life to have an opportunity to play in the NFL. I've been putting in work, so to finally have the opportunity to show what I can do is truly a blessing."
Daniels said the move to receiver was partly his idea and also that of his coaches. Quarterback was all he had known until recently, but Daniels is also an exceptional athlete and wanted to find a way to make an NFL roster and see some playing time.
"I'm a competitor, I'm very hungry," he said. "Right now, Russell (Wilson) is doing a great job and thankfully he's been healthy, so with the athletic ability God has blessed me with, one of the ways to get on the field is to do other things. I'm just trying to take advantage of my opportunity."   
The Seahawks are deep at receiver, and Daniels will have his work cut out for him to unseat Tyler Lockett at either return spot, but he does more on special teams than return punts and kicks, which may be his best chance to win a roster spot.
"He's done a nice job so far," Seahawks coach Pete Carroll said. "He had a really good day today… B.J. looked comfortable in the game. He made a couple of mistakes, but he was real competitive in the game, and that was a good sign for him. He was by far the leader of the receiving group on special teams. "
Daniels' ability to play quarterback could also help him make the team even if he is no longer focused on that spot. Daniels played quarterback briefly during offseason workouts when Wilson was away, and he took limited snaps there Monday with Tarvaris Jackson sidelined. The Seahawks have usually only kept two quarterbacks on the 53-man roster since Carroll and John Schneider took over, so if Daniels can be valuable on special teams and at receiver while also providing an emergency option at quarterback, that combination could be enough to win a job
2. The starting (for now) safety spots remain competitive.
While the Seahawks hope to open the season with Earl Thomas and Kam Chancellor at safety, neither is available at the moment, which means they're getting a good look at depth behind those two. So far Steven Terrell has seen most of the playing time at free safety with the first-team defense, while DeShawn Shead and Dion Bailey have split time at strong safety, with Shead getting the start Friday. In Monday's practice, however, Bailey and Ronald Martin Jr. were the starting safeties for much of practice, a good indication that there's still a good battle going on for the safety spots behind Thomas and Chancellor.
"We're going to give Dion a shot to see how he looks, and we want Martin to get a chance to show us too," Carroll said. "Both of those guys have looked very good, and this week and next week, we need to find out how far they can take it. Dion has looked really active, and I'm really excited about the playmaking he has brought to us. We'll see how he fits in with these guys."
Bailey impressed Carroll with his physical play in Friday game—"He hit the heck out of guys," Carroll said—while Martin, an undrafted rookie out of LSU, nearly had an interception against Denver but couldn't quite hang onto the ball on his way out of bounds.  
"He has just looked really comfortable with the position," Carroll said of Martin. "He's very much at ease, he's a terrific athlete. He's got good all-around athleticism, a good feel for the ball. He had a pick during practice that was just like the one that got away from him in the game. He looks the part back there… I've been real pleased with what he's shown so far, and we're going to give him a shot."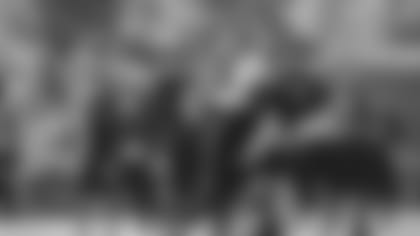 3. R.J. Archer is looking comfortable… and busy.
Maybe it was a coincidence, or maybe Archer is a seize-the-moment type of guy, but the Seahawks No. 3 quarterback had one of his better practices Monday, a day that saw him make a ton of throws with Jackson sidelined by an ankle injury. Archer saw the bulk of the playing time in Friday's game following Jackson's injury—Russell Wilson played just two series—completing 11 of 20 passes for 110 yards and a touchdown, and he built off of that with a strong practice Monday. One highlight Monday was a perfectly thrown deep ball that Doug Baldwin caught in stride for a touchdown.
"We've liked the way he has handled it," Carroll said. "He's very comfortable in practice, and he carried that into the game."
Emptying out the notebook:
The shuffle at left guard continues, with Justin Britt becoming the fifth player to take first-team reps at that position. Of course, moving Britt to guard means an opening at right tackle, and that was filled by Garry Gilliam, who impressed his coaches enough in Friday's preseason opener to earn a promotion. (More on this topic here).
Luke Willson has been overlooked at times because of the addition of Jimmy Graham, but it's worth nothing that Willson will again be a big part of Seattle's offense. The third-year tight end was particularly involved in the passing game Monday, making several nice grabs, including one on which he took a pretty solid hit, by practice standards at least, as he was making the catch.
In the ongoing rotation at center, it was Drew Nowak's turn with the No. 1 offense. With Lemuel Jeanpierre getting the start in the first preseason game, it would not be surprising to see Nowak get the start in Kansas City considering how evenly the two have been splitting practice reps.
Injuries at cornerback have led to a good opportunity for rookie Tye Smith, who saw significant playing time in the preseason opener. Smith worked with the No. 1 defense at times Monday, and until Richard Sherman, Will Blackmon and Tharold Simon are back—Simon is off the PUP list now but was limited in Monday's practice—the fifth-round pick out of Towson will have a lot of chances to show he belongs.
Another day, another impressive catch for undrafted rookie Kasen Williams, who on this day had a leaping touchdown grab over Steven Terrell.
The Seahawks returned to VMAC for Day 13 of Seahawks Training Camp presented by Bing following their first preseason game last Friday night.