For the third straight week, Pete Carroll addressed his team after a comeback attempt fell short and after another Seahawks loss.
And for the third straight week, Carroll and his players are having a hard time wrapping their heads around another loss they felt could have and should have turned out differently.
This time it was a 13-10 loss to the Saints, the third straight game the Seahawks have lost after having the ball at the end of regulation or overtime with a chance to win the game.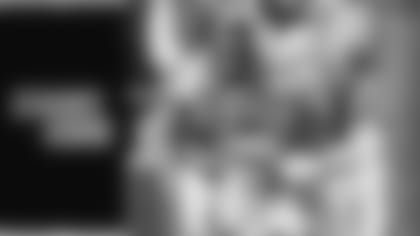 Re-live Each Game With The Seahawks Rewind Podcast
Re-live every Seahawks game this season with game highlights, player and coach postgame interviews, and a whole lot more. Available on Spotify, Apple Podcasts, and wherever else you get your podcasts.
"We've come in here a number of times here and really had very similar results in that we're not getting the game when we have chance to get the football game that's out there for us," Carroll said "And it's really difficult, because we're so close to winning games and we haven't been able to do it at home, for sure, which is a real shock to me. It's a shock that we're not able to do that."
For a coach and a team that takes so much pride in finishing, these past few games have been difficult to process, and in the case of Monday night's game, the loss stung so much because there were so many avoidable errors, including costly, drive-extending penalties, missed field goals and sacks in critical moment.
"We're still trying to get these games finished properly, and that means you don't make the mistake that gives them a chance," Carroll said. "You kick the ball, you don't make the penalty, you don't eat the football for losses when you're in the right positions and stuff. So there's things that we can really fix. And it may not look like it from the outside, but from the inside, it feels like it's really close. So we're going to keep hanging and battling… Fortunately, our guys are hanging together. And they're talking right and they're looking at each other in the eye and they want to keep battling to make this thing come together. And that's what we're going to keep doing.
"We've got to get our finish together and we got to do the right things at the end of the game. This isn't rocket science, we've got to finish the game right and do right at the end. That's how you become a good finishing club, and we're not right now. There's a lot of things that you can do so you don't put yourself in those close games and close finishes as well, but when you get there, you got to do the right stuff, and we haven't been able to function the way we needed to."
At 2-5, and having lost three straight for the first time since 2011, nobody in the Seahawks locker room is happy with where the team is right now.
"It sucks, it's not a great feeling," linebacker Bobby Wagner said. "It's not a position that we thought we were going to be in, and it's just back to the drawing board for me."
But there's also a sense of optimism that, for all that has gone wrong, there is still time for this team to get back on track, particularly considering that have lost two games in overtime, lost Monday by a field goal, and had a chance to take the lead late against the Rams before a turnover gave the Rams a field goal to put the game on ice.
"I believe in these guys, I'm confident in these guys," Wagner said. "This game could have gone either way, take away some of the mistakes we had, but it's enough words, we've got to start applying more action."
Said linebacker Jordyn Brooks, "Obviously, guys are disappointed, but nobody is pointing a finger. We're sticking together. We're not giving up on ourselves. People outside these walls may be pointing the finger and may be giving up on us, but we're going to stick together. We're going to figure it out."
Running back Alex Collins echoed his teammates' sentiments that the Seahawks are close to getting back on track.
"I feel like the optimism is there," he said. "We know that we are so close. We are right at the end with these teams. We are playing against some great teams, and it comes down to the wire. We have to keep executing and keep finishing strong. Hopefully the games will start falling our way, because we have had a lot of close games. We went to overtime and were tied up in the fourth, so people look at our record and maybe have a different mindset about us. We know that we are one step closer to finishing, executing, and getting those W's."
And of course, it's impossible not to look back over the last three games, that all came down to a potential winning drive, and wonder what might have happened had Russell Wilson been available. Wilson, who left Seattle's Week 5 loss to the Rams with a finger injury, has been one of the NFL's best closers since joining the league in 2012, leading 35 game-winning drives in the fourth quarter or overtime, playoffs included.
While everyone has faith in Geno Smith to get the job done—and he has done plenty of things well in relief of Wilson—there's no replacing a Hall of Fame talent at the game's most important position, especially not late in close games.
"He's a special, special guy," Wagner said. "Whenever you give him the ball back with some time left on the clock something's going to happen. I know what he's capable of doing, but I also know that Geno's capable of executing and I have faith in him."
Or as Carroll noted, his 12-season run with the Seahawks probably looks a lot different—or doesn't last 12 years—without Wilson at quarterback. And that's nothing against Carroll's coaching ability. After all, if you find any coach whose career lasts a decade or longer, you'll also find a coach who worked with a great quarterback. But it is a good reminder of how much different the Seahawks' season might look right now if Wilson hadn't missed the past two-plus games.
"Let's say it this way—I've been here a long time, and if we didn't have Russell, I probably wouldn't have been here a long time. Because think of all the magic that he's created in the years. He's got numbers and stats, and fourth quarters, thises and thats, and all of that stuff. One of the winningest quarterbacks in the history of the NFL, and it will be really fun when he comes back and plays football again for us this year. And we owe a tremendous amount—you can see how hard it is—I mean, all of these games; the Rams game, the Steelers and this one. Russell's a factor. He's a fantastic, positive factor and always has been, and those are exactly his time. That's his time; that's when he shines. So, we miss him, and in the meantime, we're going to keep fighting and clawing, and doing everything we can."