After a fast start, the Seahawks found themselves in a low-scoring slugfest against the Saints on Monday night, and for the third straight week they had the ball late with a chance to win the game. But for a third straight week, the Seahawks weren't able to get the final drive they needed, and for the first time since 2011, they lost a third consecutive game, falling 13-10. 
Here are six rapid reactions to Monday's loss, which dropped Seattle's record to 2-5: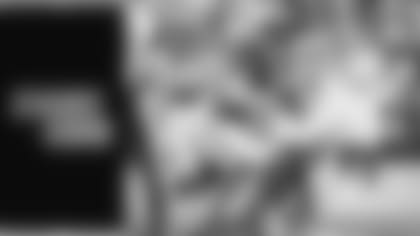 Re-live Each Game With The Seahawks Rewind Podcast
Re-live every Seahawks game this season with game highlights, player and coach postgame interviews, and a whole lot more. Available on Spotify, Apple Podcasts, and wherever else you get your podcasts.
1) The offense got off to a quick start, but couldn't do much the rest of the way.
After being shut out last week in the first half, the Seahawks started the game much better thanks to an 84-yard touchdown pass from Geno Smith to DK Metcalf on their second possession of the game. But that promising start didn't turn into any sustained success for Geno Smith and the offense, which punted on its next three possessions, had two second-half drives end on missed field goals, and got its only other score, a third-quarter field goal, after gaining zero yards following a turnover.
The Seahawks finished the game with just 219 total yards and were 3-for-12 on third down, and Smith was sacked five times, including twice on Seattle's final possession.
2) There were way too many avoidable mistakes.
On the go-ahead drive, the Seahawks looked to have a stop early, but Marquise Blair was flagged for roughing the passer when he hit Jameis Winston with his helmet on what otherwise would have been a drive-killing sack. Later in the drive, the Saints were going to attempt a 42-yard field-goal to take the lead, but Al Woods jumped offsides to give New Orleans a first down. Not only did that lead to a shorter field goal attempt, the 33-yarder that gave the Saints the lead, it also left the Seahawks with less time to operate, which was particularly difficult because Seattle had already burned two timeouts to avoid delay of game penalties.
And the mistakes weren't limited to that one go-ahead drive. Earlier in the game the Saints got their first score on a long drive that was kept alive by a pass interference penalty, Gerald Everett got flagged for taunting to help stall a drive, and while it was a tough day, conditions-wise, Jason Myers missing two of three field goal attempts was obviously critical in a game decided by three points.
3) The Seahawks did a good job stopping Alvin Kamara in the running game, but couldn't contain him as a pass catcher.
One of the biggest reasons the Saints were able to score 13 points and earn a victory was the play of running back Alvin Kamara, a dangerous threat both as a runner and as a pass-catcher out of the backfield. And while the Seahawks did a very good job when it came to containing Kamara the ball carrier, Kamara the pass-catcher was a huge problem. Kamara rushed for only 51 yards on 20 carries with a long of 12 yards, but as a pass-catcher he had a game-high 128 yards and a touchdown on 10, including eight catches for 109 yards and a touchdown in the first half alone.
On a night when the Seahawks defense did a lot of things well--holding the Saints to 13 points, 304 yards, a 2-for-13 third-down conversion rate, and only giving up one touchdown to the league's best red-zone offense on four trips inside the 20--the inability to contain Kamara in the passing game, particularly in the second quarter, was a critical factor.
4) DK Metcalf vs. Marshon Lattimore was quite the battle.
One of the more intriguing matchups heading into this game was the one between Seahawks receiver DK Metcalf, who was a Pro-Bowler and second-team All-Pro last year, and Saints corner Marshon Lattimore, a three-time Pro-Bowler who the Saints often use to follow an opponent's top receiver. And on Monday night, those two indeed were going at it often, not just with Lattimore covering Metcalf on routes, but also when Metcalf would block Lattimore on run plays.
The most noteworthy matchup between those two came early in the game, with Geno Smith throwing to Metcalf down the right sideline with Lattimore in coverage. After some hand-fighting between the two as they sprinted down the sideline, Lattimore lost his footing just as the ball arrived, and after Metcalf secured the catch, he avoided a tackle then sprinted to the end zone for an 84-yard score, the longest catch of Metcalf's career and the longest completion of Smith's.
Metcalf, who in the past has shown a knack for getting under opposing cornerback's skin, also drew a pair of personal foul penalties on Lattimore, however it ended up being a quiet night otherwise following that touchdown, with Metcalf catching only one other pass for 12 yards.
5) Jamal Adams made some big plays.
Safety Jamal Adams hasn't gotten off the start he or the Seahawks would have liked in terms of overall production, but he showed up on a number of big plays Monday night despite being credited with only two tackles.
Most notably on one third-down drive, he bottled up a run play that Rasheem Green cleaned up for a tackle for loss, then a couple of plays later he made a great play to break up a deep ball down the sideline. Later in the game, with the Seahawks needing a stop in what at that point was a tied game, Adams came on a delayed blitz and batted down a pass to force a punt.
6) The competition is on at left cornerback.
As Seahawks coach Pete Carroll himself noted earlier this season, cornerback is not usually a position where Seattle rotates players, with the two starters usually playing every defensive snap. But after a strong performance from Tre Brown in relief of an injured Sidney Jones IV last week, the Seahawks decided to take a long look at both players in Monday's game. Jones got the start, but the two alternated series in the first half, and after Jones started the second half and played a couple of series, Brown took over and finished the game.