While just-signed guard Jahri Evans wasn't on the field with the Seahawks Saturday, a lot of new players were, providing needed reinforcements with injuries taking their toll on Seattle's depth a week into training camp, particularly at running back and tight end.
A series of roster moves lead an abbreviated version of practice observations after an abbreviated practice Saturday.
1. Running back and tight end reinforcements have arrived.
With injuries mounting in the backfield and at tight end, the Seahawks signed fullback Jonathan Amosa, running back Troymaine Pope, linebacker Kache Palacio, tight end Joe Sommers and receiver Uzoma Nwachukwu.
Pope (Jacksonville State), Sommers (Wisconsin-Oshkosh) and Palacio (Washington State) are undrafted rookies, while Amonsa, a former Washington Husky, spent 2013 training camp with the Green Bay Packers, and Nwachukwu has spent time with the Houston Texans and Miami Dolphins over the past three seasons.
The Seahawks waived/injured five players to make room on the 90-man roster: tight end Cooper Helfet, tight end Brandon Cottom, tight end Ronnie Shields, running back Tre Madden and defensive end David Perkins. Those players will all revert to injured reserve if they clear waivers.
With rookies C.J. Prosise (hamstring) and Zac Brooks (hamstring) sidelined by injuries, and with Thomas Rawls still on the physically unable to perform list because of last season's ankle injury, the running back depth had become a bit of an issue, Seahawks coach Pete Carroll said earlier in the week.
"Yes, it is a little bit right now," Carroll said Thursday. "With C.J. being out. Zac, we had to hold him out with a sore hamstring today. We have to manage this really well. Christine Michael is doing a great job. We have to be careful not overworking him. He's just been on the money throughout. So we're a little bit concerned, we picked up (Cameron Marshall) today and we've just got to make sure we do a nice job. We even used (cornerback George Farmer), George was over there today. So, that's how we do it."
2. The Seahawks took it easy on Saturday.
Saturday's session was the lightest of training camp thus far, looking similar to the walk-through practices the team goes through before games during the season, though this was a little faster-paced than a true walk-through. The reason for that? Sunday's practice will be a "mock game," so to simulate a game weekend, they took it easy the day before.
While fans in attendance didn't get a usual two-hour practice, they were treated to extra autograph signings compared to a typical day of camp, with nearly every player on the roster heading over to the fence to sign.
The day wasn't without highlights, but it was hard to glean too much from what took place. Second-year receiver Tyler Lockett had a few nice catches, most notably a toe-dragging effort on the sideline; rookie tight end Nick Vannett had one of the better plays of the day, using his size to box out a smaller defensive back before leaping to haul in a catch from Jake Heaps on the sideline; and Bobby Wagner had a red-zone interception on a pass that was tipped at the line of scrimmage.
But the play of the day might have been one made by somebody not on the Seahawks roster, which brings us to item No. 3…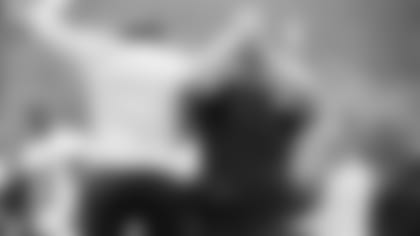 3. The long arm, and soft hands, of the law.
When a good pass rush forced Heaps to throw the ball away in the red zone, it appeared that his throw had sailed past all available receivers, instead, that throw-away became a completion… sort of. Steven Azevedo of the King County Sheriff's Department, one of the law enforcement officers regularly on hand at training camp to keep fans and players safe, caught sight of the ball just before it reached him and made a nice over-the-shoulder catch that drew one of the biggest cheers of the day. Several defensive backs on the sideline immediately ran to congratulate Azevedo on his catch, as did assistant defensive backs coach Ricky Manning Jr., who talked Azevedo into doing a leaping, shoulder-bump celebration.
Stay tuned Sunday for much more thorough observations from the mock game.
Check out the best photos from the seventh day of Seahawks Camp held at Virginia Mason Athletic Center on Saturday.