By Mike KahnSeahawks Insider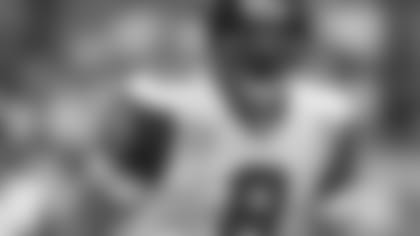 Matt Hasselbeck and the Seattle offense is looking to get going faster this week.

Matt Hasselbeck can feel it coming. It is the signature of Hasselbeck and the Seattle Seahawks offense to start quickly and make other teams play from behind.
It just hasn't happened as they split the first two games of this season, but he knows when the high-scoring Cincinnati Bengals come to Qwest Field Sunday, it's time to get it going … as in immediately.
"We're trying to get better in all areas and obviously this is a huge challenge for us; a very good team … a good AFC team with an explosive offense coming to town," Hasselbeck said. "We get to play this one at home but we know that we can play better offensively and we know that we have a lot of things that we need to do to win. That's kind of been the focus. I know we've talked a lot about starting fast, getting rid of penalties, little things that are just the details of the plays that are just as important as the big stuff."
It isn't as if Hasselbeck has been off to a bad start individually, in fact he's been sharp, connecting on 65 percent of his passes, with a pair of touchdowns and no interceptions while compiling an impressive 102.3 quarterback rating that is eighth in the NFL. But as has been the case in general, it takes the offense overall to get untracked.
The slow starts have been frustrating, with no points in the first quarter yet and only two first half touchdowns combined in a 20-6 win over Tampa Bay in the opener and a 23-20 loss at Arizona last week. It's been particularly noticeable with running back Shaun Alexander, who has a couple of touchdown and 175 yard rushing in the first two games.
But in the first half Sunday at Arizona he had 10 yards on 8 carries and in the opening game against Tampa he had just 8 yards on his first 5 carries before finishing the first half with 34 yards on 11 carries. Admittedly, since missing six games last season with a broken foot, he's trying a little too hard.
"When you get it taken away from you for such a long time, like I did last year and never having to do that before, you're just excited to be out there and you want to go out there and do great things even more than I did before," Alexander said. "It's just an anxiousness and excitement that almost made me be like a little rookie again. It's good but at the same time I still have to calm down and play the game the way I've been coached to play."
Ironically, both Hasselbeck and Alexander have strong ties to Cincinnati. Hasselbeck's parents grew up there and a large portion of their families are still there. Alexander grew up right across the Ohio River and all of his early memories of football are of the 1988 Super Bowl Bengals and the players.
"Anytime you get to play against the team you watched growing up it's exciting," Alexander said. "My mom and dad and grandma are getting here tomorrow so it's good all the way around. It's exciting. When you grow up and your brothers, your older brothers and your best friends were all like, 'Dude, that's the team we're all going to play for.' That's this game. It's special for me."
But it will only be special to these guys if they win and they are well aware of the Bengals offensive prowess. As usual, though, it will be up to them to play their game and not worry about what anybody else is doing.
"I'm excited," Hasselbeck said. "That was a tough loss we had last week and I think part of the measure of this team is going to be how we handle that and how we just move forward and I thought we did a nice job, Wednesday, coming out ready to go practice, kind of just letting it go. That's what you have to do. Just like we had the Tampa win go we had to let this one go and move forward. I think it makes it a little easier playing at home having a big time opponent coming in and it's a big game."
And that means whether family is present or not.
Matt Hasselbeck on whether any of his family from Cincinnati is coming to the game Sunday:
"Only two people made the cut. They wanted to come in and they were cheering for the wrong team so, no. It's going to be all Seahawks fans being loud on third down this weekend. No bribes (of Cincinnati's historic Graeter's Ice Cream) either. I'm not going to do it. Seahawks fans only."
D.J. Hackett (ankle), Ben Obomanu (hamstring) and Mo Morris (hip) were joined by two more on the injury brigade. Tight end Bennie Joppru was resting his left ankle in a boot and linebacker Kevin Bentley was giving his sore back a break. Their status for Sunday is in question. Hasselbeck and Deion Branch were sharp on Thursday in practice, … Middle linebacker Lofa Tatupu was an exceptional leader for the defense the entire practice – reading all the running plays and picking off two passes. … Rookie linebacker Will Herring also looked good and had an interception as well. … Left guard Rob Sims continued to impress, with surprising speed. … Cornerback Marcus Trufant was all over the field making plays as well.