1. He's not the only accomplished athlete in his household, or among his siblings.
Hyder has spent seven years playing with and against some of the best athletes in the world, but despite being an elite athlete, he admits he might not come out on top in a family race. That's because his wife, Jasmine Hyder (formerly Chaney), is a former All-American hurdler who was a Pac-10 champion in the 400 hurdles, and who was a member of Team USA for the 2011 World Championships.
"Sometimes she gets me on the track," Hyder said.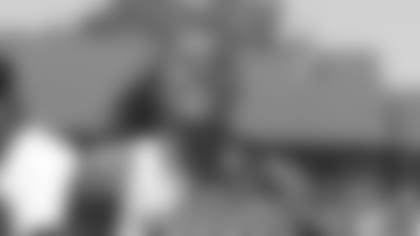 Hyder's sister, Alexis, is also an accomplished athlete who played basketball at LSU and who is now playing professionally in Sweden, where her team, Hogsbo, just reached the semifinals in Sweden's top league.
Asked who would win a game of one-on-one, Hyder laughed and said, "I keep telling her I'll beat her, but she keeps saying, 'I'm a pro, I'm not getting on the court with you.' She won't even play me."
2. The offseason is dad time.
One unfortunate reality of life in the NFL is that it's a very involved job from the time training camp starts until the season is over, and for players who don't relocate their families in-season, in can mean a lot of time away from loved ones.
Hyder and his wife have a 6-year-old daughter, and this is the time of year he makes up for lost time.
"I wake up, do her hair, get her ready for school," he said. "Mom picks up a lot of the slack during the season, so I try to do my part when I'm in town."
Asked about what he likes to do in his free time, Hyder said one of his main activities this time of year is taking his daughter to her track practice.
3. He's going to be hitting up new teammate Carlos Dunlap II for business advice.
While football is his main focus right now, Hyder also is passionate about food and said he someday would like to get into the restaurant business.
"I want to open a restaurant one day, so I'm always checking out Mexican restaurants, that kind of thing," he said, explaining his restaurant would be a tequila bar with "tacos, enchiladas, that kind of thing."
And not long after signing with Seattle, Hyder discovered that fellow defensive end Carlos Dunlap II owns his own restaurant, Honey Uninhibited, a brunch spot in Miami.
So will he Hyder pick his new teammate's brain for tips on owning a restaurant?
"As soon as I see him, that's what I'm going to do," he said.
4. One new teammate is an old friend.
While Seattle will be new to Hyder, he will have a close friend to help make the transition easier. He and safety Quandre Diggs were teammates in Detroit, and whether on the phone or via social media—Diggs is arguably Seattle's funniest and most active player on Twitter—the two have maintained a friendship since changing teams.
"That's my guy, man," Hyder said. "We go all the way back to his rookie year in Detroit. We've always kept up with each other, and as you guys know, Quandre is always on social media and that kind of stuff. That's my guy, man. That's probably one of my best friends in the NFL, and I'm looking forward to playing with him again… I love Quandre, I just love being around Quandre. He's a funny guy, he brings a lot of energy to work. I'm looking forward to having that again."
5. Hyder not only looks up to Michael Bennett, he also got a chance to learn from the former Seahawks Pro-Bowl defensive end.
And Hyder hasn't only admired the success of a fellow undrafted player, he also got a chance to learn from Bennett when the two were teammates in Dallas for half a season.
"We're not the biggest, we're not the strongest, we're not the fastest, but I feel like his great career he's had is technique and savvy, what he knows about the game," Hyder said.
While the two were teammates, Hyder said he "just tried to milk his brain as much as I could and tried to learn as much as I could, because it's very seldom you can get around a vet like that, your idol."