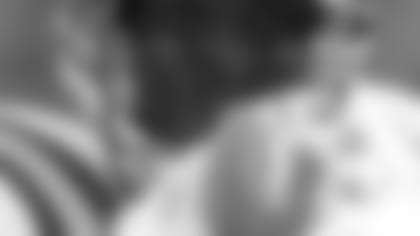 Glenn Dorsey of LSU has been considered to be the top-pick on this year's NFL Draft..
For all the talk about running backs, offensive tackles and defensive ends going into the NFL Draft, the most interesting position to watch at the very top of the annual player grab bag of college players may very well be defensive tackle.
At varying times over the past month LSU's explosive Glenn Dorsey and Sedrick Ellis, the mountain of strength from Southern Cal, have been considered strong possibilities as the No. 1 overall pick. Moreover, they are the only defensive tackles actually expected to go in the first round – although North Carolina's Kentwan Balmer is a possibility.
Now, both Dorsey and Ellis have seen their stock plummet, and then rise again - for divergent reasons over the past month. Almost all of it is a result of dramatic rumors and commentary, often times intentionally floated as part of the general manager game-playing, stems from the annual convention of flotsam and jetsam at the Combine in Indianapolis in February.
In the case of Dorsey, a hairline fracture in his right tibia from the summer of 2006, continues to show up on X-rays, and caused a wildfire of commentary in Indy. However, the 6-2, 297-pound Dorsey just shrugs it off. He's not only been coping but thriving in spite of the leg being at less than 100 percent.
You want some perspective, just listen:
"(There are) no concerns," Dorsey said. "I have not missed a game since I got to LSU. Everybody gets bruised up. That's the way I look at it. Who does not go through a season without getting bumps and bruises? I don't think it's an issue at all. I've played every game since I've been at LSU, my whole four years, so I do not think it's a problem at all."
Ellis was a completely different situation. At 6-1, many scouts were surprised his weight blew up to about 310 by some accounts and he didn't move well at the Combine with a 5.26 unofficial time in the 40. Then again, that doesn't mean anybody could move him out of the center of the line either, and there's no point in gauging him at 40 considering where he plays, so he's hardly concerned.
"I think I can do it at 309," Ellis said. "At 309 I'm moving fast and very few of those guys who can keep up with me. I have no problem playing double teams, as you guys have seen in the Senior Bowl and often in my career at SC when I took on double teams. I never had a problem with it before so I don't see why it should be a problem."
It probably won't be. There are plenty of teams ready to put a guy that size in the middle of their defensive line over center and hopefully leave him there for many years. A lot of teams have two different kinds of a tackles – a "nose tackle-type" like Ellis as a run-stuffer, and a "three-technique tackle" such as Dorsey, who is much more active moving up the field and sometimes coming off the edge on stunts.
Seahawks vice president of player personnel Ruston Webster says depending on the defensive scheme, a lot of teams will have both. Obviously, in a 3-4 defensive scheme the Ellis-style is mandatory over center. But in a conventional 4-3, you'd like to have a couple of guys who can do it all.
"There is the big stout run player, then there are the guys that are quicker, more athletic guy who can also play on the edge," Webster said. "You'd like them to be both – be tough on the run and quick enough to come off the edge. But you have to give a little bit on both most of the time. They both can be effective in different ways.
"Maybe the guy that's a little bit undersized but quick, can get up field and disrupts plays that way. Then there's a guy not as quick that can sit in the middle of the line that's hard to move and can hold the runs. But there are two different kinds. It's just a matter of what your scheme fits. Usually the nose is the better run player and the three-technique player is the better rusher – a better up field player. What you need as a defense is to be consistently effective by having players that fit what you need."
Before all the talk blew out of hand about his right leg, Dorsey figured to be that guy. He doesn't seem to believe it's an issue and considering the way he played for the national champion Tigers this season and in their annual championship contention leading up to the title.
And it would be fair to say, there will be more than one team that is willing to take that chance. Dorsey is more than slightly confident his NFL career will speak volumes.
"There are a lot of great players out there … it is just an honor to be considered one of the top players out there," Dorsey said. "When you are one of the top players, a lot of people are looking for negatives. Even with saying I have injury problems. I played every game at LSU for four years. I don't have injury problems. Who doesn't get hurt during the year?
"I tell (the NFL teams that) I bring my heart and soul. That is all I can do. I stayed at LSU an extra year because I had a commitment to LSU. I try to work hard. I like to give it all I've got."
Considering his history, that will be more than enough.
The following is an alphabetical list of the best defensive tackles in the draft by a consensus of draft information compiled by the writer, and is not reflective of the Seattle Seahawks personnel department.
Kentwan Balmer, North Carolina, 6-5, 308, 5.25
Red Bryant, Texas A&M, 6-4, 318, 5.05
Glenn Dorsey, Louisiana State 6-2, 297, 5.09
Sedrick Ellis, Southern California, 6-1, 308, 5.18
Trevor Laws, Notre Dame, 6-1, 304, 5.02
Dre Moore, Maryland, 6-4, 305, 4.88
Frank Okam, Texas, 6-5, 347, 5.32
DeMario Pressley, North Carolina State, 6-3, 300, 5.12
Ahtyba Rubin, Iowa State, 6-3, 315, 5.22
Pat Sims, Auburn, 6-2, 310, 5.10
Also considered: ; Lionel Dotson, Arizona; Letroy Guilon, Florida State; Marcus Harrison, Arkansas; Nick Hayden, Wisconsin; Carlton Powell, Virginia Tech.