Seattle Seahawks Delta Community Captain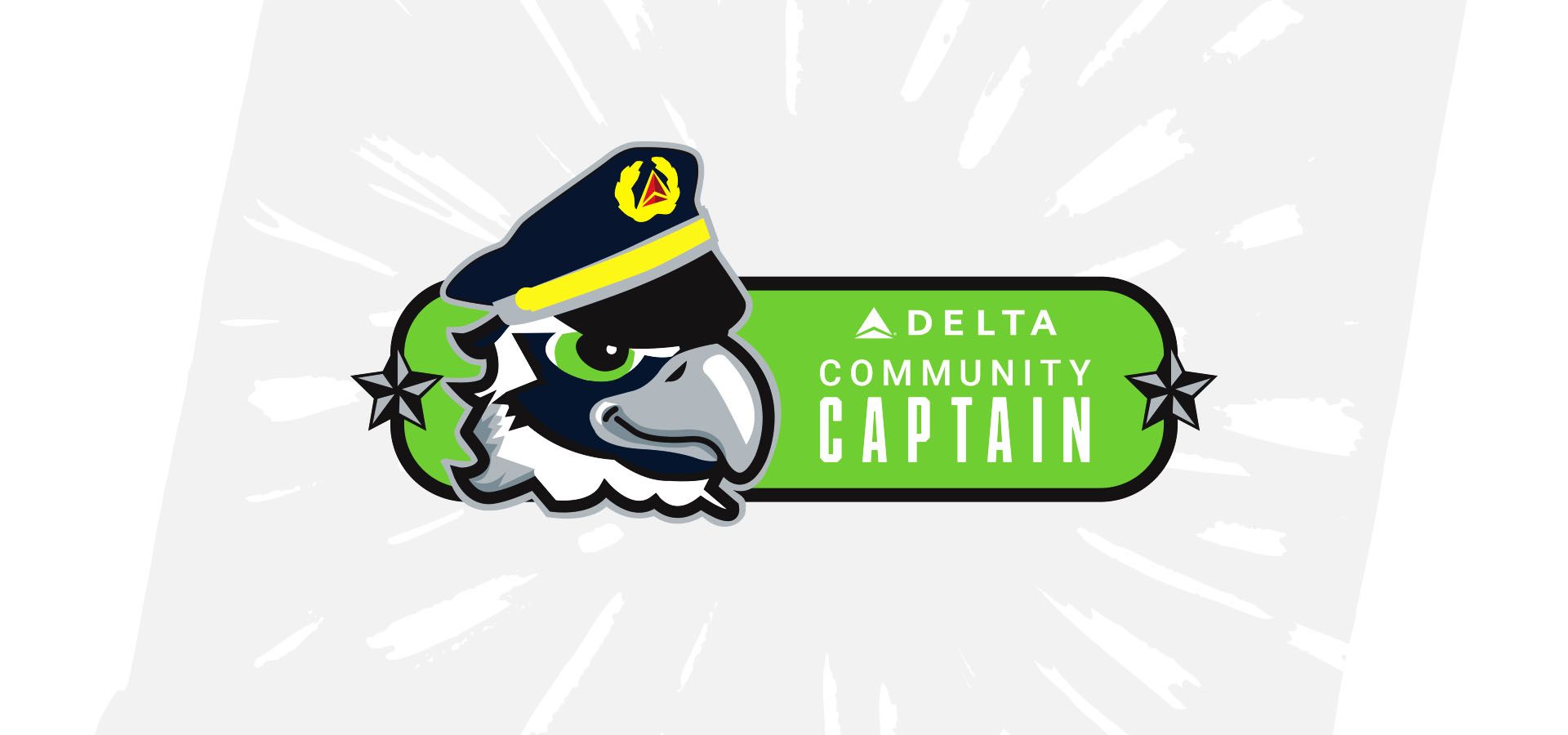 The Seattle Seahawks and Delta Air Lines, the Official Airline Partner of the team, launched a new community-focused program – "Delta Community Captains." The program is designed to recognize local individuals or organizations in the greater Seattle area that are making a difference in the community by naming them as honorary team captains.
The Seahawks and Delta will name three Delta Community Captains per quarter in four categories that align with shared company values: education (July-September), military (October-December), equity/social justice (January-March), and the environment (April-June).
Captains In Social Justice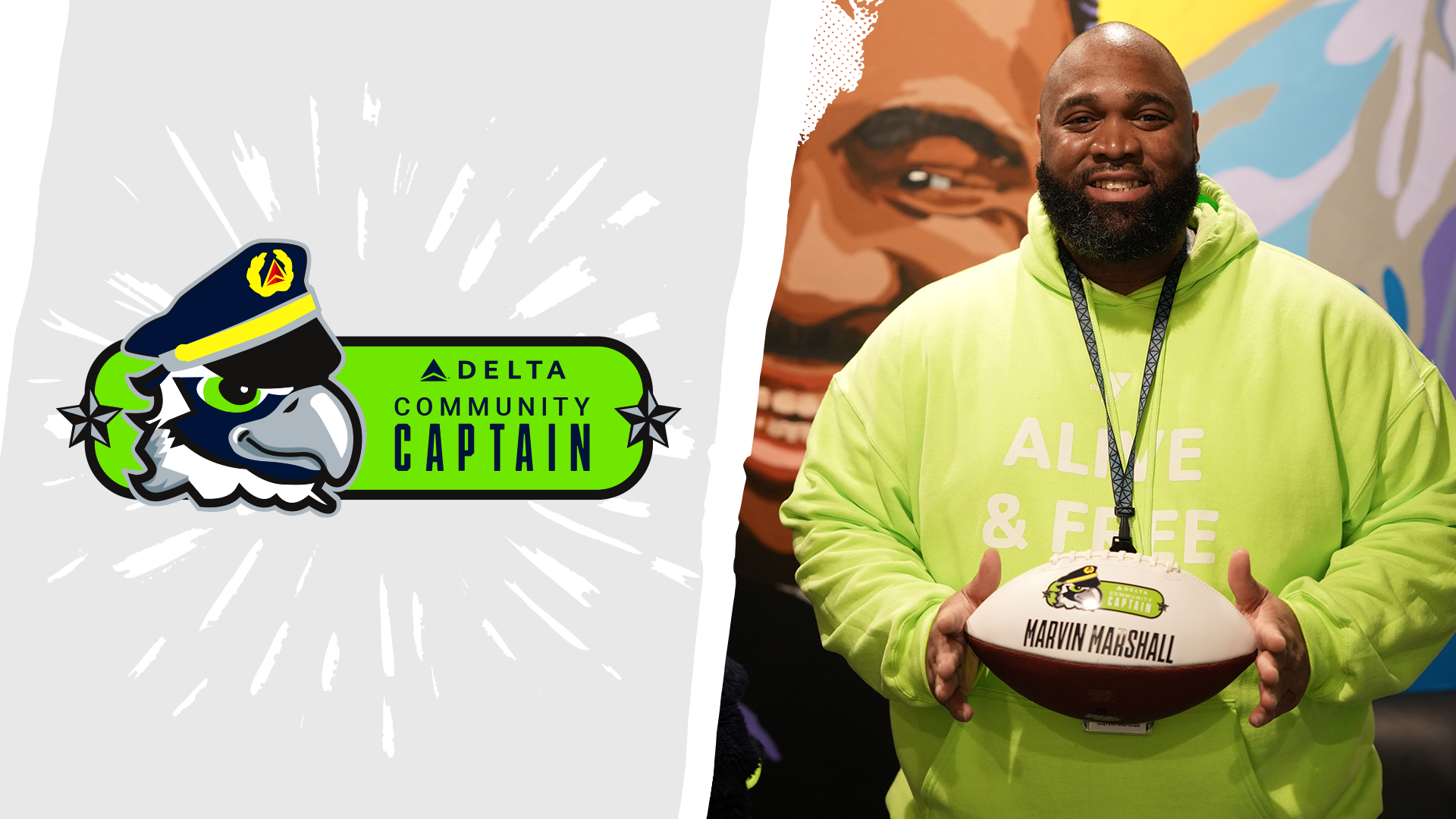 Marvin Marshall
Marvin Marshall is Program Director for Violence Prevention at the YMCA of Greater Seattle's Social Impact Center, and our newest Delta Community Captain. The Y's Violence Prevention Programs serve youth and young adults who are impacted by community violence and/or the justice system, particularly in SW Seattle and South King County. Marv leads a team that provides an active presence in our community for youth and young adults, via street outreach and case management and in partnership with several cities and organizations across King County. Marv believes we need to meet young people where they are. Using personal experience, strong ties to the local community, and extensive training, outreach workers go where youth are in their community. Marv's strong and steady leadership of these programs in support of social justice for BIPOC youth in our communities is greatly appreciated and valued by the community and the YMCA.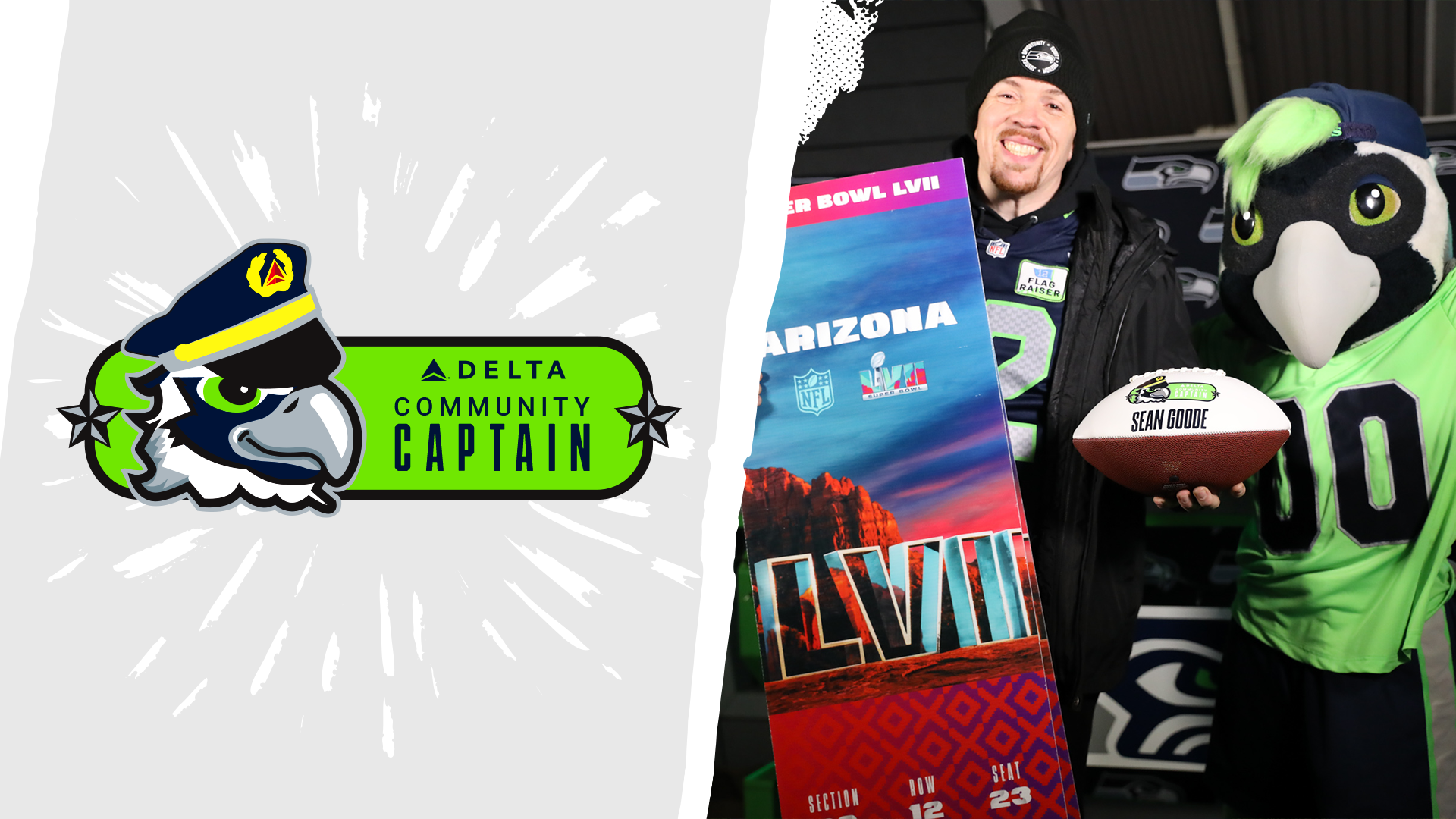 Sean Goode
On December 15th, during our Inspire Change game, we surprised our Delta Community Captain, Sean Goode with Super Bowl tickets! Sean is the Executive Director of Choose 180, whose mission is to transform systems of injustice and support the young people who are too often impacted by these systems. In his role, Sean wants to pay it forward by building supportive and healthy communities around youth. Choose 180 provides multiple programs and workshops to achieve these initiatives. We were excited to host Sean and highlight his amazing efforts in front of the 12s during Thursday Night Football!
Captains In The Military Community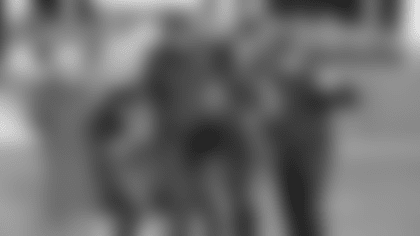 Mike Schindler
While the Seahawks were in Germany, back home the organization was making sure Friday was all about celebrating our veterans with a special event for 100 military families at Lumen Field done in partnership with Starbucks and Delta Air Lines. At this event, we honored Mike Schindler, CEO of Operation Military Family, as our Delta Community Captain. Mike is a US Navy veteran, author of two highly endorsed books, the national podcast host of The Military Wire, and Co-Executive Producer of IT'S VUCA. Mike is also known throughout the US as a subject matter expert on leadership development, negotiation secrets, and veteran transition issues. Since 2012, he has helped local, state, federal agencies as well as Fortune 500 companies improve team morale and retention. His "Prepare, Plan, & Execute with Purpose and Passion" has helped well over 10,000 individuals realize their true mission, purpose, and identity in life, leading to happier families and more solid financial standings.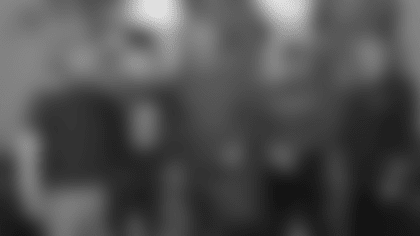 Tom Tinsley
Fisher House Foundation builds comfort homes where military & veteran families can stay free of charge, while a loved one is in the hospital. Delta has worked with Fisher House to build new facilities around the country, including in Lakewood, WA at Joint Base Lewis McChord. Tom Tinsley, a retired US Army and Thurston County police officer was honored as our Delta Community Captain for his 1000+ hours of volunteer work at Fisher House since 2016. Tom is a US Army Retired Military Police Officer serving 20 years and later serving the Thurston County Police Department for another 25 years as a Deputy Sheriff. His time and service has been immeasurably invaluable and his dedication to Fisher House is essential to the work they do.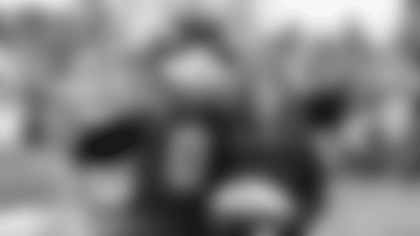 Karla Stoermer
Karla Stoermer is going into her seventh year as the music teacher at Fawcett Elementary School in Tacoma Public Schools. Other than her strong interest in music, Karla is an environmentalist whose hobbies include: snowshoeing, cross-country skiing, trail running, and traveling. She has also just completed her Master's degree with a strong emphasis on mindfulness. Throughout her teaching experiences at Fawcett Elementary, a Title I school on the east side of Tacoma, she has provided after-school gardening club opportunities for students. Karla was honored as Delta's Community Captain, on October 5th, as she exemplifies Delta and Captain Planet's partnership to bring outdoor learning techniques to local students through the Learning Gardens.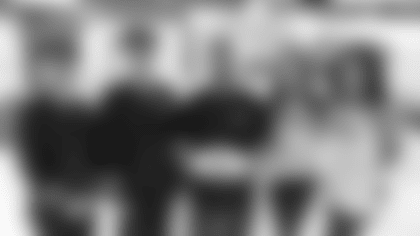 Pedro Perez
Our newest Delta Community Captain, and first of the 2022 season is Pedro Perez. Pedro is the co-founder and Executive Director of Geeking Out Kids of Color, or GOKiC — an organization that is closing the digital literacy gap, battling racism and sexism through decolonizing tech education for youth. As a critical race theorist, Pedro intersects his technical skills with anti-racist and anti-sexist theory and builds new tech ed curriculums for kids. Pedro and the GOKiC program were invited to a field trip at Museum of Flight by Seahawks and Delta Air Lines where they were able to engage with aviation learning center simulators with Delta Pilots and Seahawks Dancers plus surprise Pedro with the recognition of Delta Community Captain. Pedro will be joining Seahawks at Lumen Field for the game on December 15th later this season!
Noah Oliver
Noah Oliver is an exceptional Yakama Nation Cultural Resources Program Geographer and Archaeologist, working on behalf of the Yakama Nation, in support of the tribal community as well as conducting resources surveys and traditional cultural property evaluations. Noah has been instrumental in numerous projects for the Yakama Nation, including championing the negotiation of the return of ancestral lands at Celilo Falls to the Yakama Nation, and Forterra is honored to have Noah's help in our work. Noah brings a unique perspective on land conservation, from mapping and archaeology, to the rehabilitation of land and cultural resources. The land, water, air and all natural and cultural resources are the gifts that Noah embraces as he works in conservation to protect the environment.