Featuring postgame quotes from the following: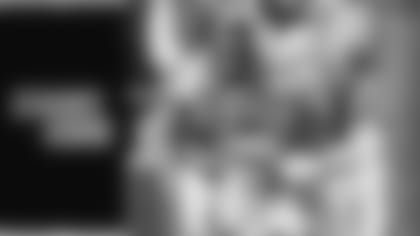 Re-live Each Game With The Seahawks Rewind Podcast
Re-live every Seahawks game this season with game highlights, player and coach postgame interviews, and a whole lot more. Available on Spotify, Apple Podcasts, and wherever else you get your podcasts.
"This was a really frustrating day for us in that we really had a shot at putting this game away on our end of it, and we could have done it today. It was a fantastic end of the second quarter to get us ahead. Great kick. Down 10-0 on the road, they're going crazy, and our guys just bounced right back into it. Put us ahead by the time we're done at halftime and we felt great about it. We really felt like we had done some things we could fix and we could play a better second half. We go through the third quarter 23-17 and it's there. It's there to be had. They did some really good stuff. They've got good players and a good team, and I give them all the credit. I thought [Head Coach] Kyle [Shanahan] did a fantastic job, but we had our shot. So, the suddenness of this finish is just what's so striking right now, that we are all of a sudden done. We weren't thinking that way. We were thinking something good was going to happen, we were going to knock these guys off and we were going to keep going. Of all the stuff that has to do with playoffs, this is the biggest obvious factor that's different and unique, that you're playing for something. All the hype, everything building and going crazy, and all of a sudden you have to go home. What has happened during the course of this season has been a tremendous amount of progress that we've made. We've made so much growth and there's so much yet to occur here in the next turnaround. As we get to come back for this next season, all of these young guys are going to see the world totally differently than they see it right now. They're going to be amazed how much they didn't know in their first season of playing NFL football. I'm not dwelling on the negative part. I'm going to focus on what's coming and that's how we've talked in the locker room. There's future, there's all kinds of promise and there's all kinds of cool things that are going to occur here as we bounce back and get back on track for another season. But, really disappointed that we had it. We had such a good opportunity today. You all felt it and I know you could tell, and it was really exciting. It was a great finish [K] Jason [Meyers] hitting the kick right at halftime to give us that assurance that yeah, we can come back and we can be in this thing and we're for real. But they did a nice job in the second half." 
Pete, you had that one point lead at halftime. Just how much did the turnovers make a difference? 
"Yeah, unfortunately we got the penalty called on us. And so we're on 3rd & 12, I think it was. And the last thing that you want to do is get sacked and lose the football there because we were in field goal range. We would've taken the field goal at that time and we would've been feeling okay about it. And we'd give the ball to them and then they'd go down the field. I think they scored after that. Then we couldn't keep them from scoring. They moved the ball in those next three drives, and they made plays. The quarterback did a really good job of staying alive and their guys made some things happen. So, it's the turnovers. Yeah, it always is. We were minus two today. That's how you lose. And we know that. It was even more poignant because we knew what we were doing, and we were trying to make sure we didn't make that error. And they took the ball away from us. I'm talking about the fumble." 
You've mentioned previously that emphasis on linemen downfield. Was there anything different today about that call?
"No, there is a new emphasis. And obviously it kicked our butt today. We had five penalties and three of them were the same thing. We made an error on the third one. We went down field too fast and I think there was one in there, but [Seahawks QB] Geno [Smith] couldn't throw the ball any faster than on the first one. He couldn't get the ball off his hands any quicker. That two-yard threshold, I don't know, because the officials didn't call anything during the day. It seemed like we must have played a really clean game on both sides of the ball and they did too, but they didn't call anything. And then all of a sudden those things popped up. But we have to do better. It's easy to not even threaten to go downfield, we have to do better at that." 
Maybe it's too early, but when you just look at this season, what are you going to take away from this? 
"All of the experience gained. There were many things that we dealt with. This was a valuable season. All of the challenges that we faced, where you could have thought, just kind of like in this game, we're down and you think maybe we don't have what it takes and then we come roaring back. Then we have a little bit of a dip again and we come roaring back again. It was like the first half of this football game. Really, there's just so much future. And that's just obvious. You can see it in the young guys. [Seahawks RB] Kenneth [Walker III] had a great year and the two tackles had had a fantastic season just doing what they did. The cornerbacks that played did a fantastic job to make it through a season. They're crushed in there right now. They couldn't see it coming that the season was going to be over today. So they're in shock about it almost. But all of those guys are going to grow so much. That's really what's so obvious and we need to do better. There were a lot of areas that we can improve." 
What was the vibe at halftime? 
"Oh, we were jacked up. We were ready to go. We were ready to seize the opportunity. It was there. It was just exactly like we had talked about and exactly like we had pictured it. We had played through the adversity and we were ahead on the road. Nobody thought you could ever even be close and it just didn't quite come together, so that's what's really frustrating." 
They had a lot of big explosive plays on offense. What do you think happened there? 
"Yeah, there was all kinds of strange plays. [QB] Brock [Purdy] did a really good job staying alive. I don't know why we couldn't sack the guy. We chased him all over the place and he's not noted for being the greatest scrambler, but he looked like Fran Tarkenton out there today. Some of you guys don't even know who that is but he did an excellent job of keeping plays alive. He finds the little flat gimme touchdown, and then he finds it again just because he stays alive and was really resourceful. Those were really hard plays because there are all kinds of things that could have happened the other way right there and they didn't. So, those were just forced by the effectiveness of the guy's scrambles. He caused it."
You were having a lot of success with those deep cross routes. What were you seeing on that and how much did their ability to create yards after the catch effect things? 
"Yeah, we were geared up to stop the running game today in hopes that we would be able to do that. It stayed with us. The preparation caught us a little bit because we were really gunning to make sure that we were there. The passes did get in behind us on a couple in some zone stuff." 
The fumble aside, what did you give you Seahawks QB Geno Smith's performance? "Geno seemed in control. Seemed like he had really good accuracy going and he was 9 for 10 in the first half. I thought he was on it. He was using all of the stuff we did. We almost called everything we had on the card today. In terms of the throws and the different challenging types of things that we threw, he was fine. Great deep ball. He and [Seahawks WR] DK [Metcalf] were a magnificent hookup today. DK had a great game and I don't know how you can do a whole lot better. He was great today and of course for that to happen, they have to work together. So, Geno was on it." 
Speaking of positive, Kenneth Walker III gives you 63 yards on 15 carries. What did you see from him? 
"Yeah, he looked elusive again. He looked tough today. I thought he ran hard. I wish we would've got him another 10 carries somehow. If the game's different, then he gets another 6, 8, 10 carries and that would've made a difference in the game. He looked like he was up for the challenge. He played great against these guys and this is a really good team and a really good defense. We were able to move the ball around with some success." 
DK has five playoff touchdowns in four games, he might have like 450 some yards. "Yeah, he's fantastic player. He's an amazing player and he just came through again. There was a lot of big strong tough guy stuff that he did. The tough slants and getting inside of those guys when they were grabbing and clawing and all that to come through to make the catch. The deep ball was awesome. It was a great throw and catch, and great route and all of that. He was really good today." 
Was Seahawks Safety Ryan Neal a factor today? 
"Yeah, I have to see the film. I know he cramped up at the end of the game. That's why they came out and got him. But it was great to have him back. He's missed a lot. [S] Jonathan [Abram] has been a good player for us, too, but we just thought that Ryan kind of deserved to get a chance to play again since he'd been out for some time." 
In a big picture sense, what did Geno show you this year? 
"Oh, he's for real. Geno's the real deal. He can do all of the things that a terrific quarterback does. His movement was probably more of a surprise, that he was so efficient with his movement. He could always throw it, but his ability to stay poised and calm throughout the season with all of the hype and the buildup, he could've gone south five different times and he didn't. He never wavered. His leadership really stood out. His voice in the locker room, his voice with our players, he said the right stuff all year. Right up until today. It's a great story. It's a great story for a lot of players in other sports, wherever you want to go. If you keep hanging in there, you believe in yourself and you don't let the messaging outside of you affect who you are and what you are, you'll find your best. I think Geno's found his best and he's ready to come back and go again. He had an unbelievably great season for us."
Seattle Seahawks Head Coach Pete Carroll was talking about how frustrating it was, because you guys were kind of right there late in the third quarter and all that got away. I guess, how do you assess how it turned there? 
"Yeah, I think like you just said and Coach said, we were playing them tight. The game was there to be had for us. Came out the second half, they scored, we got a drive going, we get down in their territory and obviously, I make the mistake right there. And so, what I can take from this game and really this season, out of all the great things that we did, all the accolades, all the great sets, there's still so much room for improvement, so many ways we can be so much better, and I believe it starts with me. The new season for me starts today." 
What does that next step look like for you? 
"Working hard, man. Hitting the weights, getting faster, getting stronger, getting smarter, being a better quarterback, working on my leadership, everything. Everything for me has got to get better. I'm not at all satisfied. I don't feel good about what happened today. I feel like we could have kept going and so for me, I've just got to be better and I'm going to take this one personal." 
What did you see on when they called Seattle Seahawks G Damien Lewis for being illegally downfield there on the pass to Seattle Seahawks WR Tyler Lockett? I guess, what did you kind of see there? 
"You know it varies with the referee crews. Some will call it, some won't, and what we have to do is continue to play. We can't complain about it. We can't allow those things to have us not be focused on the task at hand. Like I said, if it was a different crew maybe they don't call it, but it got called. And so, whatever it is we have to adjust, and figure out ways to not have those things happen." 
You said you don't feel good about what happened today, but looking at the big picture, are you happy with the season? 
"I think that can be answered in two ways. A part of me wants to say, man we came such a long way, overcame so many obstacles. Of course, the naysayers and whatnot, beat their expectations, but I don't think we beat our own expectations. I think we've had far greater expectations for ourselves. And so, what I see for this team is a team with a bright future. A lot of guys, a lot of young guys on this team, have got a lot of experience, first playoff games, my first playoff start. So, we've got a long way to go. I'm excited about the future. I know we can be a lot better and it's just going to take a lot of commitment. And so, I'm in it for the long haul. I'm ready to go." 
What do you think you showed this season? 
"Honestly for me, just going out there and playing every game and competing. I wanted to show people that I'm a great competitor. There's no quitting, there's no stopping in me. No matter what happens, good or bad, I'm going to go out there and give them my all every single time, and I believe my teammates feel the same way." 
In starting a new season, how much do you look at this game, what do you draw, and then move forward with? 
"Yeah, to me you're only as good as your last game. And so, this is the one that's going to sting us for the entire offseason. It's going to motivate me every single day that I wake up to go to workouts, and I'm going think about this a lot, because it hurts that bad. I want to keep playing. So, hats off to my teammates. Hats off to the [San Francisco] 49ers. They did a great job, but I'm ready to get going." 
The game Seattle Seahawks WR DK Metcalf had, just for him to step up in a big moment, what did you think of him? 
"It's DK, you know what I mean? That's DK. Clutch player, one of the best receivers in the game. One-on-one your DB's going to have a tough time, and we needed him today. He stepped up. He played a great game. He is my brother, man. I appreciate that guy and he did a hell of a job today."  
On the fumble, did you maybe just not see him there? 
"I saw him. He made a great play, had two hands on the ball. It's exactly how we drill it. Two hands on the ball, tight to my chest. It's NFL, man. [San Francisco] 49ers have got a great D-line, and the mistakes and games like this become that much more critical. The things that I'm focusing on is to eliminate those things to make sure that we give ourselves the best possible chance to win these types of games." 
Your contract situation's going to be a big story over the next few months, and we may not get a chance to talk to you for a while, what's going to be most important to you in that regard? 
"I want to finish my career in Seattle. I want to. I want to be here. The town, the city, the team, Coach Carroll, the organization, they all embraced me. I was a guy who probably could have been out of the league. They embraced me and I want to repay them for that." 
There was a play in the first half where they really twisted San Francisco 49ers WR Deebo Samuel's ankle and Coach Shanahan seemed really fired up. I don't know if you saw anything from your end? 
"I didn't see the play. I honestly didn't, but if that fired him up, then hats off to them, but I didn't see that play and I can't really speak much on that." 
What do you mean by repay the franchise for?
"Yeah, because like I said, I felt like Coach Carroll and the organization, they embraced me at a time when not many people were, and I feel like that means a lot to me. I've got a lot of loyalty in me and I want to repay those guys for doing that." 
Do you expect to be back? 
Does the team give you any indication that's where they want go? 
"You know, those things will work themselves out. We'll get to that when the time comes, but I feel really great about it."  
What are you most proud of? 
"Just competing. Just being able to go out there and compete with the guys. Really proud to be a part of this locker room, part of this organization, a part of this team. It means a lot to me, means a lot to my family, and I really appreciate all the guys in the locker room and everyone sacrificed. Guys were working hard all year. We learned a lot, but we've got ways to go." 
Did you get dazed at all on that hit right at the end of the first half? 
"Nah, I was good. Yeah, that was fine." 
Do you feel like if you guys would've been able to beat a team like this, the sky would be the limit? 
"I still think the sky's the limit win or lose. I believe in this team. I believe in this locker room. I believe in these coaches. I believe in the organization. I believe in the city of Seattle, just everybody, man, everybody. I believe we've got to keep going and we'll be back. Thank you."
When you think of all the explosive plays they had, is there anything that just jumps out to you right away? 
"[49ers Head Coach] Kyle [Shanahan] did a great job of setting those plays up and making everything look alike. That's why he's one of the best in the game. It's just one of those games where you have to play consistently with your eyes and you know peace, old thing of doing right longer. We weren't able to do that today and those guys made some big plays. Hats off to them." 
The long crossers – was that something you saw a lot of? 
"I think that's just part of guys attacking certain coverages and certain things. Like I said, he drew up some great things. They did some things that they normally didn't do, but for us, we've got to be better in all aspects of the game and today we weren't." 
You've been a big advocate of QB Geno Smith's all year. What do you think Geno proved to everyone this year? 
"He led a team that didn't make it to the playoffs last year to the playoffs this year. I mean, we wouldn't be here without Geno. So for us, we embraced him, but he's always been one of us. Even when he was the backup quarterback, we all really had a close relationship with Geno, and we always crack jokes and things that we still do to this day. I think that shows you the type of player, the type of personality that he has. He meshes with all the guys, all the guys believe in him. When seven's [Geno's] locked in and we know he's a competitor, so we're going to fight for him. I hope that he's back for sure. I think things will work out the right way."
"I mean, it was a tough game. Very unfortunate events. Think that we had San Fran exactly where we wanted them. Very questionable call about the illegal man downfield, and a lot of our opinions that stopped the momentum of our drive. We drove down regardless of San Fran scoring, did a great job being able to control the clock, driving all the way down and we got it to where we wanted it, third and two and they called an illegal man downfield. Very, very tough just because I think [QB] Geno [Smith] threw it in 1.2 seconds. So it's hard for anybody to get past the line of scrimmage in that time. So very tough call, but then a couple plays later we fumble, then they go down and score and now we go down from six to 13. Those events kind of turned the whole game around, come back down from 13 and then we get four or five penalties in a row, which I mean, you guys can answer that for me. So don't really know how we can get five penalties in a row. So that's tough too, and still had a great drive though. [RB] Ken [Kenneth Walker III] had a big time run, was able to get stuff moving and then it was holding and then we just kind of got out of sync at that point." 
This was easily the best offense you've had against this team, what's the next step with this offense? 
"Well, like I said, I think we did a really great job, we had them where we wanted them, but the penalties, we just couldn't capitalize on them. Like when you look at our whole season, we did a great job of being able to still overcome those penalties when you look at teams like the [Los Angeles] Chargers the [Los Angeles] Rams. Whoever we played, if they called penalties and we kept getting backed up over and over, we were able to get a big time play to get the first down and keep the drive alive. It's hard to do that in a regular season game and it's even harder to do it in the playoffs especially when you're playing, one of the top teams in a conference. So for us, I still think we did a great job on offense. It's just some of them calls just kind of shot us down and we weren't able to keep going, but we were driving the ball on them the whole game." 
Do you plan on giving your endorsement to Seahawks General Manager John Schneider Seahawks Head Coach Pete Carroll to bring back Geno next year? 
"Oh yeah, of course we want Geno to come back. I think everybody in the building wants Geno to come back. Obviously like Geno said, the NFL is a business and so they're all going to do what's best for each other. Very happy with how Geno played, and everything that he's done throughout this year. Just amazing to be able to have an opportunity and to have such an incredible season, a Pro Bowl year at that. Very excited for him just for what the future holds. Me, [Seahawks WR] DK [Metcalf], and [Seahawks WR] Penny [Hart] were just saying how cool it was just to be able to see what we all accomplished in our first year. Just being able to play with Geno for the first time, and we learned a lot of new stuff, and it was very interesting just to see how we continued to try to build the chemistry, continued to try to learn and grow because that stuff didn't happen overnight and a lot of that stuff took a lot of hours and a lot of nights just to be able to continually grind and understand each other's mindset."
The touchdown on third and three there, what did you like about your quarterback? "I like a man who's about his word. He [QB Geno Smith] told me during practice on Wednesday that if I was pressed on that play he was going to throw it to me. He kept his word. Excellent throw." 
What do you feel like you have to do to catch up with the 49ers?  
"We have to continue to play as a team. This year was a good stepping stone for the future for us. We weren't supposed to make the playoffs, we weren't supposed to win more than 2, 3, 4 games and we did that with this team. All we have to do like Geno said is just build during the off season and continue to grow. We are going to be something to play against and look out for next season." 
Geno Smith is a free agent now. He just told us he wants to be back and expects to be back. What's your reaction? 
"I didn't even know he was a free agent. He is going to be back though, that's what I'm expecting. Hopefully, he's back next season."  
Do you think you guys are close to being a Super Bowl contender? 
"Yes sir, I do think so." 
What gives you that confidence? 
"Draft picks, free agents picks and just building on this year. I think we missed out during training camp on a lot of team bonding and bonding as a whole, whether that's position, groups or just a team in general. I think next offseason and next season going into it, just being ready to bond with the team and know who we are at a core and not just jersey numbers or teammates. It has to be a real brotherhood when you go out there for games like this."
What's going through your mind right now? 
"A lot, but the only thing I can think of is just how proud I am of this group and how proud I am of this team and what we put together this year. At the end of the day, I can hang my hat on that. I've been an underdog my whole career and my whole life and this couldn't have been a more perfect team to be a part of. From top to bottom, from the vets to the young guys. Just nothing but heart and desperation from this group. Out of the four years I've been here, this is probably the team that I love the most. Everybody wrote us off. Our own fans wrote us off. We just did some things that no one thought we could do. I can hang my hat on that today." 
How close do you feel you are to the 49ers? Can you bridge that gap by next season? 
"Oh absolutely. You look at the first half of the game. They were probably sweating down their backs. The 49ers ran away with it. We just gave them too many explosives. I gave up one, the one with [49ers WR Deebo Samuel]. This group is going to be a group to look out for next season. Everybody knows that I'm just excited to see what we can put together next season." 
How bright is the future here? 
"Super bright and if you can't see it, then you must not have your eyes open. But this team is going to be a really great team and I think the city of Seattle knows it. To be honest with you, they should be just freaking excited. If we had a couple more pieces, get back together and get healthy, this team is something to be scared of. There's a very bright future for this organization for sure."
A couple of ways to look at this right now, first is you got beat pretty bad by a good team. Second is, you guys had a successful season, you got the playoffs. How are you looking at it right now? 
"It's a tough one. One of the best teams in the league, we put ourselves in a good situation after the first half and it just went downhill from there. It is playoff football. Third and 13, we have to make the tackle. Once the quarterback gets to scrambling we have to make sure we plaster and stick to our guys. It was two situations where we plastered, where he scrambled and the running back was just free. You can't do those things in the playoffs. If you do, you see what'll happen." 
What's the feeling at half time when you go in up a couple of points after being down 10 nothing? "A lot, we were confident. We felt like we could play with them. We felt like we had a great chance. But stuff happened and it kind of got out of hand." 
How do you view the season? 
"I'm not into moral victories, but a lot of people had these guys written off. I wasn't here with them at the beginning and these guys made a run for it. That's all you could ask. It's a young team, a lot of these guys never been in a game this big. You could tell by the look in their eyes. But it's a great team. So I'm fully confident they'll be back here next year and they'll be ready for it."
I know you guys don't feel like you're 20 points worse than the 49ers. What happened? 
"I've got to watch the film. They didn't out physical us. We played the physical game with them for the whole 60 minutes. We turned the ball over and we've got to take care of the ball. We're a young team and everybody didn't expect us to get even to this point. I'm proud of what we put out. Like you said, we're not 20 points of a lesser opponent than they are." 
You guys didn't have a lot of explosive plays on offense. Was there something about them that took that part of the game away? 
"That's the best defense in professional football. You just have to make plays at the end of the day."
Talk about Seahawks QB Geno Smith. He's a free agent. Seahawks QB Drew Lock is a free agent. Would you like to have Geno back with you next year? 
"Geno's resume speaks for itself. What he did this year is going to set a precedent for what happens next year. We've got the pieces. We've got the tools. We've got everything you need."
You guys overcame a lot this season and did more than expected. How are you looking at this right now? 
"I feel like this is a microcosm of the season. We squandered the opportunity. We come in at halftime 17-16. I don't know if folks thought the game was over with, but it was a dog fight. We play a team in their house and they weren't going to let us take it. It was going to be a fight. It was a four-quarter game and we only played two and that was the end result. They whipped us." 
How do you feel about the season? 
"Frustrated, because I want to still be playing. I guess if you look at the bright side, we overcame a lot to even get to this point, to even get a chance to play in this game. I expected to go out there and win and especially not get blown out like that. So I'm frustrated."  
The 49ers ended up with more than 500 yards of total offense. How would you assess the defense? 
"They whipped our ass. They could do whatever they wanted. It was a frustrating game." 
What do you feel like the Seahawks have to do to catch up to them? 
"Execute. They were executing. We weren't executing. A lot of stuff they hit on us was simple stuff. Everybody had to do their job and we didn't do that." 
The long run by RB Christian McCaffrey in the first half. Was that an example of that?
"They pulled the linebacker out of the box and then they had 44 [FB Kyle Juszczyk] come in and he cracked the linebacker. It was like Moses splitting the Red Sea. It was great. Great call on their part."
Check out some of the best action shots from the 2022 Wild Card Round vs. the San Francisco 49ers at Levi's Stadium on January 14, 2023. Game action photos are presented by Washington's Lottery.