Featuring postgame quotes from the following: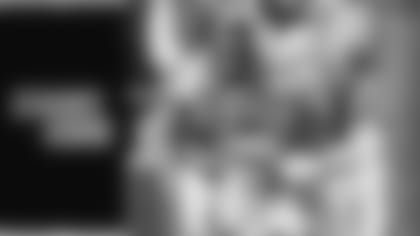 Re-live Each Game With The Seahawks Rewind Podcast
Re-live every Seahawks game this season with game highlights, player and coach postgame interviews, and a whole lot more. Available on Spotify, Apple Podcasts, and wherever else you get your podcasts.
PETE CARROLL: For us, we had our chances to win the football game. They were obvious, so clear. You all know them. To give them the opportunity to stay in there and hang in there, they've been hanging, they've been in close games all year long. Nothing different for them. They get the big play to win the thing, which isn't really the statement of the game. It's a good deal for them, for Josh. I'm going to go back to everything we look at this film, we're going to see the opportunities that got away from us that we just didn't take care of. We did some things in the game we wanted to on defense to try to slow down Davante and take him kind of real seriously. We gave up way too much in the running game. We did not play the run worth a darn in getting that done. We didn't rush the passer as well as we needed to either. That's just what happened in this game. I give them credit. They outplayed us and got their win. But it's really frustrating because the game was there to be won. The fumble that we had going in, we get the stop on fourth down, big stop on fourth down, get the ball around midfield, we don't get a first down there. You can look at it both ways. Everybody was involved in this thing. We're not going to say a whole lot about it, not going into detail, but we'll deal with it in the next couple days.
Q. What did you think the major issues were with defending their running game?
PETE CARROLL: They did a good job, stayed committed to it. They had a couple big plays, big play after the turnover, the one obviously at the end. They did a good job.
Q. Did the attention that you were paying to Adams and the game plan there come at the expense of run defense at all?
PETE CARROLL: That's what I'm saying, yeah. Somewhat, yeah. We did a lot of stuff to keep him out of the ballgame. Remember, had those 40 something targets coming in the last few weeks. Had 10 or 11 of them today. A lot of the ball goes to him. Josh was really terrific today. He had a great game. We didn't tackle him as well as we needed to, didn't scheme him as well as we needed to.
Q. What are you seeing from the run game last couple games?
PETE CARROLL: Not consistent like we had wanted it to be. Those guys, they did a nice job up front, got in the backfield on us a number of times. We really were inconsistent picking things up front. That running output is not getting us what we want in terms of balance. That's not what we're looking for. Geno threw the ball well today, got some good yards a lot of completions and all that, which was good. We need the balance to play the way we want to play. We couldn't find that today. It was enough to score 27 points, but we can do better. I can tell you, every aspect of our game we didn't do well today, well enough. It goes right to me. I'm the one that's got to get this stuff organized so it fits together and fits right. I'm really disappointed that we're sitting here talking about a game we didn't win, because that was a game we should have won, could have won.
Q. What does that process look like for you now?
PETE CARROLL: I got to clean some stuff up. I've got to make sure that things fit well and precisely, we get out of balance with how much we're having to throw the football, how much we were playing for the throwing game, on defense, the other side, I think we can balance some stuff up. I got to help out.
Q. From a big picture, how frustrating is it to have the line of scrimmage go their way?
PETE CARROLL: That's kind of what happened on this day, yeah. It's really disappointing. That's not the way we want to play.
Q. What happened with Ryan Neal there late in the game?
PETE CARROLL: He's got an injury to his elbow. Couldn't tell us what it was at this point. We don't know yet.
Q. What were you told on the apparent fumble by Josh Jacobs down there?
PETE CARROLL: That they stopped the play for forward progress. You can't challenge a play when they have forward progress involved. It means he got hit, they stopped the play, the ball came out. He fumbled the ball, all that kind of stuff. We saw that. They have to make the decision of how to do that. That's the way they called it. There was no way we could challenge the play.
Q. How did you see Ken kind of battle through the game?
PETE CARROLL: He battled. He battled. He had some terrific plays. He got hit a lot before he got going. We couldn't get him started consistently today.
Q. The touchdown that Homer had, talk about his growth.
PETE CARROLL: Yeah, it was a really nice play. It was a good execution to get the first down first of all. But to finish it like that, that was a terrific run for him. He's a heck of a football player. Tough as nails. He comes through whenever he gets his chances.
Q. Were you surprised they overturned the catch?
PETE CARROLL: The one to DK?
PETE CARROLL: Yeah, I was. Both of the guys on the side, the refs on the side, they saw it as a clean catch. I didn't see the replay. I understand they were talking about the ball got moved after he slid out of bounds. You got to survive the ground. That's what they're trying to determine there. They were clear it was a catch on the side, so they were surprised it got turned.
Q. Is that a play that doesn't even get challenged or reviewed out of two minutes? Is that something more common?
PETE CARROLL: What do you mean than doesn't get challenged?
Q. Outside of two minutes, you just move on.
PETE CARROLL: It's a good point because, I mean, they were adamant about the catch that it probably never would have got to that, so... In that regard, yeah, we got bit on that one.
Q. (Question regarding a common thread.)
PETE CARROLL: What's different in the last two games, they stayed in regular personnel, used the fullback. More unique than other games we played. That was a problem for us again. It's old style ball. There's nothing new about that at all. It's just that it's different and we didn't adjust to it in either of the last two weeks.
Q. What did you think of Geno's game overall?
PETE CARROLL: We made a mistake on the route. It didn't look right. He probably shouldn't have thrown the ball at all because we errored downfield in the route. We got a good call on the ball in the end zone when we got the kick the field goal on third down, fourth down. But he did a terrific job again. I thought he threw the ball well, ran well, had a huge scramble for a first down, a huge scramble to Homer for a first down when we were behind the stick. Those were enormous plays for us in the game. He continues to make stuff go. I thought he played very well.
Q. What did you see on the flea flicker play?
PETE CARROLL: They did a really good job. Hollins comes down and cracks the safety, and the corner reacts to the crack. Then he releases. It was really well-executed. We had some push on the line of scrimmage, bringing some guys on that play. The execution by their end was better than ours. But it works out sometimes he doesn't get the chance to show that block, so the corner would stay on him. It was really well done by them.
Q. Do you feel you're getting the push you need from your interior linemen on defense?
PETE CARROLL: It's not that easy. It's the fits. It's all of the support and stuff we do from the back end as well. We have to play better than we're doing against the two-back stuff. It couldn't be more obvious. It's as obvious as it gets. Something we'll take care of.
Q. Big picture, what's this team need to do to get back on track after a couple losses?
GENO SMITH: Yeah, we can't let it be a snowball effect. Reality is that we're going from the hunter to the hunted. People want to play us. As a young team, we've got to learn to be able to go out there and win those games. That's our next step in the evolution as a really young team. We got to understand the moment, capture the moments, take advantage. I feel like we had plenty of opportunities to go out there and win that game, finish it late, and we just didn't get it done. When I was in college, a coach told me about the difference between a finger pointer and a thumb pointer. I've always vowed to be a thumb pointer. I'm going to look at myself hard in the mirror, watch this film, see where I can get better and help this team win games.
Q. The pass to DK that they called no good, what did you see on that?
GENO SMITH: They ruled it incomplete. It was close. They called it incomplete. That was one play in a game of many plays. I could have gave him a better pass. Like I said, being a thumb pointer, those are the things that I can correct. Nobody's perfect. You can watch across the league, every quarterback is going to make some mistakes. I just got to be better in some aspects and put it all on me. Put it on me. I'll be better.
Q. After they missed the field goal and the possession after that, overtime, three-and-out, what was the issue there?
GENO SMITH: We didn't execute to the best of our ability. Like I said before, that's one of those situations where late in the game we have an opportunity to go out there and get a win. Obviously we didn't get it done, so we've got to look at ourselves and figure out what we have to do better. I look forward to that.
Q. What happened on the interception?
GENO SMITH: It's an interception. Bad pass. Can't happen.
GENO SMITH: That's on me. My fault. 100%.
Q. You were trying to pull that back, right?
Q. Realizing you have the opportunity to seize the moment, a young team, what do you have to do as a leader in a collective way?
GENO SMITH: Yeah, we just got to continue to learn from these things. It's all a learning experience. That's what it is. Like I said, we all can learn from it, not just the young guys. All the guys on the team, coaches included, look where we can be better and figure out ways to win.
Q. You talked about going from the hunter to the hunted. Are you noticing any difference in the teams facing you now?
GENO SMITH: Yeah, everybody watches sports, ESPN. Everyone watches what we do out there. Make a lot of great plays. We got great players all over the field. Coming into the season, there were different expectations. Seeing what we have on this team, I believe we can do a lot of great things. I think everyone else can see that as well. We have to own that, accept that for who we are, because we are great players and we are a great team. We lost two games in a row. It's not the end of the world. We lost one game today. But we got six more ahead of us. Like I said, we got to learn from that because we're going to be in these situations again. I'm really looking forward to that, being in that situation, seeing how we can overcome those thing and get back on the winning track.
Q. The touchdown to Tyler, you're letting that ball go while he's hip to hip. How much faith do you have when you throw the ball to him?
GENO SMITH: I got a ton of faith in Tyler. Those are things that we practice day in and day out since training camp. We just got to continue to make plays like that. Like I said, we got great players all over the field. Tyler is one of our leaders, an established player in this league. He's the guy that's going to win those more often than not.
Q. (Question about running the ball.)
GENO SMITH: I would have to go back to the film and just see exactly what it was. But I can say in hindsight it's just execution, whatever it is. It's execution. It takes all 11, including me. Like I said, I'm not going to look at anyone else, really just looking at myself and what I can do better to help that out.
Wide Receiver Tyler Lockett
(On the takeaways from this game) "I think we had a chance to be able to win and we just didn't pull through. Any time you're in overtime and the kicker misses a field goal and we get good field position, as an offense, we have to be able to get our field goal kicker in the best situation to make the field goal. We had a great chance to be able to do it, and the Raiders did a great job on defense, but for us on offense we have got to be able to just take over in that situation."
(On the miscommunication during the interception in in the first quarter) "There was a lot of miscommunication but I'd rather let Pete (Carroll) talk about it."
(On what is needed to get back on track) "I think the biggest thing is you just have to make a decision. Unfortunately, we let this game slip away, but at the end of the day, things are still in our control and it sucks to see what just took place but everything that we want is still right there in front of us. It's not going to be something that's easy. Sometimes in life we all want stuff to be easy to where you don't have to work to the point where it's like you either get it or you don't. For us we just have to be able to go back to the drawing board. I think this was a game to be able to show us that if you want it, you have to take it. No one is going to hand it to you."
(On his touchdown catch) "Geno (Smith) did a great job trusting me. We knew how the DBs play, we knew that they were going to sometimes be in a good position but the biggest thing was being able to finish at the end. Understanding that with Geno, we know how he throws the ball, we know the places that he's going to put it and so the biggest thing that Sanjay (Lal) always talks to us about for the most part is being able to keep running and not slowing down in any of our routes. Geno does a great job of being able to throw it where it's supposed to be at."
Free Safety Quandre Diggs
(On whether he has ever started a game with such an early interception) "I've been there, done that. I've scored a touchdown, too, first play of the game. So, I've done that before. I need to do something new, I need to score again."
(On frustration after this game) "We have to fix it. Everybody's going to expose it if we don't fix it. We fixed it for a little bit. It showed its head today. At the end of the day, if we don't stop the run, we're not going to be able to do anything. It starts with everybody."
(On whether the defensive challenges are similar to what they were in September) "I mean I thought we fixed it. I just have to look at it. It's not a lack of effort. I think we just have to figure it out again, and figure out that niche that we had for a while there, and get it fixed fast. Because teams are going to see that, and when they see that, you could have run the ball. We have to get those stops. I'm not down on anybody, I'm just saying we have to get those stops. We had some good stops today, and we just have to be more consistent with it."
(On what makes him confident that the defense can get it fixed) "We've done it before. It's not a lack of effort. I know that everybody has their head into it, and everybody wants to get it done. I just think, at the end of the day, we got to bring it. We have to bring it in practice, and we can't have any lulls. When you have a lull like that, you get complacent a little bit maybe, and you think you got it fixed, and teams find new ways to expose it. We just have to see what teams are doing to us now."
(On how tough it is to swallow a loss like that) "It's pretty tough. We were supposed to win that game, and it sucks to lose on the last play like that."
(On what it will take to get the defense right again) "Just watch the film. Fix the mistakes during the week, and everybody just stick together and keep rising up."
(On what the defense needs to fix to stop the run) "We just have to play more physical. Guys have got to get off blocks, make tackles. Can't miss tackles. That's what it is, basically."
(On how having a second running back in the backfield impacts the defensive scheme) "It's just declaring where they want to run the ball. Anytime they are in '21', with the fullback in there, most of the time they are following the fullback, to wherever the ball is going."
(On what the group needs to do to bounce back) "Just keep going. We have six games left. Just keep going."
Wide Receiver Marquise Goodwin
(On Pete Carroll's message in the locker room) "Really just control what you can control for right now, and come back ready to work this next week."
(On the challenge of getting into manageable third downs) "I don't know. I have to go look at some of the film, so I can give a better answer. Really, it boils down to just executing, honestly."
(On what he saw today in the struggles of defending the run) "Honestly, I'm not going comment too much on it. I want to see the film first. I want to take a step back and digest everything. That's a game that we should've won. I wish we could have it back."
(On his confidence in the defense to make another adjustment for the rest of the season) "I'm very confident we are going to make an adjustment. Like I said, I'm not going to say much about it. We'll see the film tomorrow, and from there, we'll get better. I know that."
Running Back Kenneth Walker III
(On the struggles in the run game) "I just feel like we haven't been executing well. The running backs, myself included, we just haven't executed well in the run game."
(On what happened on the fumbled exchange between he and Geno Smith) "It was a read option, so it was really the running back's responsibility to handle the mesh point. That's how we talk about it, so I'll take the blame for that too. I would say that it was my fault."
(On how the team is feeling about being 6-5) "I mean, I feel like we don't have to be 6-5. I feel like we can be much better than how we've been playing."
(On what went wrong with stopping Josh Jacobs today) "Honestly, we need to look at the film. I can't even give you an answer right now because I just have to look at it. I have a lot of emotions right now, so I don't want to say anything. I just have to see what the films says, and we will go from there."
(On what emotions he is feeling after the loss) "I'm pissed off, but we have six more of these things and we have to make them count. That's all the attitude is right now, we have to make these next six count. 
(On why the team doesn't have a better record than 6-5) "It's working together, it has to be all, and it's not just the defense either, it has to be team ball across the board. When the offense is rolling, we have to turn the ball back over and we can't let them drive down the field. You all have seen it, we just have to make those plays and make those stops in games like that. Hopefully, it is a lesson learned because there will be more games like that. That's just what time it is in the season, so we have to learn how to swing back and make plays when we need them the most."
(On how he is feeling after the loss) "Not good. There were way too many mistakes, and we can't have that, especially in this league."
(On the teams' struggle in the run game) "I think it starts with myself. It's missing blocks and not executing. We are calling good plays and Shane (Waldron) is doing a great job, but we're just not executing."
(On how he feels about the team being 6-5) "I think we are still very capable. We have a lot of talented guys in this locker room and a lot of guys that are capable, so we just have to fix it. There is no other choice."
Defensive End Shelby Harris
(On the biggest problem stopping the run today) "Just being in our gaps, making tackles, and just making plays. I looked bad out there today."
(On how discouraging it is to take a step back in stopping the run) "Discouraging? We play in the NFL. If you get discouraged off of that you might as well throw your pads in and give up on the season. Stuff is going to happen, teams are going to run the ball on you, teams are going to throw, but it's about the adjustments you make week in and week out. That's what makes this team this team. We go out there, we make our adjustments, and win out the rest of the year then it's a whole different story. So, it's all about adjustments and being able to take constructive criticism and being able to work together to get this thing right."
(On what specifically is going on with run defense right now) "I would have to go look at the film. We've got to be where we are supposed to be and make plays and that's kind of the gist of it."
(On if he expected a different type of play mix from the Raiders) "No. Not necessarily. We knew that they were going to try to run the ball. I don't know they did some things out there and they were able to be effective on us."
(On the difference between the way the Raiders ran the ball and the way the Buccaneers ran the ball) "I don't know. It kind of felt the same to me to be honest. They ran the ball, but they were still getting their passes here and there."
(On if he thinks defense has taken a step back) "There is still a lot of ball left. We're just going to keep going back to the drawing board and get better every week."
Check out some of the best action shots from Week 12 vs. the Las Vegas Raiders at Lumen Field on November 27, 2022. Game action photos are presented by Washington's Lottery.