Featuring postgame quotes from the following: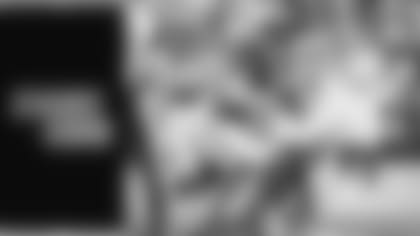 Re-live Each Game With The Seahawks Rewind Podcast
Re-live every Seahawks game this season with game highlights, player and coach postgame interviews, and a whole lot more. Available on Spotify, Apple Podcasts, and wherever else you get your podcasts.
Head Coach Josh McDaniels
JOSH McDANIELS: Well, I think our team is obviously learning how to be resilient, and give Seattle a lot of credit. This is a good football team. They're well-coached like we thought they would be. Pete does a great job. They gave us some fits on some things and made some adjustments, and we had to make some adjustments. It was a very interesting game in that regard. But I thought our guys were tough. We kind of had some highs and lows, and lost the lead there and then came back and then lost it again, then came back. I know we missed some opportunities to maybe get the lead stretched a little bit, but we wanted to be aggressive today and try to give our guys an opportunity to do that, and I thought they came out with the right mentality. Lo and behold, we just keep playing and string together two in a row. Feels good to win, and like I said, credit our guys; they kept fighting.
Q. When you're on the sidelines, how are you just trying to stay sort of balanced there, both from yourself and the team's perspective, keep sticking with it and putting yourself in a position to win?
JOSH McDANIELS: Well, I think you've got to focus on the next drive, the next sequence, the next unit that's going to go out there on the field. I mean, it started from the first play to the last play. First play is an interception, and the last play is a touchdown. It was really -- there was a lot of swings in the game, and credit our coaches. Our coaches did a really good job of staying neutral at times when they needed to be and trying to fix the problems if there were any and address those without having a bunch of emotion in it. I got emotional a little bit, but that's football, when you're going up and down, and you want to win. I thought our guys, our captains did a great job of staying even keeled today, too, throughout the whole game.
Q. Foster hasn't dropped one on 3rd down, comes up with a big touchdown pass, as well, and runs a great route, makes a great catch in the corner of the end zone --
JOSH McDANIELS: It's kind of the epitome of a lot of our guys. We had a lot of opportunities, like Keelan made a big catch there on 3rd down late in the game. Sometimes these guys, they don't have their numbers called for a little while in a game for whatever the reason is, and then they're ready to go. When all of a sudden the ball comes to them, they're in it and they make the play. Same thing happened on defense. We had a lot of guys, T-Hall is out there covering again, and Sam Webb and a lot of guys out there trying to make the plays in the critical moments. Look, when you play a game like this, you're going to need complementary football to win. All three phases are going to have to contribute somehow, some way, and each man that's active on game day is going to have to do his job. I think we're learning how to do that well as a team, and certainly we have a long way to go, and there's a lot of things we didn't do very well today, but I think we're trying to play together better than we have earlier in the year.
Q. Josh Jacobs was just phenomenal today --
JOSH McDANIELS: Yeah, he's -- I'm running out of superlatives. Over 300 total yards in the game, and it didn't feel perfect, but he just -- I think toughness -- he's a football player. That's probably the greatest compliment I can give him. He comes up big with big -- he had a couple big 1st downs on 3rd and short that I'm not sure everybody in the league gets those, but he did, and of course makes the big play at the end. I thought he was tremendous throughout, gave us a lot of hard yards in the running game, caught the ball well out of the backfield, made some big plays with his hands, but that's JJ. That's what he is.
Q. Were you aware of him when you were in New England or aware of this?
JOSH McDANIELS: Not to this extent. You don't ever get to know somebody this well unless you're with them and coaching them. I just have an incredible admiration for -- it's not just what he does on the field, it's how he practices, what he does in preparation, how attentive he is in the meetings, what he's like in the walk-throughs, how much he wants to win. He wants to win, and that's the greatest compliment you can give somebody. Does everything he can to help us.
Q. Also the one-handed catch by Davante that set up the game-tying touchdown there, running out of things to say about him, as well?
JOSH McDANIELS: Yeah, they bracketed him a bunch today and we had some opportunities that we might have missed, but they were trying to make it hard, like everybody does. He's used to that now. We found a little bit of single coverage there later in the game, and he was able to make the plays. That doesn't surprise me that he makes them anymore. Another guy that's just unselfish and he's not worried about his stats or anything like that. He just wants to help contribute in any way that we can. A lot of times when they cover him with two guys, that's what opens up the Foster Moreaus and the Josh Jacobs and Keelan Cole, Matt Collins, the flea flicker, Mack is open and there's multiple guys running with Davante. He has an impact on the game almost every play.
Q. Lastly, to win the game the way you've won the last two weeks, walk-offs in overtime, making plays when they need to be made, not validation, but is it affirmation maybe that what you're doing is heading in the right direction?
JOSH McDANIELS: I've never doubted that it was. Like I said, the NFL, there's a lot of close games every week. Sometimes it takes a little while to learn how to get over the hump on some of those things, and that's what we attributed it to. It doesn't guarantee us anything going forward. We're going to stick with our process. We think we have a really close-knit group here that works hard. We believe in what we're doing. We believe in what we're coaching. We believe in trying to win the way we're trying to win, and I think our guys do, too, and I think -- you don't always get the results you want right away, and I think that tests your patience and your perseverance a little bit, but I think we've got a very resilient group.
QB Derek Carr
Q. Second straight overtime walk-off. How good does it feel just to be able to put something together like that?
DEREK CARR: Yeah, it was good. Again, it reaffirms the things that we've been talking about. It reaffirms the things Josh has been talking to us about. The exciting thing is after the game of course we're excited, of course, but it's like everyone is sitting there talking about man, I could have done this or I could have done that, and that's what's going to push us to be better as an organization for the long-term and push us to be better as a team in the short-term.
Q. Along those lines, there were some responses; you got stuck on a 4th down, there were some opportunities that didn't go your way, but you guys didn't hang your head and let that define the game and you bounced back --
DEREK CARR: Yeah, and it's pro football. You want it to be perfect all the time. The nine years I've been in the league, no matter who's on the roster, when you come to Seattle it's a tough game. We came here, we knew it was going to be tough, and they made plays, and then we made some plays at the end to bounce back and answer back. It was a great football game. It was tough. It was hard. It was a little cold, too, and it was good to see our guys be able to answer back even when it didn't go our way. No one was hanging our head or it was over or anything like that. I think the confidence from last week, too, to know that, hey, we're never out of it, so I think that was a good thing for us.
Q. Foster had a play that didn't go his way earlier in the game, but you didn't show any hesitancy to go to him when it was on the line for the game-tying touchdown. Just talk about that and the confidence in spite of it didn't go his way earlier, that that didn't affect how you were going to attack him moving forward.
DEREK CARR: Yeah, and I mean, that's a ball -- that's going to be a tough catch for him to make, but it's something that I trust him with, and him and Darren and all the tight ends running up the seam, just trying to throw it where the linebacker can't see it. They made a good play. So I told him we're not losing confidence in that. That's on me, too; I was trying to make it hard. I could have checked it down. I was trying to be aggressive and make a throw. So when they doubled -- they were playing quarters to Tay's side and they ended up trying to double Tay and they let Foster get behind them, and I just to give him a ball to where he could just make a play on the ball, however it looked, and get his feet down, and he came up huge for us in that moment for sure.
Q. Josh had 303 all-purpose yards, set a franchise record, set the franchise rushing record, too, with 229 yards rushing, as well. How important is what he brings to this offense to the goals you want to accomplish?
DEREK CARR: Yeah, I think the best thing I can talk about him and I've talked about with you guys over the last year and a half or so is that mentality. That mentality that he brings and that mindset, the way he runs and the way he over and over and over again is finishing not just downhill but through people. He's always finishing forward. 2nd and 8 in this league is way different than 2nd and 5, 2nd and 4. Him bringing that mindset and how hard he's worked, all those things, I said at the beginning of the year when we added Davante, I said the happiest person in the building besides me is going to be Josh Jacobs, and we're seeing the fruits of that now.
Q. The field goal in overtime, how much confidence did you have the defense was going to get the ball back to you?
DEREK CARR: I had great confidence. We had been -- again, you see the points and you see the yards and you see certain things, but there's always -- again, it's pro football. It's the next play. What's their call, what's our call, what's our execution, and I think it was Maxx I was watching on the thing, but came free, and they were putting pressure on him, trying to make it tough, and we ended up getting the ball back. For me, the confidence level is high. Just like it hurts because you want that to be the game over, but at the same time, it's like, if we get another chance at this, we still have to go win the game, and Josh was able to do that on that run.
Q. At what point did you know he was going to the house?
DEREK CARR: As soon as he broke the tackle. I saw him get through. I knew what coverage they were playing. As soon as I see him get through, it was really him and the safety. If he beats him, it's a big play. I think going back and looking at the double team, looking at Jakob in a lead play like that, I'm sure Josh will want to give all those guys credit, but he made that last guy miss to be able to take it to the house. I didn't run down there because I know how fast he is, but then at the end I saw 27 trying to run down there and I was like, please don't get caught because I've got to run 80 yards to come do the next play. To see him finish like that, I know what he's been dealing with. I know how hard he works. It's really cool to see that.
Q. He said also he didn't have breakaway speed there.
DEREK CARR: That's what I've heard, but his Madden rating on speed should go up after that. To do it at the end of the game, to win it, to run that far -- you see running backs get free a lot, and some guys it's not their style or whatever, and to see Josh be able to finish like that was really cool.
Q. That throw to Ameer, was there an option to throw it to him earlier than that, because it looked like he turned to look at you and then you guys both sort of --
DEREK CARR: Yeah, that was almost -- soccer is a free-flowing game, right, and sometimes football -- when I looked at him, I thought Quandre -- I think it was Quandre on that play, I thought he would make the tackle and the timing, so I kind of just look at Ameer and he looked at me and then hit the gas because he was coming downhill, and that was all Ameer, being able to think what I was thinking. So it was not planned that way. I just didn't want him to get hit short of the sticks right there, and he made a great play.
Q. Raider Nation travels, two back-to-back road games, they were here in the stadium today. Do you have a message for Raider Nation?
DEREK CARR: Yeah, everyone that showed up today, that was loud. It was unbelievable. Obviously the stadium is loud already, but when we were making plays, it was pretty impressive to hear how many of our fans were here. The support -- we had a whole bunch of Raider fans behind our bench, after bad plays they're like, you guys are good, we're going to win the game, all that kind of stuff. Anytime you're in a hostile place and you hear those things, it always means something. We appreciated everybody that traveled, and my friend that sits in the front row, Seahawks fan, he's yelled at me for nine years now, but I had a good talk with him, too, so that was good.
Q. You guys didn't give up. There were some dark times here earlier this year, but obviously you haven't lost that fight. What does that say about what Josh is trying to build and what's in that locker room?
DEREK CARR: I think it shows that we believe in him and we're trying to do everything right. Again, it's new schemes. It's a new philosophy to play the game and there's different rules for certain things. I messed something up today where I was like, he got mad, and I was like, what are you talking about, I was right. And then I had to think, oh, that's a couple systems ago. I'm still processing through some of that and certain things, but it's just growth, and we're all just trying to do things the right way and do them his way. It shows that everyone is believing in that and trying to do them that way. For me, I'm trying to execute the reads and everything exactly how he wants it. So is the whole team. You can tell everyone is believing and buying into that because of the success we're starting to have. It doesn't mean anything now. We still don't have a good record. But we're heading in the right direction.
Defensive End Maxx Crosby
(On Josh Jacobs' game-winning touchdown run...) "I was so happy. Josh is incredible. I could go on and on. He's an incredible player, and he doesn't get the credit he deserves. I'll always be his biggest hype man. I'm proud of him. He deserves everything coming his way, and I'm just proud of him. The way he practices, the way he prepares, his mind set -- he's a different animal. One of the, if not the, best in the league. The dude can do it all, and he put that on display today."
(On his view of the play...) "I was standing up, and I was, I think, on the 30-yard line before he even got in the end zone. I was sprinting down the field. I was so excited. I was all the way in the end zone and somebody headbutted me. I thought I knocked my tooth out. So yeah, there were a lot of emotions going on all over the place. But my tooth is intact, and we're good."
(On how much of his pass-rushing ability is desire and how much technique...) "It's a mixture. Just trust in your preparation. It's a game of chess. All game long I know I'm going to get different looks. I know I'm going to get slides, different protections, and I've just got to trust my work, not panic and just be ready when it's my moment. I've just got to be there for my teammates, and that's what I try to do every single time, especially in the big moments."
(On the effectiveness of the run game) "I think it comes down to being able to just practice. Just being able to gel together as a whole offensive line unit, understanding double teams and how we want to fit it. It's nice to see it finally come together."
(On what two straight overtime wins means for this team) "It's good. It's the first time all season we've had back-to-back wins, but it comes as a new thing. We know we need to handle success and now we just need to go back to work and keep building on that."
(On what it means to him to earn the Raiders franchise record for scrimmage yards in a game with 303) "It's kind of crazy, coming in and not knowing if I was going to play. Looking the guys in the eyes and telling them they're going to get everything they've got in me. They didn't want me to finish the game, but I kind of convinced them that I could go, and the biggest play of the game happened after that."
(On how bad his calf injury was throughout the week) "It was worse throughout the week. It wasn't too bad today until I caught that ball on the sidelines and it kind of got stuck underneath me. It started getting stiff after that. I figured it should be good by the time next week comes around."
(On what he saw on his game-winning touchdown) "I noticed that half of the defense was looking at [Wide Receiver] Mack [Hollins] because he didn't know what he was doing on the play lining up. When I hit the gap, I see a big hole and I just tried to run as fast as I can."
(On when he knew he was going to play) "When did we go out there? Probably about an hour before the game. I went out there and ran and I didn't feel nothing. I felt good. Even like I said, most of the game, until the fourth quarter, I felt good. It's just a little injury, it's nothing crazy. Nothing that I don't think is going to set me back, but it's something that I definitely have to take care of."
Running Back Ameer Abdullah
(On the offense as a whole today) "I'm just really proud of the boys up front. Those are the unsung heroes. Derek (Carr) had excellent pockets. Of course, no performance is perfect, but when we needed it most, our guys came through and opened up lanes for Josh (Jacobs). I mean, what can I say about Josh Jacobs. The man is a true warrior who will battle through anything. He puts his teammates first every single time. Never complains. I wish you guys could see his work every single day. Now you see why he's playing at the level that he's playing at. Me being in my eighth year, I've played with guys like Christian McCaffrey, Dalvin Cook, Theo Riddick. A lot of guys who have been very productive in this league, and I put (Josh) right up there with that group. A young guy who definitely has a future ahead of him. I'm proud as heck of him."
(On his touchdown catch and the route he ran) "I just tried to turn it up. I made a play for Derek (Carr). I'm glad that (Derek) plays on my side. He caught the safety coming down a little bit too nosey, and it was just great timing."
(On having a great kick return as well) "I just love playing ball against competitive units. I think it brings the best out of me, I think it brings the best out of our team, and I'm glad that we finished this one off."
Wide Receiver Davante Adams
(On the performance of Josh Jacobs...) "It's crazy. Certain guys that, once they show you a certain thing, you kind of just expect it. We're all so happy for him. The way he fought through how he's feeling; he wasn't feeling too great earlier -- late in the week, actually. For him to go out there and do that just shows the type of dog he is. When you talk about week in and week out, that's why he is where he is, that why he's earned the right to be on the field and make big plays like that for us. We expect that, and that's what he's going to continue to do."
(On players who play through injury...) "Any time you've got your best players out there fighting through injury, just kind of showing the way, not cowering down and being weak the moment that you feel some discomfort, I think this team knows the difference between being injured and being hurt. You're going to play hurt all the time, so if you can get through something, you're going to have guys like Josh go out there and still get it done, and at a higher level fighting through stuff, so that's what we've got to do moving forward."
(On what's clicking for the team now...) "I don't think there's any magic going on. It's just basically the mindset of these guys. We didn't get it done the first time we got the ball, but the defense did a great job, held them up, got that ball back, and we went down there and made it happen. It just shows this team knows how to fight through adversity. We're learning how to play and how to finish games."
(On whether Moreau hung his head or not during the game) "It's hard, it's been a process for me learning how to handle plays like that. Often times I get to play off of a down, and obviously there is not much adversity when doing that. I'll come in, block my butt off and do that. I am continuing to learn how to be the best player I can without the ball in my hands, and making opportunities when 4 (Derek Carr) gives me the chance. It seems like every chance he gives me it hits right on my chest. The guy is a great player but it's hard. It's a lesson in adversity. We just have to keep growing, and I obviously have to grow on the JUGS machine."
(On what is clicking for the team) "Guys are coming together. It's still hard, and you try to follow the formula of no turnovers, no penalties, no negative plays, stay on track, get us to third and manageable. A lot of that has been difficult for the past couple of weeks, but overcoming adversity has been a big point of something we had to do. Six games before last Sunday we couldn't get it done and we had a chance on the last drive and it's hard. Winning in this league is hard but that doesn't mean you can just crawl into a corner and quit when you lose. You have to come back to work and everybody has jobs to do. You have jobs to do, we have jobs to do, and if we're not doing our jobs then we obviously have to come in and work harder and get better. We're just enjoying it, and we're enjoying each other and we have great energy. It's fun, we come into the building and guys are getting in even earlier and staying even later. It's a good place to be."
(On Josh Jacobs) "300 all-purpose (yards) is pretty special. He's a special player and he can just get into the zone. He takes the burden more than anyone. For years he has been running really hard for us, and it's been hard to help him. When he does something like that, it's special. He's a special runner and we have to keep our foot on the gas for him. There's only one guy that can carry the ball on every play, so all 10 of us have to do a great job of making sure we keep guys off of him. When we do, he's special. Amen."
Check out some of the best action shots from Week 12 vs. the Las Vegas Raiders at Lumen Field on November 27, 2022. Game action photos are presented by Washington's Lottery.