Featuring postgame quotes from the following: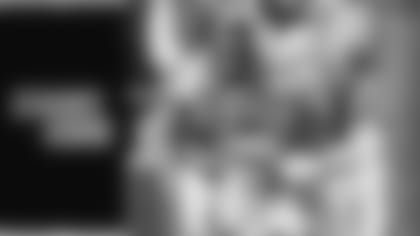 Re-live Each Game With The Seahawks Rewind Podcast
Re-live every Seahawks game this season with game highlights, player and coach postgame interviews, and a whole lot more. Available on Spotify, Apple Podcasts, and wherever else you get your podcasts.
"We played good football today. I'm really pleased to see that comeback again, going from one down and being able to find a way to win the game. The last couple of weeks we have been playing really good ball. It's so pleasing that we've arrived here. What happened today, as we saw, we responded after turning the ball over for a touchdown, our guys just went for it. They finished the game. They were able to finish, by running the football and taking care of the ball and not letting them have it. We were getting after the quarterback. It all took place in the fourth quarter there, so I really cherish the finish we were able to put together. We had three drives, we were 13-for-75, 13-for-80 something, and the last one we went for 85. We have to give credit to the guys up front. They did a great job and they really came through, the run and pass, protected the quarterback and all the different actions that had. (QB) Geno (Smith) had a huge game for us and did all of his numbers again. There was a marvelous third down conversion. Tyler (Lockett) was phenomenal on third downs today. (RB) Kenneth (Walker III) did a great job running the ball, he's hard to get down. As you can see there's a lot of twists and turns and he's just liable to break at any time and I'm excited to watch him play. The defense continues to do it. We continue to play good football. You gave up a score in the first drive, but they did a fantastic job. A fine job all the way around."   
On QB Geno Smith being able to bounce back after the pick-6:
"It's exactly what he wants to show you and what you need to see from him. We know that he's going to come through, just give him a chance. What a bounce back. What a fantastic finish to this game. I think we converted seven straight third downs to end the game, and that's awesome."
On what he noticed in Smith after the interception:
"It didn't even phase him, which is exactly what has to happen. I went to check in with him and he was fine. It didn't even phase him and he knows it. He knows that those things are going to happen sometimes, but he still has to face it. This was one of those times, and he did a great job."
On RB Kenneth Walker III closing out the game in consecutive weeks: 
"It's so fun to watch him, because he just keeps slipping and seeing things. It looks like he's going to score on every single play. We were fortunate to get him on the ground. He's going to be a really good player."
On the veteran additions playing well: 
"Uchenna (Nwosu) had a great game today. Shelby (Harris) really came through, too. (Bruce) Irvin had his first sack, coming back. I'm excited for him, too. We got after the quarterback really well today. He's so hard to get and all of their yards were from the quarterback running and we were fortunate to get him down."
On how nice it is to have strong safety Ryan Neal…
"We love playing him. We are doing a bunch of different things with him. He's handled it all. It's exciting to see him come through. He's a really good ball player. He's always shown it. We've just forced him. We've gotten to watch him grow up. He was kicked around to different clubs trying to get started, but he hung with us. It's great to see it."
On TE Noah Fant's 51-yard catch: 
"What a play. He's been looking like he's straight out of a New York Life commercial."
On if he can sense the confidence of the team growing:
"Yes. It started a few weeks ago. You could see it in what they were doing tonight. You can see they are capable of playing very good ball. I want them to see that and I'm not afraid to talk about it, to show them what they are capable of. So, that we can keep raising our expectations and our standards for practice and how we prepare, our mentality, all of that. This right no wis all about discipline. Stay focused one week at a time. Everybody says that stuff because it's the truth. We've done a great job. We have excellent leadership in the older guys and the younger guys are going right along with them. It's a big celebration for us. The last time we talked about how the rookies are past the halfway point, and now it's up to us to see if they can really fill in and help us, and they've been doing a great job. They did really, really good today."
On how the defense responded after the first drive:
"The guys did a really nice job on the sideline adapting some stuff. At halftime we continued to and everything worked out great. They had a plan going in, they had a plan to figure out what they were doing. We had some adjustments to make and they did a great job."
On going base three four five plays in a row after that first touchdown was that part of the adjustment and what it did for the team:
"It was just trying to settle things down. Making sure that they didn't apply their plan to exactly what they were getting for us."
On how he felt CB Tariq Woolen did on Cardinals WR DeAndre Hopkins:
"I thought he did really well. I thought most of the stuff that DeAndre got was (small) stuff and they were going head to head."
On what he saw in LB Uchenna Nwosu:
"We were going to play him a little differently than he played with Washington. We love the kid, his background, makeup, style of play, and his toughness and smarts and all of that, but we didn't know how he would adapt to the stuff that we gave him. That kid is having a great year. He's everywhere- running game, passing game, all kinds of big plays. He got two sacks again, so he has seven. That was a great first half from him. The guy, we were banking on him to be a great player to add to the program, in hopes that we could sell him on what we were doing."
On how assuring it is to see the offensive line bounce back:
"It's so important. To stay with the running game and keep working at the adjustments, and making everyone get familiar of what's going on, so that you have it to finish the game. When I talk about running the football, I'm not talking about running the football in the first or second quarter, that's not what it is. It's so that you have it to win football games. That's where you can really play championship football. That's how to complete the opportunity. That's what started as 'I'm so fired up about that Coach,' we've done it at the last event. We won by 10 or more three times now, so we have a chance to run the clock out and the guys are doing it. This finish was my favorite one. I just felt like we were so complete, all of the last three times we had the football. Those guys have been doing it. Geno (Smith) hopping around, changing the plays, doing all of this stuff. You see them going through all the motions that have to be coordinated. There's a lot involved in it, and the guys are doing it."
On what's going through his head after the interception:
"Similar to when you throw a touchdown. You always got to get to the next play. You're never worried about what happened previously. Obviously those are things that we don't want to happen and hats off to (Zaven Collins) because he made a great play. He was their Mike 'backer, he's playing right there, made the right read, throwing it to the right guy. He jumps up, tips the pass to himself, takes it back. The NFL is full of guys like that who just make tremendous plays and sometimes things are going to happen that the ball's not gonna bounce your way. A couple of times it did bounce my way and it's how you respond. I think we responded great as a team. Going three straight drives, finishing with touchdowns. Long drives, tough drives. Everyone in the stadium knew the magnitude of those drives and for us to go down there and get scores and get touchdowns I think it is showing you what type of team we are and what type of team we can be."
On what he told his teammates after his interception:
"It's on me. You know, it's on me. Obviously I don't want to throw any interceptions, have any turnovers, but I'll take it and I'll own it and move on from it."
On the first play of the last drive:
"Great play call by Shane (Waldron). He's been doing that all year getting us in favorable situations and obviously Noah Fant is the guy that you want to get the ball to. He made a tremendous run after catch. I only threw the ball about one yard and he made the rest of it. So, when you have players like that that you're playing with and you have a coordinator like Shane (Waldron) who has confidence in you and Pete (Carroll) having confidence in us to pass in those situations - you can see it. They were selling out for the run, Noah (Fant) slipped behind them, got the ball to him, he turns it up and makes about 50 something yards and that gave us the momentum we needed at that time."
On the key to having the 'next play' mentality:
"I have trust in myself. I know what I can do. Like I said, I'm playing in the NFL. This is the highest level. There are players out there who are going to make great plays. Sometimes the ball's not going to bounce your way, but you can't be phased by it and after all I've gone through, things like that are not going to phase me. Like I said, I'm not making an excuse for it. I know I have to be better and not have that happen, but I think that kind of woke us up and you can see what we can do after those type of plays where you go out there and you get three straight touchdown drives, long drives, hard drives. That says more to me than the interception did."
On Kenneth Walker III closing the game out: 
"Man, he's so tough. For him to be a rookie, those are the things that the best backs in this league do. He's so tough. He's so good. He's only scratching the surface. I can't wait to just see how he continues to grow because right now he's leading this offense and this team. He's making it hard on defenses. They can't just back up anymore. They got to come up and play us straight. The offensive line, Ken Walker, Shane Waldron, they closed the game out for us."
On what he saw on the 3rd-and-12 when he scrambled for the first down:
"They were playing pretty much man coverage. Four man. They were basically doubling our guys playing man coverage and they rushed four and there was no one left for me if I can get through there. I was looking up to pass and there's just… there was all just green grass and I was able to get that first down and that's something I got to continue to do. Make sure that they're covering all bases. They can't just play four man and have their backs turned and no one's guarding the quarterback. When you have those situations you got to be able to make that happen."
On being 6-3 and if anyone is surprised:
"No. No one in our locker room is surprised. Al Woods was saying that in the locker room. He was like, "I don't think anyone else believed we could do this but us." Sometimes that's a good thing. Sometimes it's good for people to not place expectations on you to play as the underdog and I don't know if that'll continue, but it's kind of good for where we are right now. We know we got a long ways to go. We're excited about this win and where we're at but we cant start to backpedal. We got to keep working."
On the importance of earning wins like this:
"Man, it was a hard one like you said. It was a tough win and it's very important. You need these types of tests during the season. You have to feel what it's like to play championship football. That felt like a championship game. They're playing for their season as well. They're a really good team. Hats off to the Cardinals. They have really good players on that defense and on that offense. It's gonna be like that every week in the NFL and we got to feel that in order to learn how to win. I think we're just continuing to scratch the surface of what we can be."
On how he feels being leading the NFC West after his personal journey:
"Personally, it just feels great for the team. Me personally, all that stuff's not really in my mind. I am just happy that we're as a team getting the recognition we deserve because we got a lot of guys on this team who deserve it. Also, guys have been working their butts off. To speak on guys being in the weight room at 5:30 in the morning. I get there at 6 a.m. I've been doing that pretty much my entire career and now I see guys beating me to the weight room, so now I might not get there at 5 a.m., but I'm gonna try to get there a little earlier. For us as a team we just got to continue to work and get better."
On his reaction if you told him they'd be 6-3 back at minicamp:
"That's pretty good. Pretty good. Obviously I would have told you we should have won more games. Should have been 9-0, but you're going to lose some. Obviously we won six games up until this point and we got a long season ahead of us so we got to keep working and getting better."
On going 10-for-15 on third downs and what went well:
"I feel like being 10-for-15, it's hard to do. It's not easy to do and we've been pretty good on third downs all year, but we're trying to continue to stay consistent on third downs. I think the best part about today was that we were for 4-for-4 in the red zone, which is a place that we have previously struggled and so for us to make those improvements is continue to improve throughout the season, that's what we're going to need and so we just got to continue to get better."
On who beats him to the weight room:
"(Cornerback) Mike Jackson is beating me in there. (linebacker Aaron Donkor), (linebacker) Jordyn Brooks, (defensive tackle) Al Woods, I'm talking about all of the guys. I've been getting there consistently and four days out of the week, 6 a.m. and when I show up half of those guys are already walking out. So, I'm not trying to compete with them that way, I got to get sleep too. It's just good to see that's becoming a thing for our team."
"Excited, first time. First time to play a football game in Germany and really be an advocate for our sport in another country is really good. So, I'm very excited and look forward to it."
On the evolution of Geno Smith and what it means going forward:
"It says a lot. Obviously when things are going great anybody can be on top, but when adversity hits and how you respond says a lot about who you are as a person as well as a leader on this team. Unfortunately [interceptions] happen but to be able answer the call back-to-back, especially when we need it, is why he's such a leader and helps us out so much on this team."
On being tied for second in touchdown receptions in Seahawks history:
"It's a blessing and I always give God all the glory. This isn't like college where you can stay in a place for so long, you come to the NFL and some people are here for two, three, or four years so for me to spend my whole career here thus far has been amazing. Being able to have the chance to enjoy the journey along the way and see what happens or doesn't happen. It's truly a blessing for me and I'm going to continue to keep pushing and keep trying to be great and keep doing whatever I can to help the team."
On the maturity of the team after beating a divisional opponent on the road:
"I think we showed a lot of maturity. Like I said, we're going to a great place and playing against a great team, and when things are going well and in our control things are great, but when something bad happens or we're down you don't see anyone pointing fingers, everybody is like let's go back to the drawing board—we know that we can do this and we know that we can win and we were able to show it just one drive at a time."
On Geno Smith's interception:
"Everybody makes mistakes, everybody messes up. Nobody played a perfect game. We just have to overcome adversity and interceptions and you saw how he answered the call by driving us down and scoring a touchdown. It shows the type of person and quarterback that we have."
On Tyler Lockett's third down catch:
"I knew it was going to pop right up, but he's a clutch man so any time we're looking for a big play or a conversion I know he's going to make them."
On Geno's ability to make plays using his legs:
"Any time he needs to make a play with his legs he's reliable and I know he can do it. He's very smart with the ball and knows when to use his legs or when to stay in the pocket and make big throws, so it's the maturity and leadership that he shows converting the third down. Shane [Waldron] was giving him the play call and he executed it his own way."
On if he had any doubts his feet were in the endzone when he scored a touchdown:
"I knew I scored. I learned from Mr. Toe Tap himself right here."
On being 10-for-15 on third down conversions:
"It's starting to get to a point when every third down play comes up we get in a different mode. We lock in a little more on the details and on the routes and trust each other. I would say the biggest thing is repetition. Those Thursday practices are really paying off on third downs."
On getting the ball to close out the game and how enjoyable it is:
"Yes, it is and I'm thankful the coaches believe in me as much as they do to put the ball in my hands to end the game. The offensive line did a great job and we were able to pound it and get a touchdown."
On if he still feels like a rookie:
"I don't feel like a rookie but at the same time I still like to learn from the veterans. I feel like it's great to be able to learn a lot from the veterans and the guys who've been in the league for a minute. All-in-all I don't feel much like a rookie.
On learning from the veterans and coaching staff to stay fresh throughout the season:
"Not even just the coaches, but the players. The older guys tell us it's going to be tough and they talk about 'hitting a wall' at some point, but it's good that we know that because we can push through and we know what to expect later down the line. We have to keep grinding and stay focused."
On Seahawks QB Geno Smith bouncing back after the pick-six:
"Oh yeah, I expected him to come back strong either way. He's always positive and a great leader. Yesterday Tyler (Lockett) got up in front of us and told us that negative things will happen and everything's not going to be perfect, but it's how we bounce back to that and I feel like that's something that went wrong, but the way we bounced back was positive."
On whether he had a hunch that the play called on the last drive would become a big play for the Seahawks:
"For us it was just getting the first down and getting down inbounds. That was our biggest goal. (Seahawks QB) Geno (Smith) runs some clock down, gets them to use their timeout. I saw a lane and I was able to take it. Shoutout to (Seahawks TE) Colby (Parkinson) who had a great block down the field and I was able to make a good play. So, it was a good feeling for sure."
On whether he knew he had the edge as soon as he caught it:
"As soon as number 25 (Cardinals LB Zaven Collins) tried to grab me a little bit, I knew it was open space after that. I had a good feeling of being able to turn it up and get some yards."
On what he noticed about Seahawks QB Geno Smith's response after Smith threw an interception for a touchdown:
"I think what he models to our team and what our whole team has taken is through the ups and downs, through the lumps, to just keep playing. That's exactly what he did. Bad things happen. A guy jumps up and gets in the flight of the ball, stuff like that happens during the game. He was the first one to come to the sideline and be like, we're good. We're going to be fine and we're going to be in this game and we're going to win this game. We all take to that really well and it's really good to have a leader like that."
On what getting three straight touchdowns to close the game tells him about this group:
"I think we did a good job finishing. I think having scoring drives the last three times we touched the ball, having a four-minute situation where we go down and are able to take the clock down and score. It was a good job. It was a good way to win. It was a good way to finish the game. Once we got down there and imposed our will a little bit and run the ball in. That was a good feeling."
On how much more satisfying it is for the team to finish a game the way the Seahawks did with the offense clicking:
"Definitely. To me, that's the best way to finish a game. It's like mano-a-mano. They're trying to stop our run. They're trying to get the clock to stop and we're trying to do the exact opposite. So, who can do it better? It was a good feeling for us to be able to do that and get the win at the end of the day."
On the maturity of team beating a divisional opponent on the road:
"It shows a lot. We've been working in practice all week; we just keep getting better after those first tough couple of games against the Falcons and I forgot who else we lost to. After that, we just put our head down and kept grinding, it's a long process and we have a lot to go."
On career high in sacks this season:
"It means a lot. Credit to my teammates for helping me in practice and getting better, all training camp I was going against the best of the best so credit to them for helping me get better and working on my craft. I've got a lot of work to do."
On if he knew Seattle's defensive scheme would allow him to showcase his skills:
"Absolutely, that's why I signed here. I knew the scheme, I was in a similar scheme in the prior place I was at and coming here I knew that the coaching staff was only going to get me better and they would use me the right way. I'm happy to be here and I'm happy to see what the future holds."
On how they kept Kyler Murray in check the past two games they've played:
"Keeping him in the pocket. It was tough, he got out a little bit on us but for the most part we were able to keep him in the pocket and keep him [inaudible] because he's electric on his legs so we have to take that away from him."
On how the Seahawks have played so far this season:
"A lot of people were saying it was a rebuild year. This doesn't look like a rebuild year. This looks like a reload year. We're just reloading and we're going to ride this thing out until we can't anymore."
On how it felt to get a sack in today's game:
"I popped my cherry. I haven't had a sack in two years, so it just felt great. It felt great. It's all I can say. It felt great."
On the play of the Seahawks pass rush in the second half:
"We got them to where we wanted to get them. We got them to where we could pin our ears back and get after it. We were pressuring them all day. I'm just happy we could get him (Kyler Murray) five times because he's really hard to get."
Check out some of the best action shots from Seahawks vs. Cardinals at State Farm Stadium on November 6, 2022. Game action photos are presented by Washington's Lottery.