Featuring postgame quotes from the following: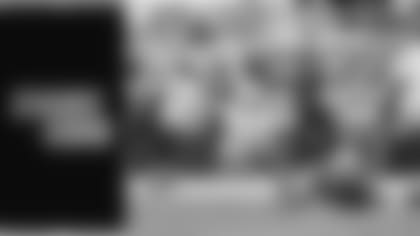 Re-live Each Game With The Seahawks Rewind Podcast
Re-live every Seahawks game this season with game highlights, player and coach postgame interviews, and a whole lot more. Available on Spotify, Apple Podcasts, Stitcher and wherever else you might get your podcasts.
Head Coach Kliff Kingsbury
On the extent of OL Will Hernandez's injury:
"I don't know the extent, (but) I know it was a peck."
On how disappointing the loss was:
"They're all tough, but once again, guys played hard - just disjointed, penalties— little things over and over and over, and getting behind. Weren't able to pull ourselves out of it and you've got to give them credit. They're a good team playing at a high level. Was really impressed with how they've gotten better each and every week and they did what they had to do to win."
On the issues behind the false start penalties:
"It was the penalties. We put the ball on the ground twice on snap exchanges and the fumbles. Just for whatever reason we have not been in sync with that stuff all season. It starts with coaches, and then players have to take ownership and responsibility for that. If we can't stay onside, snap the ball and execute routine plays, it's going to be tough against quality teams and that's what ended up getting us."
On if he's noticing mistakes in practice or if the issues arise on game day:
"No. It seems like game day for whatever reason this is showing up. The execution in practice was good this week. I thought we had a good week and it didn't translate to the field for some reason, so we've got to figure that out."
On Seattle TE Noah Fant's 51-yard catch and run and how disappointing it was for the defense:
"It's tough. You're selling out against the run at that point. They had a good scheme. He's a good player. You'd like to be able to cover that, but that group was out there a long time and that was tough. They score the defensive touchdown and went right back out there. We had a bunch of three and outs and those things happened. You've got to give them credit, like I said, a great play call. You're anticipating maybe them running it three times in a row and they hit a nice call on."
On if Seattle's defense did anything special to cover WR DeAndre Hopkins after the first offensive drive:
"Yeah, a lot of two-high stuff as you can see. The negative plays, being off schedule there whenever they played the two-high stuff—which they've been really good at with the five man front, and struggled trying to get it to him."
On if he feels like players are trying to do too much in certain moments:
"Yeah, that could be it but it continues to show up. By Week 9 you'd hope that would've settled in somehow, but we've got to get an answer to it because like I said (when) you play these better teams they're gonna make you pay for those mistakes."
On what he told the offense during the game and if he plans on speaking to the offense during the game more often:
"I think you pick your spots, but it was more we're hurting ourselves. We've got to give ourselves the chance. The self-inflicted stuff is killing us and when we're on schedule playing with tempo we move the ball well, and when you're in 2nd-and-16 or 2nd-and-15, that's tough against a really good team."
On the issue with execution on the double pass and how frustrating that was for him:
"You'd like to see that be a lateral, but unfortunately it went forward. (RB) James (Conner) made a great move and it just didn't work out for us. It's kind of a summary of the game. It was little things that were close, but we didn't get it done."
On if he thinks the defense began to get worn down by Seattle RB Kenneth Walker III and the Seahawks run game during the second half:
"I did. Yeah, I did. I think when you go right back out that's tough obviously. Then offensively, we weren't able to sustain drives. A bunch of three and outs, which kept him on the field and they were able to get the run going. He's a tremendous back. We knew they would do that, but I do think those guys got worn down a bit."
On if he would have like to run the ball more offensively:
"I would. Yeah. It's tough sledding against those guys. That's what they're going to do—play five down. Obviously, losing (OL) Will (Hernandez) didn't help. I thought (OL) Lecitus (Smith)— I'll have to see how he played, but you want to be able to consistently run the ball and stay out of those 2nd -and-long situations. We weren't able to do that."
On if he thought about having OL Sean Harlow replace Hernandez instead of Smith:
"We like where Lecitus has been, and Harlow's our backup center so you kind of risk some injury there and would be in a tough bind."
On if the lack of deep shots offensively was a function of the turnover on the offensive line or another issue:
"We want to push it down the field more—there's no doubt. A lot of times we're in, like I said, 2nd-and-long and they're playing two-shell and so it's hard to take those shots when they're playing two high and keeping everything in front."
On if there is anything the team can do during the week to stop the self inflicted mistakes:
"Yeah, it's something we have to all look at as a staff and as a team because it's hurting us. I haven't been around this through this many games where it continues to show up. We'll continue to talk through it and try to find ways to get it fixed."
On the mindset of the team following the loss:
"I believe in this team. I don't think we played great complimentary football. I don't think we played close to how good we can play, and we 've got to find a way to get there soon. They're going to continue to fight and we have another division opponent next week that we have to get up for."
On how game started and what happened down the stretch:
"I wish I could tell you. The first drive was easy, on time, (and) on schedule. Obviously, I had to make a couple of plays with their D-line being pretty good, I escaped and used my legs, ut it ended up in the end zone. With that second drive, 3rd and 1, it's kind of the story of the day I feel like. It was just—I couldn't give you the answer of why or what. We just kept shooting ourselves in the foot."
On why the offense is unable to capitalize on drives nine games into the season:
"I don't know. Stress, heat of the moment—I couldn't tell you. Stuff that can't happen is happening. I wish I had an answer for you. It's hard to continue to push ourselves back and try to make up for those yards against teams that are playing bend but don't break (defense). It's 3rd and 15, 3rd and 16 —it's tough."
On the fumble before the half and how much it took out of the team emotionally:
"It's unfortunate. I haven't usually fumbled in my career at all, and then the kid made a good play."
On the fumbled snap on the second drive of the game and how that affected the rest of the game offensively:
"I think there were a lot of things that affected it, but (being) seven to three right there (we) felt good about where we were going. (We wanted to) be able to go hopefully put it in the endzone. (Then it would have been) 10-3 and 14-3, but that's tough. Good teams don't do that. Again, (we were) trying to put away a team early at home. We built the confidence up and everybody felt great when we went and scored on the first drive. Then the second drive—to do that was tough."
On if the Seahawks defense switched up anything after the first scoring drive:
"No. They did what they've been doing all season. Two-high, and six-three (fronts) and just make you move it down field. That's what it was."
On what happened on a 3rd and 5 sequence in the first quarter which led to a sideline exchange:
"Just again— I'm not going to go into detail but we were miscommunicating right there."
On what happened on the trick play pass to WR Greg Dortch:
"No, Dortch has got to throw it backwards. The same thing happened with us in the playoffs against the Rams. It worked out but he can't catch it forward."
On OLs Cody Ford, Billy Price and Lecitus Smith:
"I don't think anybody in here has ever played professionally (at) o-line but the continuity has got to be there and it's tough. Those guys are working together trying to get on a groove together but when you've got the rotation and guys go down it is tough. At the end of the day, you have to have the next man up mentality and we've just got to be better."
On his message to the offense following the loss:
"We've got to evaluate. Everybody's got to evaluate themselves. We understand what's going on right now as far as playing bad football—it's not winning football. That's the result you're going to get when you're out there doing stuff like that."
On describing the emotions in the locker room:
"Not good, disappointed. I hate losing so I think everybody feels the same."
On if they can learn anything from tonight to get better in the weeks ahead:
"Just come out, try to execute. A lot of missed things out there on the field today but we have to turn the page. We have a good team next week."
On how frustrating the pre-snap penalties were:
"Obviously that's very frustrating. When you practice the way you do. When you go over those things in practice and you get out into a game and do that, it's very frustrating."
On if anything makes the transition from practice to gameday difficult:
"No, I think it's just every person. Looking deep down inside themselves and owning their craft."
On the message to the team after the loss:
"Turn the page. I feel like the NFC is open still and turn the page."
On the altercation with QB Kyler Murray on the sideline:
"That's who he is and I love it. Just talking about what we can do and it's good, I love it. It's good to have somebody like that who's emotionally passionate with their craft."
On if people are blowing the interaction with Murray out of proportion:
"Oh yeah absolutely. It's football. A guy like (Buccaneers QB) Tom Brady doing it, you don't see people blowing it up. But Kyler gets a lot of jump for being passionate and as a player, I love it."
"We started exactly how we wanted to start, felt like we were going to roll on offense. We finally started fast and got a lead for the defense. From there it just felt like the wheels fell off. We could never find a rhythm again. We were 3rd-and-8 at one point with a really good third down call - one we were confident in - then go 3rd-and-18. It's just been the story so far of the year, one step forward and two steps back. It's frustrating, we are all frustrated. We are too talented to be that, but at the end of the day you are what your record says. Whatever 3-and-6 is who we are. We have to look in the mirror each and every one of us and come together and find a way."
On what change could fix things going forward:
"That's part of the frustration. We are executing in practice. We are practicing our butts off and it's not coming to fruition on Sundays. That's kind of the most baffling part is we think we are past certain things, past pre-snap penalties and they just show up at critical situations. We just have to be better. I'm at a loss really."
On the hardest part about this loss:
"We are just not executing and in this league it's all about that. It's so cliche, it's so easy to say, but it's just about doing your job and executing at a high level. I'm confident in the guys. I'm confident in the schemes particularly. I feel like we go into the games extremely confident with what we are being asked to do. We haven't put anything together as an offense, our defense is playing too good for the offense to continually let this team down."
On how to bounce back from this loss:
"You just have to work through it. You are 3-and-6. I started 3-and-5 one year and finished 10-and-6. So you don't want to say the season is over by any means, nobody is looking at it like that, but we are running out of time for sure. We have to figure out a way to put some wins together quickly against the Super Bowl champs next week obviously. We just have to execute as an offense. We have too many guys, too many dudes that have performed at a high level to be playing like this as an offense."
On the teams emotions after the game:
"It's a prideful group. Guys that pride themselves on being really good football players and executing at a high level. We're just not getting it done. In this league when you're not getting it done it just piles. Momentum in my opinion is one of the realest things in this league, positive and negative. So you just have to find a way to get out of the funk and win a game and hopefully build on that from there."
"A broken record man. We gave them two drives in the first half offensively and we didn't go out and execute. Botched snaps and things of that nature. We didn't play well enough to win the game."
On why the pre-snap penalties show up in-game but not in practice:
"I think it's a lack of communication. This is not a lack of effort, a lack of will, a lack of working hard. I just think it's communication. We have to find a way to continue to get better in that particular category."
On how the team can improve:
"I mean this is a team thing. We win as a team, we lose as a team. There are some things that we need to get better on and it's communication. I think everyone in this locker room knows that."
On if he was surprised that the offense couldn't get going after the opening drive:
"Yeah, that's what I talk about. We gave them two drives after that first one. We came out and scored seven and then went three-and-out, three-and-out and had I think a third-and-one with an opportunity to - I wouldn't say put a nail in the coffin, but really change the tide of the game and we didn't do so."
On how they can stay in the division race:
"We have to stay in the fight. We have to stay together. We have to stick together. This is a powerful group and we'll figure a way to stick it out. It's not going to be pretty, but we're going to find a way to turn this thing around."
On the frustration in the locker room:
"I think the thing is when the Cardinals beat the Cardinals that's when it's most frustrating. Give credit to the Seahawks today, but it would be different if they were beating us physically and execution from a coaching standpoint. It's the Cardinals beating the Cardinals right now which is the most frustrating."
On what may be different during a game compared to practice:
"It's execution and situational football. Offensively we weren't good enough on third down and we have to find a way to get better in that particular regard."
On why the energy changed for the defense in the second half:
"Yeah, we just kind of have to focus down for the full 30 minutes of that half. I think it definitely ebbs and flows. I was also guilty of that. I think just taking the foot off the gas. It's hard now not watching the film and kind of seeing how everything transpired. Especially those last two drives because those can't happen."
On what the mindset was going into the defensive drive after the lead was cut to three points: "Yeah, it was kind of just keep going. Obviously try to get a three-and-out, get the offense the ball back. It didn't work like that. That's just not it."
On if they were expecting the Seahawks to run on the big pass late in the 4th quarter:
"Yeah, they're a big boot and run team so obviously that's kind of their bread and butter and they went to it. Again, like I said, I haven't watched the film so I don't really know how it all played out per se, but definitely things to fix."
On what the mindset is for the team at this point in the season:
"Yeah, obviously we're hearing the same stuff over and over again. I think we've got a really good locker room of guys that are going to keep fighting and keep going. There's no doubt about that. No one's going to quit. I think it's kind of interesting. You've seen the stats over teams that have made it to the playoffs and won Super Bowls where they were at certain places. Like we said, we have all the talent. It's not a question of the talent. It's just putting it all together and I think we've just got to keep working at it."
On if missed defensive opportunities could have changed the outcome:
"You never know, you just never know. It's that type of game. You want to get them, you won't be able to make every play that you can make. But, I don't know, I can't really go back on it and say would it change the game or if it wouldn't change the game. But you want to make the plays that you can make."
On how close the defense was to intercepting a tipped pass a play before a touchdown:
"Yeah, it was. That's football for you. You're going to have some close ones, that's football."
On how the defense felt after the Seahawks fourth quarter drive to take a 10-point lead:
"Real devastating, because we wanted to win the game. But you've got to give those guys credit, they made some big plays at the right time. At the right time when we needed the stop they made plays. That's the NFL."
On the team's pre-snap penalties:
"I can't explain it. You come out of some games and you don't get any pre-snap penalties. You've been in practice all week you don't get any penalties in practice. But then you pop in the game and you get pre-snap penalties. It's just something that happened in the game today. Really can't explain it, it just happened. Even on mine when I looked at the thing I didn't look offsides but the ref said I was offsides. So I backed up for the rest of the game, that's all you can do."
On if he can pinpoint why successful practices aren't translating to gameday:
"I wish that I could try to draw something up and say that. But I'm the type of dude that goes hard in practice and you get to the game and go as hard as you can. Then get back to the next week and try to fix your mistakes. So of course you want to win, everybody plays this game to win. But you've just got to be real and give those guys credit. When it was time to make plays for us to stop them, they made plays today. I give those guys credit over there, they made some big plays today."
On what his message to the team is:
"Get back to work. You've got to get back to work. It's the NFL, nobody's going to feel sorry for you. You've got to get back to work and keep grinding."
On where the team is at frustration-wise:
"I don't know. I can tell you about myself, I know I'm going to watch the film tonight and come back Monday. Watch the film with our coaches and figure out what I need to do. I didn't hear a big crash, it's the NFL. People work hard all week, you want to win. Some people are going to be frustrated. But at the end of the day you've got to get back to work."
On if the defense felt worn down by Seattle RB Kenneth Walker III:
"I wouldn't say worn down, I've just got to give that guy the credit. Young rookie, he's got a bright future. I give him credit. He ran hard today, you've got to give that guy his credit. He came out there and made plays. Young rookie, we saw him on film and knew he was good, we knew we had to gang tackle. He made some plays, you've got to give him credit. He's got a bright future."
On the emotions in the locker room following the loss:
"Guys on the team are definitely down of course (but) disappointed more so than anything. What I really like is a lot of people are holding themselves accountable. You don't have people pointing a finger and this or that. All those other kinds of things. Guys are looking in the mirror, guys are ready to get on this film—including me. Ready to get on this film, see what I did wrong and see what I can do better next week."
On his performance today:
"I believe it was decent. I feel like I played a decent game, especially for it to be my first NFL game but at the same time it's never enough and that's just my mind set. After the game, whether it's a win or a loss, the first thing I think about is what I did wrong. That was a decent game or that was not such a great game but no matter how I played it's always, 'OK, what did I do wrong? I gave up a sack or a pressure.' Whatever it is, I'm always ready to get to the film to correct myself."
On how he approached having to play in his first ever NFL game:
"Honestly, the past few months that I've been in the NFL we have such a great room full of vets. Those guys always just tell me to be ready. You never know when your number is going to be called. You never know when you are going to be up. If I'm being completely honest, I did not expect to play this week, but at the same time I prepared like I was going to because of those guys leading me and showing me right from wrong. Especially (OL coach) Coach (Sean) Kugler, he does a great job as well getting us guys ready for the game. I didn't think I was going to play but I prepared throughout the week like I was going to."
Check out some of the best action shots from Seahawks vs. Cardinals at State Farm Stadium on November 6, 2022. Game action photos are presented by Washington's Lottery.