Featuring postgame quotes from the following: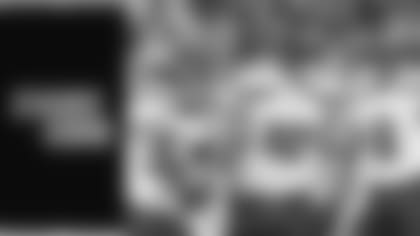 Re-live Each Game With The Seahawks Rewind Podcast
Re-live every Seahawks game this season with game highlights, player and coach postgame interviews, and a whole lot more. Available on Spotify, Apple Podcasts, Stitcher and wherever else you might get your podcasts.
(Opening statement)
"Again we learned how hard it is to win in the league. (It was) really hard fought football game today. I give them a lot of credit. They played well, they were in it whole way and did a nice job. We've been talking about Sean (McVay) all week and he did it again. He put together a great plan and, it was hard. Some really exciting things happened on our side, the way we finished on both sides of the ball, particularly to see Geno (Smith, QB) have a chance to take the team down the field and execute his tail off and have a huge game again, numbers wise, it's just what he's doing. This is the season that he's playing and we're lucky to have him. The defense getting out there that last time to go win the football game and get after them like they did was just a great statement about finishing the ball game. So I'm really fired up about that. (WR) DK (Metcalf) and (WR) Tyler (Lockett) had huge games. Both those guys were great. Noah (Fant) was terrific today too, the support as well. I was really praising (RB) DeeJay Dallas for fighting through being banged up and finishing for us. (RB) Tony (Jones Jr) did a nice job coming in for us and unfortunately (RB) Kenneth (Walker III) jammed his ankle and just couldn't get back out there and get going again. He showed that he was ready to go but he just couldn't get back out there, so we have to see what that means. I think that another thing that showed up in crucial situations was we pass protected really well and gave Geno a chance to stay in the pocket. He's stepping up and he's seeing what he needs to see. He made some great throws and great conversions. We did really well on third downs today on the offensive side, so just a lot of really good positive stuff. I thought that the coaches on the defensive side did probably as much adjusting in this game as we've done and did some great stuff to make this game plan come together after the first couple times they had the football. We really pulled it together in great fashion. The guys played like crazy. (CB) Tariq (Woolen) gets a pick. I understand that that gives him a franchise record. He's having a great season. He was beat a couple times today but came back out of it and made some plays that were really fortunate, but you got be a little lucky sometimes too. Everything else…go ahead and ask your questions. I'm really fired up about this win, getting back on the plane together and having some fun going back home."
(On CB Tariq Woolen's interception)
"It shows you again that he's got some special to him to make a couple plays that he made. The pick was great. He (inaudible) out of position a couple times and stuff but he was able to pull it off, so I was happy for him. You have to get lucky sometimes."
(On the challenges that Rams LB Bobby Wagner presented today)
"Yeah, let me do that for sure. Bobby played great today. He was a factor in the running game. He had two sacks today. He gets a pick on the play that I'm still arguing about and I can't wait to see him so I can argue to him too cause I'll tell him he didn't catch it and he's going to tell me he did. I'm really proud to tell you was a great player in our program for all those years. He'll always be one of our guys, but today, to rise up like that and to play like that is something he's going to remember and it was notable. What else is he going to do? Of course he's going to do something like that. So hats off to him."
(On how Geno Smith's story keeps getting better)
"Yeah, honestly, I've been aware that he needs that. He needs one of those chances to do it. It just hasn't worked out quite right. But he was incredible down the stretch. I wish you guys could see how poised he is and how clear he is to communicate with, how calm he is in the big moments and all. He's just on it and he has to be to be performing the way he's performing so consistently for so long now. And really, it's a remarkable statement that he's making about who he is and what he is all about. And I'm just proud as heck of him."
(On why he felt like Geno needed that)
"That's just good to have. This is good to put in back pocket. We don't need something. We're going to need him down the stretch here and we're going to need more games like that and it's just good. It's a good thing."
(On the pass rush looking good today)
"Yeah, we should have had a couple today. Halfway coming home, back in LA with the Trojans and all that stuff. That was a big day for him (LB Uchenna Nwosu). Those things run deep. Those connections run deep and sometimes it just touches guys in a special way. I can't speak for Bobby (Wagner), he'll tell you, but today he was on it, Uchenna (Nwosu) was on it. Shout out to our guys, our security guys, David Love, who's spent 26 years down in the LAPD down here and worked for the Rams for a few years. Those kinds of connections, they run deep, and they mean a lot to me. To me, coming back to LA and playing, it's a big deal and I'm excited that we got a win and we'll get out of here."
(On Kenneth Walker's ankle)
"I can't tell you because it's not an ankle strain, he jammed it, so I'm not quite sure what to tell you right now. We do not know."
(On Ryan Neal's injury)
"Yeah, he did a bursa, meaning that he's got some swelling in front when he hit the ground and so it's not a knee injury as much as he got smacked and it bloomed up on him a little bit. So we'll see what happens."
(On if he had to rely more on Geno Smith after the injuries to the running backs)
"No, I went to FB (Nick) Bellore, more Bellore, you know, we got Nick ready to go. He was revved up and he was getting in his two-point stance and getting ready to get in there if we needed him."
(On if he needed to see Geno Smith succeed in the game like he did)
"I'm not saying Geno. It was great to see him do it and have a chance to make a heroic finish like that. That's what these guys do when they're great and he did one today. It's an all-time comeback drive and he did it perfectly."
(On if his LA connection gets him more amped up for these games)
"Yeah, I can't deny that. I like coming back. There's so many friends and so many people that we were connected with all those years. I mean, it seems like all the people work in the stadium and there's just so many deep connections. It just makes it fun, you know? Like I've always said, you know that I love playing against people that I really like, you know? So coming here is that kind of a connection. It doesn't change anything but it was good to win today."
(On the last touchdown catch by WR DK Metcalf)
"I've not really seen it well, I mean it just was a blur to me. I can't tell you what happened, but I know it was a really small little window, he ripped the ball out of it, he came through and hung on to it and finished it. I think that was a good match up today and those guys went at it some and it was fun to watch."
(On what the officials told him about the Bobby Wagner interception)
"That the ball was never secure. So when we catch the ball and hit the ground and then Bobby works his way to get the ball out. We're going crazy. It's a catch and he's down on initial contact. But the officials did a great job, I think. I think the ball was moving a little bit. Is that what you saw? I never did see the replay of that, but they said the ball was moving so that they made the right call but it was definitely one you contest, you know, you fight your tail off to get that call back because…catch, boom down, but if the ball was moving then the ball was moving. So good job by them, I'm talking about the officials."
(On if RB DeeJay Dallas was hurt in the game)
"Yeah, you know what? I don't know. Ankle, that's what they said."
(On WR Tyler Lockett and DK Metcalf stepping up with the injuries at running back)
"Yeah, they were monsters out there and they're doing their own things. It is just classic Tyler catches, over the middle, right at the sticks, making the first downs. DK making the hard, tough catches even without a (inaudible) on as well. The physical play that he shows, that he brings and Tyler is kind of on the other end of the spectrum. They're just a yin and yang in their styles and both marvelous players."
(On if the Rams upped the intensity in their run game in the second half)
"Heck yeah, they're battling. Those guys are battling on both sides. They're battling, we're battling. All of our guys are after it. That's just the style we want to play with, they want to play like that. This is a very tough secondary. They've done a fantastic job all year eliminating big plays and stuff like that and they take a lot of pride, and physical and tough and all that. It was set up to be a great match up and I can't wait to see the film. I can't tell you all the highlights, but it was pretty cool."
(On what he said to Bobby Wagner)
"I just gave some love early on. I didn't get a chance to see him afterwards, but I think I'm going to get a chance to see him in a minute."
(On what the game winning drive means to him)
"For us, it meant a lot. Right now, we're fighting to try to get into the playoffs, division game against a division opponent. That was a real tough game out there, as you guys can see, it was a real scrappy game out there. And also, it felt like during this season we had some opportunities where we could have done the same thing and might have [fallen] short. And so, as we continue on late into the season, you want to show improvement and I think that's what it showed, a lot of grit, determination. You [saw] a bunch of different guys made plays, made catches and the offensive line did a great job. And so, it's something that we have to have, the games are going to come down to that in the NFL. That's what the playoff games are going to feel like and it was real good to get a win."
(On what he was thinking going into the game-winning drive)
"Honestly, just one play at a time and take out the situation and just play football. Obviously, you know the game is on the line, but I think sometimes when you focus on that, it can build stress. And so, for me, just make the plays, one play at a time, get the ball to the guys, complete passes. (Head) Coach (Pete) Carroll told me, 'Just play pitch and catch,' and that's what I tried to do, just go out there and get the ball in scoring range. And then when we got down there, we had enough time to go out there and finish. And (WR) DK (Metcalf) made a tremendous catch, the O-line did a great job, (Offensive Coordinator) Shane (Waldron) made a great call and we pulled it out."
(On winning on the road and leading the game-winning drive)
"I mean that's the game, that's the game. It's the game I grew up watching and loving, just watching how tough those games can be. We wanted to do this for our fanbase, we wanted to do this for our team. Obviously, we came back and we didn't win the previous two games and so this was crucial. It was important for us to get this win, a division opponent, like I said, and also we're fighting for the playoffs. That's where my mind is. I want to get to the playoffs and so I'm focusing on that, one game at a time. [I'm] just trying to put us in position to give ourselves a chance."
(On what he saw on the field that allowed him to make the game winning touchdown throw to DK Metcalf)
"The NFL's full of tight window throws. You're going to have to be able to make those. You [have] great defenders out there. (CB Jalen) Ramsey's a great corner and on that play, DK was lined up on the backside. He came across on the over route. Ramsey was right on his back and there was a safety kind of right in front of him. So, there wasn't a huge window, but when you [have] DK Metcalf, big 6'4" receiver, 220, 230 [pounds], it's going to be hard for those guys to get to the ball before he does. And so I just tried to put it on him, allow him to use his skill set and he made a tremendous catch."
(On if this is one of his favorite plays to run in the red zone)
"I would say so. Any time you can throw a game winner, it's always great, especially the way that we did it today. We were gritty, it took every single man on the team, it took every player on offense, and we just continued to fight. We had an opportunity there, we could have just said, 'Hey, let's just settle for the field goal.' No one was in that mindset. We all were thinking, 'Let's go win the game.' And we got it done."
(On how learning opportunities from the games against Atlanta and Las Vegas helped contribute to the execution of tonight's game)
"Yes, sir and that's what we [have to] have. You [have to] continue to progress, find ways to get better. Obviously, we didn't do that in those other two games, but like I said, no one panicked. We just looked at it as another opportunity to learn and get better and to grow. And so, when you have those moments in the game, Coach (Carrol) showed us Kobe last night and the Mamba mentality, that's what he is all about is going out there and winning late in the games. We embraced that challenge and we look forward to it. I told you guys that I look forward to that next opportunity and this was it. And so, we got it done today, took everybody and it's always great to get a win."
(On RB Kenneth Walker III going down and his thoughts about having to take over)
"That's how I play the game, you know. I want to take over the game from start to finish. And so obviously praying for my guys, man, hope they get back healthy soon. We need those guys. But, you know, the quarterback in the NFL is the critical piece to the team. You don't have a quarterback [it's going to] be hard to win. And for me, that's what I pride myself on, my guys being able to count on me no matter the situation. Being reliable for the team, for the city, and just going out there and winning, trying to find ways to win."
(On a career-high 367 passing yards and if that means anything to him)
"Not a thing. The win means something, the numbers don't mean a thing."
(On how he is feeling with the sickness going around)
"Yeah, I've been struggling, man. I woke up the today hurting and just kept fighting, kept going, kept going, kept going. And you know, God is good."
(On this being the Gino Flu Game)
"It wasn't a big enough game, but it was a good, you know, it was a good way to win."
(On the Kobe interview that coach showed the team)
"He showed the team Kobe interviews and a couple of times where he was talking just about his mentality and things like that."
(On if this game was meaningful to him and if the ball he brought to the locker room was the final throw)
"Yes, sir."
(On the third down to WR Tyler Lockett and him being the go-to in moments like that)
"[WR] Tyler [Lockett] had another great game. Very reliable guy, loves to play, [you] can count on him to win any one-on-one situation. Those guys, with [WR] Tyler [Lockett] and [WR] DK [Metcalf] man, I assume they [have to] make it extremely hard on [defensive] coordinators with trying to figure out ways to stop those guys and anytime I get an opportunity to get those guys the ball, as well as our tight ends, our backs, man, I'm looking forward to it because we got great players that work extremely hard and they just deserve to do well."
(On LB Bobby Wagner's presence and what it was like playing against him)
"Man, it was great. It was great. You know, Bobby is a player who I've always admired. He's always been just an extremely great leader, [a] very consistent player, hall of fame caliber football player and you know, a guy who I really learned a lot from. With just his demeanor, the way he carries himself, his passion for the game, he made a ton of great plays out there. We expected that. He was leading those guys the entire time. Little bit of trash talk, you know, [it's] all fun and games and it was just a blessing to be able to go out there and compete against him."
(On an explanation on the interception)
"Man, I'll say this, you know, I [have to] be careful, but I did see the running back with the ball in his hand and his knee down, so I don't know what happened after that."
Wide Receiver Tyler Lockett
Free Safety Quandre Diggs
Check out some of the best action shots from Week 13 at the Los Angeles Rams at SoFi Stadium on December 4, 2022. Game action photos are presented by Washington's Lottery.