Featuring postgame quotes from the following: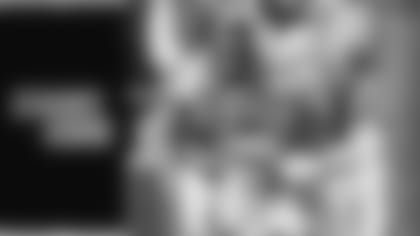 Re-live Each Game With The Seahawks Rewind Podcast
Re-live every Seahawks game this season with game highlights, player and coach postgame interviews, and a whole lot more. Available on Spotify, Apple Podcasts, and wherever else you get your podcasts.
Head Coach Sean McVay
(Opening Remarks)
"Okay, great game. Congratulations to (Seattle Seahawks Head Coach) Coach (Pete) Carroll and the Seahawks for finishing it out, getting it done. That's the tough thing about sports, you come up short but I'm proud to be rolling through with this group. I'm proud to be battling through adversity with them. I'm going to continue to do everything in my power for us to try to change the result, but you can't deny that there's been improvement. You're not going away with the moral victories, but I think we can all see the steps that this group (has) taken. (There's) a lot of positives, but we want to be able to try to win the football game. It's tough because of the amount of work that these guys put into it, but we just came up short, didn't make quite enough plays, but there was a lot of things that we can continue to build on. Fortunately, it's a short week. We'll turn around and we'll see if we can continue to try to go in the right direction. But this is challenging. But I am proud to be going through this with these guys and this is where real growth can occur."
(On his breakdown at the end of the game with an opportunity to close the game out defensively)
"Yeah, I think they just made some plays. You got to go back and really look at it. I thought we were able to get some good pressure. He was able to kind of move off the spot and they made enough plays right there. We got caught in a couple different things where we got picked where they ended up getting guys out leveraged to the flat. But there were some opportunities and there was a lot of positives. (There were) just not quite enough to be able to get us over the top today."
(On LB Bobby Wagner and his performance)
"Yeah, what a baller. The steadiness, the consistency, the leadership. I think there was nothing that we wanted more as a team, as a coaching staff, and really everybody in that locker room to be able to try to get that done and be able to give him that game ball that he deserved. But we came up short and like I said, these are the times that you really learn. I know for me personally, this is the most challenging thing that you've ever gone through. It's forcing a lot of reflection that wouldn't exist otherwise. I don't want to go through this, but I'm grateful because if you have the right perspective, growth can occur and I want to be better for these players, for these coaches. But that's the thing about sports man, when things are good, it's easy. When things are challenging, you really are forced to live out the stuff that you talk about. What those guys did out there today, I am proud to be associated. I'm going to continue to do everything in my power for these guys with these last five games that we have left. (I) love that group."
(On if he sensed that this game meant a lot to Bobby Wagner)
"I think you'd have to be able to talk to him about it, but I think just human nature. You look at what he's meant to that organization and how instrumental he's been to a lot of the good things that have gone on there. He's no doubt one of the all-time greats. I think when you talk to Coach Carroll and (Seattle Seahawks General Manager) John Schneider, the love, the appreciation that they have for everything that he did, I would think so. But I think he'd be better equipped to answer that. But the one thing that's so impressive to me about Bobby that says as much as anything is we always talk about consistency as the truest measurement of performance. This guy is as consistent and as steady as any player I've ever been around. His demeanor, his focus, his concentration, his ability to not let whatever is going on take away from where we're at as a team. You wouldn't know if we were having one of the seasons that we're accustomed to or if we're in this because of the way that he approaches it. I'm learning from him and I'm grateful because that example that he sets you say, man, you better make sure that you're doing those same types of things if one of your great leaders can continue to do that the way that he's done. He's had a powerful impact on me, I do know that much."
(On if QB Matthew Stafford is done for the season after being placed on injured reserve)
"He's got a spinal cord contusion. That's an injury that is anywhere between…there's a good chance that's probably the case."
(On what he saw from QB John Wolford)
"I saw improvement. I saw a gutsy competitor. I was proud of John. I put him in a bad spot on the one interception that we threw earlier in the game. But I thought he did a great job being able to kind of move the pocket a little bit, use his legs to be able to move the chains on the fourth down. (He) ended up doing a great job of being able to get us in and out of some of the right looks, could see the guys played well around him. We wanted to be able to try to continue to build on it, but there's always some things that we can learn from. But I was proud of John today."
(On what questions he's asking himself during his self-reflection)
"Yeah, I think really if you're being honest, I think you acknowledge some insecurities that maybe you didn't think you have that this forces you to reflect on. Are you really foundationally secure in the things that really matter? Or do you let some of the outside in narratives affect your being or some of these results affect the way that you approach things? To say that there hasn't been rough moments where some of that doubt has occurred, I'd be lying to you guys. But I do know this, these moments, watching the way that these guys play, the way the guys coach, that to me gets me back to the right perspective where you say, 'You keep slugging, you keep swinging.' I've heard it said before, "Calm seas don't make good sailors.' I know this, we're growing. I'm not going to allow this to be anything but growth opportunities. You're going to continue to see us compete to the best of our ability regardless of the circumstances. That's where I'm at right now and I know that there's a lot of guys that are right there with me on that."
QB John Wolford
(On getting checked for a concussion)
"Yeah, it was just concussion protocol. They were just checking to make sure and then I was cleared and ready to go. Then I just got stepped on in the game and felt something there, but I'll be alright." 
(On his thoughts of the offensive performance and practice this following week)
"I thought we competed really hard. I thought we ran the ball well. I thought we did a lot of things. I think Sean called a great game. I think we had a good week of practice and we just didn't get the result we wanted. But we worked really hard this week and I'm happy about our effort, but still didn't get the win." 
(On how he felt throughout the game while avoiding two injuries)
"It's football, you know, you're not going feel great all the time, but I was able to get through it and just turn my body around and I'll be ready to go." 
(On the quick turnaround being ready for Thursday's game)
"Yes, I'm going to do my best." 
(On the last drive and offense was considering taking more time off the clock)
"It's hard. It's a delicate balance there and I think you have to just score. It's not like, 'Hey Cam (Akers), run this play and then go down at the one, you know? You have to take the lead. I think we did a good job managing it the best we can." 
(On the misdirection plays during the game)
"Yeah, I think keeping the defense off balance, running the ball and the keepers off it and the play action. I think we did a good job with some of that stuff, and I was glad to see it work." 
(On his comfort level throughout the weeks at starting QB as he gets more repetitions and playing time)
"I think this is my fourth start but really, but really it counted as my third because I played a series in Seattle a few years back. But, you know these reps are invaluable. Playing in live games is different and I just got to keep using these repetitions to grow as a player so we can get some wins." 
(On if he's comfortable playing in his role)
"Yes, for sure. I think just getting more reps with the ones and going out there and playing." 
(On the offense getting a spark from Tutu Atwell and Brandon Powell)
"Yeah, Tutu was rolling today, made some great plays and really showing his talent. He's got a great demeanor about him. He's kept working. I'm so happy to see him do that and then Brand Powell's just a consistent competitor. He's given everything he has every play, and he was able to make some plays in the run game and catch on screen, so he did a good job too." 
(On if Tutu Atwell's confidence is growing)
"I think so, yeah, a hundred percent. He's running good routes. He's being physical at the top. The 20-yard out cut we hit him was a great route and he's moving." 
(On his lack of experience and turning the page on Thursday)
"I think that's the challenge, right? I think Kenny Pickett's got more starts than I do. It's part of the game, but I've been around longer than he has and I've had to take advantage of the reps that I've gotten in practice running the scout team and just continue to grow as a player." 
(On his biggest lesson now that he is getting more reps)
"Yes, we got to convert those into points. Obviously too many field goals down there. I thought we drove the ball well and we have to cap those off with touchdowns. So, just go back, watch the tape, and then improve on those things." 
(On the team trying to win this game for Bobby Wagner)
"Bobby is an amazing leader, a pros pro, works so hard. We really wanted to get it done for him. So, a ton of respect for him just in the weeks that I've seen him and how he prepares and how he works. Just upset that we weren't able to get it done for him." 
Check out some of the best action shots from Week 13 at the Los Angeles Rams at SoFi Stadium on December 4, 2022. Game action photos are presented by Washington's Lottery.