Postgame quotes from the following: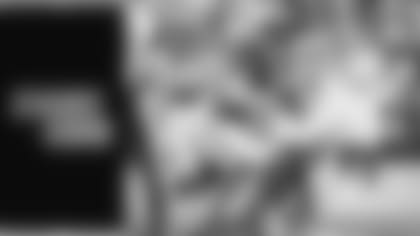 Re-live Each Game With The Seahawks Rewind Podcast
Re-live every Seahawks game this season with game highlights, player and coach postgame interviews, and a whole lot more. Available on Spotify, Apple Podcasts, and wherever else you get your podcasts.
Head Coach Kliff Kingsbury
On what prompted his excited reaction to the game-closing drive.
Just the type of drive it was in that moment. Had to have it. Colt leading them down there. I just thought it was a tremendous overall effort by those guys. It was tough sledding. Their defense was playing was playing really good, but we had to have it. We made that drive, and just a real great response from that entire offensive unit.
On his response to getting to the bye 9-2 despite missing key players.
To not have those guys in November at all play, have the best record in football, be undefeated in the division, it says a lot about that coaching staff and those players in that locker room, continuing to fight, continuing to work hard. We've just got to keep getting better.
On the play of Colt McCoy after his struggles last week.
He was tremendous. Last week was an overall struggle. I think the game plan was bad, the execution was bad and everybody played poorly, so that's hard to put anything on him. But to be in his role and come in and get two division road wins against those teams like he did and play as efficiently as he did, you can't ask for anything more. And he was tremendous, his leadership all week, the way he carries himself, it was awesome. All those guys, you could see how they played. They have a ton of confidence when he comes in that game.
On what he was like during the week.
Great, great. You know, he's been through it. He's seen the ups and the downs. He knows he can play in this league and play at a high level. We just talked about responding, we're going to have a great plan, we're going to attack, we're going to cut loose and throw, we weren't going to tuck it in, and I think he had 44 attempts and protected the ball. He did a great job.
On the play of Zach Ertz, if he's getting more comfortable with the offense or if it he was simply exploiting was what the defense was allowing.
Yeah, we're just going to incorporate him more and more I think as I get comfortable with him and he gets comfortable with me, the scheme, all these things, and the quarterback being on the same page, I think he will continue to emerge. But we have a ton of weapons, and this just happened to be his night at times.
On if McCoy did one thing that impressed him the most.
Yeah, I think the scramble there late. We had a play-action and he scrambled, got out of a sack, scrambled to his right and hit Antoine on the side. That was huge. If we take a sack there, we're on second-and-20 or whatever. He escaped, made a big play and we went down scored. So I thought that was tremendous. He's got athleticism enough to move around and extend plays, and he made a couple. The one to Christian I thought was a touchdown, but obviously it got reversed. But big-time plays in the second phase.
On if he said anything to K Matt Prater.
No. He's one of the best, so I thought the 52-yarder or 53-yarder was huge at that point to make the difference I think it was 10 or nine. So, it happens, and I thought that was a great job of him coming back and nailing that one.
On the defense have a bounce-back game as well.
We knew they would. That's how they responded every time a game hasn't been to their liking. They've come back more physical in practice really well all week, so I expected them to play at a high level.
On what he thinks Matt Prater's issue is.
I'm not sure. I haven't spoken with him about it. But like I said, he's been at the top of this league for a long time.
On he feels personally as the bye week and Thanksgiving approach.
I feel tired. I'm ready for Thanksgiving. Sleep on the couch a little bit. It's coming at a good time for all of us. We get to get rejuvenated, recharged, healthy, and so to end it on this note I think and have the good vibes, going into next week and Thanksgiving is great for everybody's spirits and psyche.
On it being a different situation this week rather than last week.
On his mindset going into the game after their performance last week.
I've played long enough in this league to understand those kind of games happen. They're absolutely not fun and the good teams are able to bounce back from that. I didn't know if I was going to be a part of that or not this week with Kyler (Murray), he was really close. I just prepared the same way and had the opportunity to come out here and play. Again, good teams respond week-to-week and we were able to play really good, complimentary football. The offensive line, I said it postgame, I thought up front they were really good. They did a great job of giving me some time. Receivers made some really good plays and the defense again played great. Overall it was just a great team effort and I'm glad that I was able to respond and step up and play and come out with a win on the road within the division which is really hard to do.
On his scrambling ability today.
When a big guy is chasing you, you just find a way. I thought Kliff (Kingsbury) did a great job. I felt very comfortable with the gameplan, with the third downs. I'm not sure what we were on third down but I think we stayed on the field. We had some hiccup drives and we started playing a little sluggish, a little slow. Missed a snap. But again, the defense stepped up for us. We had some long fields to go. It felt like we were constantly backed up. But in a division game like that, that's how it goes, right? Thankfully the interception was overturned. I felt like for the most part today, I was seeing their coverages and their structures of their defense really good. That play, I didn't and it almost cost us so I'm thankful that he dropped it. For me, I'm just glad to step up and play and be a part of a really special team, special coaches, just a special group of guys. This isn't about me, that was a big team win for all of us.
On how hard it is to function when you have a lot of pressure in your face.
Yeah it's tough, for sure. The last thing you want is dropping back and I think over time you start feeling it, seeing it and that can lead to some mistakes. Today I did throw a lot of the quick balls, some RPO's that Kliff (Kingsbury) dialed up that I felt like were there. That kept us ahead of the chains. I think we were pretty efficient other than a few drives that we really shot ourselves in the foot.
On executing a screen pass.
We didn't really have many big plays on screens today, but we had some efficient plays. The art of the screen is when you call it, what situation and being able to check out of a play when it's not right. We've been pretty good at that all season. Kyler (Murray) is really good at that.
On what it feels like to help the team win with Kyler Murray out the past three weeks.
Well to be honest it's just my responsibility. That's how I see it. I came here to be a part of this team and this group and when your number is called, that's my role. I'm proud to have won a couple of games on the road. I'm not proud of the way we played last week. It was a hard week, it was a long week. Just knowing that we left a bunch out on the field and we just didn't play well, I didn't play well. I could've done some things better, we all could have done some things better. We regrouped and again, I didn't know this week (that I would play) to be honest so I'm very thankful that Kyler got one more week of rest, we got a win going into the bye week. All the bumps and bruises and (DeAndre) Hopkins and Kyler and some of the (offensive) linemen can have some time to rest and recover and we're in pretty good shape to move forward.
On him being willing to give Chandler Jones some advice leading up to this game and what that says about him as a teammate.
I love football, I love the game, I'm always studying the game. Chandler is usually the best player on the field. He's one of those guys that works at his craft constantly. On the field, in the locker room, he's practicing moves, he's doing all his things that he does that makes him Chandler Jones. I think what I told him this week, I'm surprised he talked about it, but I just appreciate how hard he works. He's one of our best players, he works hard at it, it means a lot to him and I just told him that he's a closer. So go get your sacks. Work on this stuff all week, but go get the quarterback. Turn your brain off and go. And I think he had a couple sacks. Not by me, that's Chandler. I think I've said this before, there's a good healthy mix of older guys and younger guys and guys that have seen a lot of football. He's one of them and I'm thankful to be on this team and have conversations like that. Everybody wants to win.
On getting through the past month 2-1 without Kyler Murray and now having the best record in football.
I think for me, I wish we would've gone 3-0. We were very disappointed about last week but we were able to respond. Again, I think this week will be good for all of us to do some self scout on us, figure out some things we can do better at, get our guys healthy and all kind of get our minds right to finish this last half of the season.
On if today's performance indicates he is more comfortable with his role in the offense.
Yeah, I think it's the culmination of a lot of hard work from guys helping me out, from just trying to get into the playbook as much as possible, to the coaching staff trusting me. This isn't about me. This is a team sport. This is a team win. This is a recipe for success for us. If we're able to get up early and let the D linemen and our defense attack the passer, we're going to have a chance to be a really good football team. And so for us, that's what it's all about for me, just trying to find ways to contribute for this team. Obviously my trust and comfort level I feel have gone up each and every week, and obviously the bye week is going to be big, and then hopefully going to get Kyler back is going to be a lot of fun. And so, just a fun way to come out here before the bye week. There's no worse feeling than losing before the bye. So finding a way to win before this was a big goal of ours as a football team, and we did that today." 
On what he has learned about Colt McCoy.
Colt's (McCoy) a great leader, first and foremost. He's been in the league a long time and understands the locker room, he understands what guys want to do. And he's seen all the looks. There's nothing a defense can do that that guy hasn't seen before, whether he was playing, whether he's been studying film over his past, however many years he's been in the league, he's seen it. So he's always confident, he's always calm. Nothing's going to rattle him. So the past two weeks have been fun, or three weeks have been fun with him, just being able to see what he can do. I think everyone knew what a great mentor he'd be for Kyler, but he's a great football player, and people should never take that for granted.
It was awesome. It was a lot of fun. Actually, I told James before the second one, 'Hey, you better score this one or otherwise I'm going to get this next one.' So it was a little friendly competition. James is obviously a phenomenal football player, but I just got one at the end. But that's what it's about. This is a fun football team. It's really exciting to be a part of it. I'm very fortunate to be here, grateful to be here, and hopefully we can keep having games like that.
On if players are rooting for Colt even more in his backup role.
You understand how hard it is to play in this league. You understand how much work goes into it each and every week, whether you're the starter or the backup or practice squad guys. There's just, you have to put so much into it—physically, mentally, emotionally. So whenever a guy gets an opportunity and makes the most of it, it's just a testament to the work he's put in. Not just this year, but for the past 13 years he's been in the league, or however long he's been. You love to see guys that work their butts off, whether they're a starter or backup or scout team guy, that go to work each and every day with the goal of getting better. They're not about themselves. They're about the team. So when they have the opportunity, everyone loves to see guys succeed regardless of where they've been or where they've come from.
On being 9-2 and in a good position.
Obviously it was our goal this week to find a way to win the football game, to be 9-2, 4-0 in the division, and be really in a good place as a football team. You know, we're obviously banged up, so this bye week is coming at a crucial time for us. It's not to say we're complacent by any means by where we're at, but the more you win the bigger the games get. I've been in this league a long time, and when you're playing meaningful games at the end of November, December, January, that's when it's really fun. When you're playing big games, and all your goals that you set out at the beginning of the season are still attainable, that's what playing in the NFL is all about. So we're excited by the opportunity, obviously. Like I said before, if this is the football team we enter Week 16 and Week 17 with, we've ultimately let ourselves down. We've got to continue to get better each and every week. It starts on the practice field. It starts with really good game plans with the coaches, and just going to work every day.
Linebacker Chandler Jones
On playing well every time he comes to Seattle.
This is a conference and a division game. The importance on focusing one, the coaches were saying, no mistakes. It has to be perfect football when we're playing division games because these games matter.
I think the coaches did a tremendous job of signing a player like Colt. Actually, signing Colt McCoy himself. He's a guy that's mature, he's been around. A tremendous backup for Kyler (Murray) on and off the field. Colt is a guy who's a leader. He's someone our whole team has confidence in. We have confidence in him each and every week. I'll tell you a small story I have about Colt. Colt, this weekend, he saw me working on some moves. He was like, 'Hey, Chandler. I kind of hesitated on telling you this, but I see you thinking. Stop thinking, just go. You're one of the best players in this league, just go. Be yourself.' I feel like it takes a lot for someone, I just met Colt this year, for someone to step out and have those words of encouragement to someone you know but you really don't know, it means a lot. That just goes to show you what type of person he is. He sees things. He could've chosen not to say those things to me, but I took it and I definitely retained it and definitely showed it today. 
On how he responded to Colt McCoy's advice.
I told him thank you. I just kept saying thank you because he was right. I do a lot of thinking. I've got to do this, I've got to do that. He said, Just be yourself.' I definitely admire Colt for that. You can ask him about the story. It was this week. 
On how he feels this far into the season.
Let me tell you, Kliff (Kingsbury) is an overtime worker. I don't know how he's going to be sitting down on the couch. There's been times where I've walked in on Kliff and he's watching teams that we're going to play in three weeks. I'm like, 'Kliff. We don't play them until…' This is a great win for our team going into the bye. We'll all be looking forward to some turkey for sure, I could definitely use some. This is good. Our spirits are high, hopefully we can just keep this snowball effect rolling and we can just have this thing rolling toward the postseason or end of the season.
On how it felt to be 2-1 going into the bye week.
It feels good. Colt (McCoy) played unbelievable today. It was just a great team effort. It was a great week of preparation, all of the guys bought in. 
On the incomplete pass that was almost intercepted.
These NFL games are rollercoaster rides. You know, up and down momentum swing. We didn't flinch and we just kept pushing on. 
On if his mindset is different knowing he is a deep threat in a screen heavy offense.
I'm just ready when my number's called. We have a lot of guys that came and made plays. Any given week we go out there and focus on what we can and try to make a play.
On if he felt like the team was going to bounce back from the previous week.
Yeah, that's every week. I don't think there's been a week yet where we've gone in tentatively and not ready to go. We always have confidence going into it. Honestly, today was probably one of the most complimentary football games we've played this year. The offense did a great job keeping drives alive, scoring points and keeping their defense on the field. In return it helps us a lot." 
On how the defense was able to contain the offense.
Yeah, and we knew what they were going to do going into it and how they were going to attack us. We did a good job of switching up the looks and making good calls down there. VJ (Vance Joseph) did a great job of switching it up on them. We played our rules and it's always a 'bend but don't break' type of a mentality. As long as we have a blade of grass to defend, we're going to do it.
On the difference between last week and this week.
I think it was complimentary football. We did a good job getting off the field and the offense did a good job staying on the field. If you can do that, this is what it looks like. We put it together. I think it was a good team win.