Good morning, 12s. Here's a look at what's happening today – Wednesday, Sept. 30 – for your Seattle Seahawks.
Jacob Hollister Joins 710 ESPN Seattle Bob, Dave and Moore
Since coming over from the New England Patriots in a trade last April, Jacob Hollister has emerged as a steady, reliable tight end for the Seattle Seahawks. A native of Bend, Ore. who grew up rooting for the Seahawks, Hollister has made the most of his opportunity with his hometown team. In his first two seasons combined, Hollister had just eight receptions. Last season, he caught 41 passes for 349 yards and three touchdowns in just 11 games.
In Sunday's win over the Cowboys, Hollister grabbed his first touchdown of the season on a one-yard pass from Russell Wilson in the third quarter. Then, late in the game, he caught the two-point conversion to put the Seahawks up 38-31. In their Player Spotlight interview Tuesday, 710 ESPN Seattle's Bob, Dave and Moore spoke with Hollister about his performance. They also discussed Russ' start to the season, the team making their own crowd noise and where he and his twin are different.
You can listen to the entire 13-minute interview here – below are some of the highlights.
On Russell Wilson's dominant start to the season and how important the offseason was:
"He's just obviously the best in the world. He's done such an incredible job. It goes back to this offseason where Russ just spent the maximum time just making sure that not only the guys that he knows are going to play a lot are getting ready, but every single guy on the team – every receiver, O-lineman, tight end – making sure that everybody is ready to go, knowing that everybody could play at some point. He's the type of leader that wants to make sure the entire team is ready to go and he put in the time to do that."
On how the team is trying to create its own crowd noise on the sideline:
"We definitely put an emphasis on it. Not only that, but our guys are just so close just as a team. So, we just get excited for each other – the offensive guys getting excited when the defense makes plays and the other way around, too. A big part of that is how close our team is for sure."
On how he's handling a reduced role in the offense due to the loaded TE group:
"I'm doing good. Like you said, it's a long season. I'm blessed to be where I'm at, I know that everything happens for a reason. I love being with this team, with this organization. At 3-0, you can't be complaining too much about anything. But at the same time, obviously you want to do as much as you can and I'm ready for that. I know the coaches here do a great job of just using the guys that we have. I feel good about it, I feel good where I'm at. I'm learning a lot and I feel good about Year 4."
On how similar he and his twin brother, Titans WR Cody Hollister, are (or aren't):
"A lot of people would say that we're really similar, but we're also different in a lot of ways. We both love the same things when it comes to going out hiking, camping, music, all that stuff. I happen to be a little bit better looking, which is awesome. There's definitely some differences between us, but I think people have to get a little bit closer to us to realize those."
Seahawks Fan Wins Decade Of Free Groceries From Safeway
After the Seahawks scored five touchdowns Sunday, Safeway awarded free groceries for a decade to Jessica R. of Marysville, Wash. The Shop and Score program hands out bigger prizes based on how many touchdowns we score. Four touchdowns in a game gives the winner free groceries for a year, five touchdowns means groceries for a decade and six touchdowns means groceries for life. To enter, download the Safeway app, create an account, opt in to the Shop and Score 2x reward points and purchase three participating products.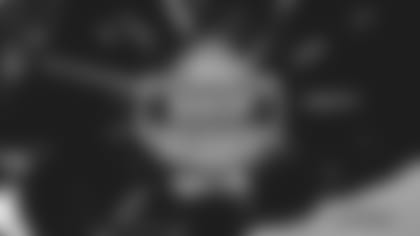 Shop and Score with Safeway! You could win groceries for a year!
Shop and Score with Safeway! You could win groceries for a year or one of 50 prizes to be awarded. Prizes are awarded daily and for each Seahawks touchdown and field goal.
Social Post Of The Day
The Griffin twins officially shared the field again Sunday after Shaquem was promoted from the practice squad to the active roster. Shaquill is clearly excited to play with his brother again.
Go behind the scenes with team photographer Rod Mar as he shares moments from the Seattle Seahawks' 38-31 win over the Dallas Cowboys at CenturyLink Field. Eye on the Hawks is presented by Western Washington Toyota Dealers.