Stealing Tim Lindsey away from his honeymoon was the latest in the adventures of special teams for long-time maven of the punt and kick establishment, Bruce DeHaven of the Seahawks.
That move came in the wake of sixth round draft choice Tyler Schmitt being sidelined by a strained back, as DeHaven continues to spin the wheel putting his special teams together during the preseason - an adventure every year.
Adding a second snapper to the already tight 80-man roster was a tough call, but clearly it was a necessity.
"That's a medical deal," DeHaven said. "I don't know. I just know he's not out here, Tim is in here working and we'll see who's available. I don't know if he was on call or not, but he didn't have a job and he actually might have been on his honeymoon. Football's pretty important to you and the wife to come off your honeymoon for something like this, right? I do feel badly about that, probably not as badly as they did.
"It's tough with an 80-man roster to have two snappers in camp. That's probably not something that you'd like to do because it takes up a roster spot. It's almost a luxury to have two kickers and two punters in camp (like we have). You'd rather not have to deal with that."
Instead, he'd rather focus on building his special teams for the season, and at this time of year, it couldn't be a more difficult task. Not only are their injuries to deal with like the other coaches face on the team, but he really is guessing on who is going to make the team and who isn't.
And the feel for that can change daily. The good news is DeHaven is seeing progress from last week's game at Minnesota, practice this week and preparation for Saturday night's game with the Chicago Bears. That leaves little doubt what he's looking for from his group ...
"(For us) to play better than we did last week," DeHaven said. "I'm more interested in finding guys that can play more than anything else. I mean, I hope we play well. It should be a good test for us because the Bears have been pretty good on special teams. Devin Hester returned a punt (for a touchdown) in the last game. If he's back there this week, we get a chance to go against the best there is in the league without a doubt. That's a good test.
"I think we're getting better. I know we're further along this year than we were last year (at this point). Guys know what they're doing more. They understand what we're trying to get accomplished. Our techniques are better. Everybody teaches stuff a little bit different and it's starting to look a little bit more like I would like it to look than it did last year at times. Now it comes down to the big question for me is always who are the guys that are on the 45-man roster? It's not even the 53, who are the guys on the 45-man on game day to work for there. That will have a lot to do with how good you are."
Leadership is also a factor. Veteran linebacker D.D. Lewis is back after a year absence, and he figures to be a significant figure rousing the troops on a daily basis on special teams. The veterans understand the importance, and Lewis also figures he can help illustrate to the younger players what needs to be done.
Time and again coaches will emphasize that special teams are precisely one-third of the game - equal importance to offense and defense - with the capability of changing the momentum of the game on one play. Be it a fumble, return, field goal or punt, special teams are invaluable.
"We want to go out there and not just contribute on special teams, we want to go out there and be a dominating force," Lewis said. "We're focusing on that. I talk to the young players about it because that's the way I got into this league. This is one of those things, you see young free agents, and it's just natural for me to talk them about that. It's a great opportunity to get your foot in the door - to contribute and dominate on special teams.
"We know that's our thing. You're a starter on special teams. When it's a special teams down, it's your time. It makes you feel like you can change the game. You go out on special teams and bust it. It's one big play and you have to be ready to make that big play."
The question for DeHaven is obvious, and this is the toughest time of year trying to figure out who will be on the roster. Not just the 53-man roster, but the 45-man roster, with the understanding of who will be active virtually every week of the regular season. It's a tough call to put together teams when there are no guarantees. The classic example was C.J. Wallace earning his way on the team through his special teams play ... but he couldn't know that until the final week.
"Right now it is (guesswork)," DeHaven said. "Every year I try and figure out who it could be and there are always surprises. Guys you're pretty sure are going to be there aren't there at the end. Or somebody you didn't think would make it, does. Once you get a few weeks into the season you get a pretty good idea, but right now for opening day, who those last five or six guys are ... there's a lot of moving parts yet."
Back from the injury front
---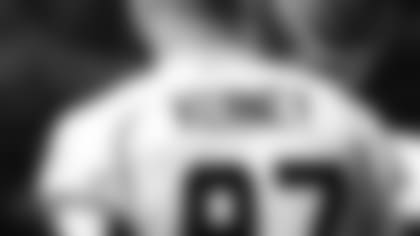 There was good news on the plethora of injuries Wednesday, with Matt Hasselbeck (back) practicing for the first time this week after getting nicked up in the game last week, same goes for fullback Leonard Weaver (hamstring), and defensive end Patrick Kerney (calf and shoulder) participated in his first full practice this season.
It was a nice change for coach Mike Holmgren.
"It really was," Holmgren said. "I think, knock on wood, we're going to get a bunch of guys back next week. With the young guys that have missed time, it's hard because they can't really afford to miss. With a guy like Kerney, he's a known guy and we know what he's going to do. But with the young ones, they've got very little time now to show, so I'm hoping that the guys that do come back can stay back and practice a little bit."
It was particularly significant for Kerney, who had recovered fine from shoulder surgery, but suddenly was saddled with a strained calf at the start of training camp. He went through half the drills Tuesday morning and did the entire practice on Wednesday morning.
"It felt great," Kerney said. "To start off practice I was a little slow, cautious. I just built up confidence with every step, cornering, pushing, run blocks - it all felt good.
"When we ended my last series of practices (at the start of camp), we said we were going to sit back, rest it and take our time with this thing, I had the confidence in our trainers that they'd set up the right protocol to let it heal and not let me out there until it is. Yesterday, that was the plan - come out, do every other individual drill and then take it in. As long as that's good, leave well enough alone and get ready for today."
Hopefully, all of the transitions will go as smoothly.
---
Holmgren on MRI's and injuries:
"I dare say if I stuck all of you in an MRI machine they'd say, 'Oh, jeez, look at this guy's back! Look at her?' You'd find stuff and that's what happens. They go, 'This guy's got a bad back,' (and the player answers) 'Well, it doesn't hurt,' (and they insist), 'Well, you've got a bad back.'
"So I don't worry as much about it. Listen. As we approach the game, there's a very interesting thing about injury lists, all of a sudden, it just feels better - the miracle pill takes place."
---
Holmgren was also asked if he gets questions that pertain to fantasy football. It was rare, but he did relay this story about his daughter in Salt Lake City who is a doctor and was captain of a team. "(She was) thrown out of the league because of inside information. But I will say she was clean. It was the appearance. She did not phone me about it and she was very upset about it. But she knows football ... all my girls do; true story."
Holmgren also made a point of including rookie free agent Michael Bumpus as a legitimate candidate to make the team and be included in the final cut among receivers between Ben Obomanu, Courtney Taylor, Jordan Kent and Logan Payne. "I would add him to that list now, he's doing fine," Holmgren said. ... Tackle Sean Locklear was back at practice in his customary right tackle spot after giving a sore knee a day's rest. ... Holmgren also said the medical staff has altered the treatment of center Chris Spencer's back and there has been progress. Meanwhile, Steve Vallos continues to improve and establish himself with the starting offensive line. Holmgren also expressed concern over not having Engram for 6-8 weeks with a cracked right shoulder.
Don't forget the preseason game time of 6 p.m. on Saturday at Qwest Field. ... The Seahawks have a closed walk-thru on Friday, and over the weekend, the rest of the team and staff will move to the new Virginia Mason Athletic Center in Renton. Monday will be the first official day of business there for the entire staff. The Kirkland facility will be given back to Northwest University, from whom the Seahawks have been leasing it since 1986.