Good morning, 12s. Here's a look at what's out there today — Tuesday, January 18 — about your Seattle Seahawks.
Russell Wilson Joins Monday Night Football 'ManningCast' During Cardinals-Rams Game
Earlier this season, Russell Wilson served as a guest on the very first edition of ESPN's Monday Night Football ManningCast with Peyton and Eli Manning — a game that had a thrilling finish as the Raiders knocked off the Ravens in overtime.
On Monday, the Manning brothers invited Wilson back onto the final broadcast of the season, as the Cardinals and Rams wrapped up Super Wild Card Weekend on Monday Night Football.
With the Rams defeating the Cardinals 34-11 behind a strong offensive performance led by Matthew Stafford and Odell Beckham Jr., Eli Manning joked that Wilson had given Rams head coach Sean McVay the Seahawks' game plan for Arizona; in the Seahawks' season finale, they also ran up big offensive numbers at the hands of the Cardinals defense to the tune of 431 yards, the most Arizona had surrendered all year.
"We caught Sean McWay, he was in the dumpster, he grabbed our game plan and he's got it," Wilson joked. "But those guys have been playing great. I think that obviously the first half was so lopsided, I think it's made it challenging [for Arizona]."
The Cardinals trailed 31-8 at that point in the game, but in true Russell Wilson fashion, the quarterback referenced a playoff game against the Panthers from the 2015 season to suggest that the game wasn't truly out of reach for the Cardinals.
"I remember playing a playoff game, we played in Carolina and we were down 31 to nothing at half," Wilson said. "We came back and made the game close, it came down to an onside kick and they ended up getting it. But this is that kind of game."
With the Cardinals' offense lining up for a 4th and 10 try in the fourth quarter, Wilson's expertise and experience from having played the Rams twice a year for the last decade started to peek through as he diagnosed their defensive scheme. "You've got to motion, draw them offsides, maybe get a double count here, see if you get something" Wilson said. "I think you have to be ready for their soft zone — it's going to feel like zone, but they're really going to match it up and you've got to watch for those safeties and everything."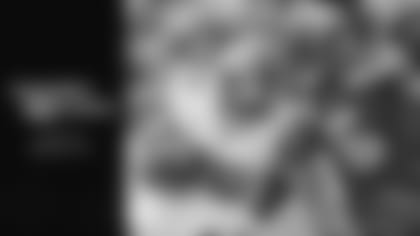 Listen To The Seahawks Insiders Podcast
Hosted by sideline reporter Jen Mueller and Seahawks Senior Digital Media Reporter John Boyle, the Seahawks Insiders podcast takes an in-depth look at each week's Seahawks game and analyzes the previous week's matchup. Available on Spotify, Apple Podcasts, and wherever else you get your podcasts.
Social Post Of The Day
Seahawks players show their support for Cardinals safety Budda Baker, who was carted off the field Monday following a scary collision with Rams running back Cam Akers.
Go behind the scenes with team photographer Rod Mar as he shares moments from the Seattle Seahawks' 38-30 win vs. the Arizona Cardinals on January 9, 2022 at State Farm Field. Eye On The Hawks is presented by Western Washington Toyota Dealers.