Good morning, 12s. Here's what's out there today — Thursday, September 24 — about your Seattle Seahawks.
Lano Hill Discusses His Big Stop In Sunday Night's Game With "Bob, Dave & Moore"
It took a full team effort to defeat Cam Newton and the Patriots on Sunday night, but Lano Hill's impact was particularly key. He and lineman L.J. Collier teamed up for a game-saving tackle on a Newton run at the one-yard line in the game's final seconds — a play similar to one resulting in a touchdown earlier in the game — securing a 35-30 victory for the Seahawks.
Following his week two heroics, Hill was a guest Wednesday on 710 ESPN Seattle's "Bob, Dave & Moore" show. The fourth-year safety discussed a number of topics, including the play that won the Seahawks the game, what it was like to play in primetime without fans in the stands, his favorite salmon restaurant, and why he now goes by "Lano" instead of his full name of Delano.
He also talked about what it's like playing with new teammate Jamal Adams and when he thinks the defense will fully hit its stride. You can listen to the full podcast episode here — Hill's segment begins at the 26:15 mark. Here are a few highlights:
On being able to stop Newton at the goal line on game's final play:
"Coach gave us some great tools, great keys to follow up on the whole week, with certain formations. We just got a good team effort and got the job done the last play." Wyman also noted that Hill "crushed" the Patriots' fullback on the play, to which Hill responded, "Oh yeah, it felt good. It always feels good to get a good hit on somebody."
On playing at CenturyLink Field without any fans:
"Man, it's still weird. It is. It's hard to task together sometimes, but you still got to get focused and bring the energy — that's the [big] thing is the energy. We're missing the energy with the fans and that's what we need. So we have to bring that energy ourselves and be there all game."
On playing with Jamal Adams:
"Oh, it's good. It's fun. He's another one of those guys that brings that energy, so if you ain't got none, you know Jamal is going to have some. It's always fun playing with Jamal out there because he's everywhere. He's fun to play with."
On if Russell Wilson is better than ever:
"Russ is just Russ, he's going to do what he do. Since I've been here in my four years, he's been consistent, the same guy everyday in and out. And that's the results you get, that's what you see every Sunday, that's him everyday. In practice, he's going to give you his best looks, best everything every play, and that's what we like. That's why we like to compete against him in practice."
On how long it takes for a defense to fully find its rhythm:
"I would say a little bit towards the middle of the season. It's the beginning of the season, so everybody is still trying to find out who they are, what they're trying to do, as a team or as a unit. But I feel like our unit, out of anybody else, our unit is solid. We communicate real well and we get along real well."
On his favorite salmon restaurants:
"That's hard. Because I got a couple. That's hard … Daniel's Broiler got a salmon sandwich that's nice. I really like that. Another spot that has some good salmon is .. I want to say it's off the water? I forgot the name of it. I'll have to get back to you on that one."
On Tuesday afternoon, Blitz and Seahawks Dance Team member Aleksa held a virtual video call to celebrate the mascot's birthday. Over 400 kids were in on the virtual party, which included a special Q&A session after wishing Blitz a happy birthday. The interactive event was the first in a series of virtual events exclusive to Junior 12s Kids Club Members.
If you'd like invitations to events like this one in the future, sign up for the new and virtual Junior 12s Kids Club presented by Delta Dental. The club is a free and fun Seahawks fan club for children ages 5-12 that includes exclusive content, activities and events throughout the season.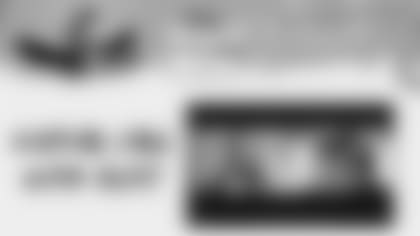 Social Post Of The Day
In episode three of Russell Wilson's "DangerTalk" podcast, guest Randy Moss tells the story of how he almost became a teammate and target of Wilson's: