Good morning, 12s. Here's a look at what's out there today — Thursday, December 9 — about your Seattle Seahawks.
Jordyn Brooks Joins 710 ESPN's 'Wyman & Bob'
The 2021 season hasn't gone the way many within the Seahawks organization had hoped, but the continued emergence of 2020 first round pick Jordyn Brooks has certainly been one of the bright spots.
After playing just 37% of the Seahawks' defensive snaps as a rookie last year, Brooks has stepped into an every week starter role at outside linebacker this season, creating a formidable duo at linebacker between him and Bobby Wagner. While Wagner leads the league in tackles with 137, Brooks is not far behind with 124 total tackles of his own, good for fourth in the NFL.
Brooks' impressive season has even led some, like Field Gulls' Stan Taylor, to crown Brooks as Seattle's best first round draft pick of the past 10-plus years. "While I will stop far short of anointing him the next Bobby Wagner (or even the next K.J. Wright), I think that he definitely deserves some recognition for his swift and measurable growth in year two," Taylor wrote this week. "Hopefully, this is just the beginning of his development and we are on the precipice of witnessing another phenomenal career unfolding before our very eyes."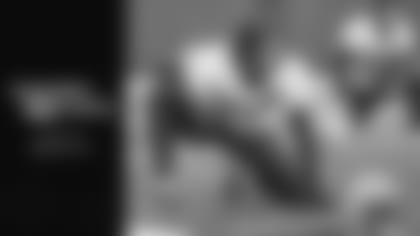 Listen To The Seahawks Insiders Podcast
Hosted by sideline reporter Jen Mueller and Seahawks Senior Digital Media Reporter John Boyle, the Seahawks Insiders podcast takes an in-depth look at each week's Seahawks game and analyzes the previous week's matchup. Available on Spotify, Apple Podcasts, and wherever else you get your podcasts.
On what was different in Sunday's game that led to the team winning the time of possession battle for the first time all season:
"I think it's a number of things. One was the turnovers — turnovers played a big role in time of possession. Getting off the field on defense. The offense moving the ball, scoring points. It was just a whole, collective team win, and all three phases were working well together. I think that's ultimately what got us the win, and obviously the time of possession."
On the defense fixing its earlier communication issues:
"What we mean by communicating — communicating starts on the sidelines. It's not just on the field, 'Hey man, I've got you over the top,' or, 'I've got you outside,' we're talking about the stuff early in the week. We're talking about it on the sidelines, and when we get on the field it's starting to show. That chemistry. Guys are playing off of one another and playing good defense."
On how much more comfortable he is in his second season in the league and with the team:
"The thing for me, I just want to do everything I can to get better. I'm still young in this game, still learning everyday, and so the whole thing for me is just how can I take this week and get better from last week, to ultimately help my defense and help this team. That's been my goal. It's not so much for personal success — personal success will come when it comes — but my whole thing is how can I do my part to help this defense be the best defense we can be to help this team win."
On what he focused on during his first offseason after rookie 2020 season:
"It was kind of a combination of everything. I'd never had an offseason as long as I did last year. I'm used to being in college where it's pretty much year-round, we're always with the team and there were no breaks. So for the first real offseason, to just have all that time by myself, I had time to just do everything. Work on speed, work on strength. Get better in the playbook. All types of things. Lateral quickness, all types of things. So I can't name one specific thing, it's kind of a combination of all."
Social Post Of The Day
Blitz and Rasheem Green are getting out the vote for Tyler Lockett, who is our nominee for the NFL's Walter Payton Man of the Year award. 
Fans can vote on Twitter by tweeting with the hashtag #WPMOYChallenge followed by the nominee's last name and/or his Twitter handle, or by retweeting such tweets, until January 17th. The nominee who receives the most hashtag mentions will receive a $25,000 donation from Nationwide to his charity of choice. The 2nd and 3rd place finishers receive $10,000 and $5,000 donations from Nationwide, respectively.
Take a look back through history at the Seahawks' matchups against the Texans as the two teams ready to face off during Week 14 at NRG Stadium.