BATON ROUGE, La.—The late-afternoon sun beat down on the mini fleet of rental cars parked outside Southern University's A.W. Mumford Stadium as a handful of NFL scouts who just finished watching the FCS school's pro day discussed the evening ahead.
When Seahawks personnel executive Ed Dodds informed his colleagues that he was a no-go for oysters in Baton Rouge because he had a dinner scheduled with a couple of players from Louisiana-Lafayette—the Ragin' Cajuns had their pro day the next morning—one scout gave Dodds a hard time for the effort he was putting in at a school hardly known for producing NFL-caliber talent.
"Shoot," Dodds said in his southern-Texas drawl. "You know I'm going to find somebody at every (expletive) place."
A month later, the Seahawks are expected to sign Louisiana Lafayette undrafted free agent linebacker Otha Peters prior to rookie minicamp, one of the players Dodds had taken to dinner that night.
The next night, Dodds reconnected with a group of scouts for a drink at the Corner Bar in Lafayette, and at one point the conversation turned to a player they had seen the day before at Louisiana State University's pro day.
Cyril Grayson didn't play football at LSU, and he was a late addition to the list of players participating in the pro day workout with one of the nation's top football programs, a school that produced eight picks in last week's draft, including three first-rounders and Seahawks second-round pick Ethan Pocic. But despite being an unknown, Grayson, a track-and-field standout at LSU, was impressive both in his 4.33-second 40-yard dash, and more significantly, in how well he ran routes and caught passes, so the scouts were intrigued.
Back at the Corner Bar, one scout noted that even though Grayson had zero college football experience, he was going to get a contract with somebody after the draft when teams scramble to sign top rookies who went undrafted.
As his fellow scouts continued the conversation, Dodds enjoyed his drink in silence. Cyril Grayson, who due to an odd rules quirk that Dodds had already uncovered was eligible to be signed immediately, was already on a flight to Seattle.
Sunday Night, Oxford, Mississippi
Two days before Dodds had even heard of Grayson, and three days before LSU and Southern's pro days, a collection of scouts filled the lobby bar at the Courtyard Marriott in Oxford. With severe thunderstorms and even a few tornado warnings hitting the south, tales of delayed flights and other travel hiccups filled what might have been, thanks to the arrival of dozens of Marriott-loyal NFL scouts, the most crowded bar in Oxford on an otherwise sleepy Sunday night. Dodds, however, wasn't there yet, another victim of the weather wreaking havoc on travel plans.
Late arrival or not, Dodds was in his rental car in front of the hotel at 6:25 a.m. for a 6:30 meet-up—Dodds, it turns out, is the five-minutes-early-to-everything type—and 15 minutes later, a handful of scouts walk into Ole Miss' indoor facility before sunrise.
It's Day 1 of the Louisiana Hayride.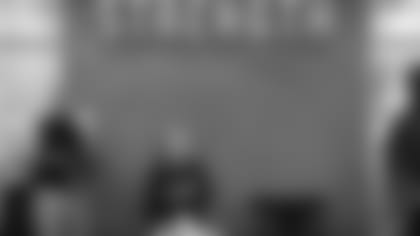 While coaches and general managers are regularly in the spotlight, some of the most important work in building NFL teams goes on in relative anonymity. Every year, scouts for the Seahawks and every other NFL team log countless miles on the road, dozens of nights in hotels and long hours trying to find players who can help their team win. At their best, scouts are not just talent evaluators, they're masters at building relationships and networks that allow them to thoroughly vet potential draft picks; they're recruiters who can sell a potential free agent on their team; they're private investigators who can get to the bottom of any off-field concerns; and they're highly-motivated self-starters who produce results while thousands of miles away from their bosses. Dodds, Seattle's senior personnel executive since 2015, and for nine years before that an area scout, is part of a player personnel department led by general manager John Schneider that has helped turn the Seahawks into one of the league's most successful franchises. Last month, Seahawks.com followed Dodds on a trip through Mississippi and Louisiana to experience the life of an NFL scout.
"We Were Having A Good Time And Laughing Like Maniacs"
No one is quite sure why former Saints scout Hamp Cook decided to give a one-week scouting trip through Mississippi and Louisiana the same name as a radio country music show that was popular in the late 1940s and 50s, but regardless of his reasoning for that name, it stuck, and the Louisiana Hayride is one of the more interesting spring trips for NFL scouts. This year's Hayride began at the University of Mississippi on a Monday, and over the next five days, scouts attended some or all of the following schools' pro days over a five day span: Ole Miss, Southern Mississippi, LSU, Southern University, McNeese State, Louisiana-Lafayette, Southeastern Louisiana, and finally at the New Orleans Saints' practice facility, Tulane and Nicholls State to wrap things up.
Over five days, scouts visited some of the nation's top football programs where they saw first-round talent at bigtime programs, and they also went to off-the-beaten-path schools with few or no NFL-caliber players, hoping to unearth a hidden gem who could turn into a late-round steal or undrafted free agent prize. How different are the stops along the Hayride? This year at LSU, scouts had to wait to record vertical jump, broad jump and bench press numbers because the SEC Network was carrying it live and wasn't out of commercial break, while on a recent Hayride, Thomas Foster, a retired janitor at Northwestern State, was the starter for the 40-yard dash because there weren't enough scouts on hand to run every drill. 
Oh, and the Louisiana Hayride comes with a souvenir shirt, but only for the scouts who hit every school that particular year.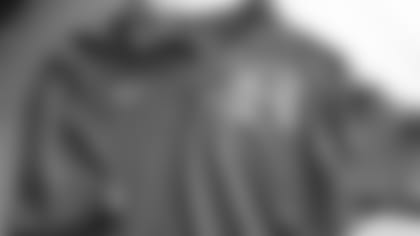 "One of the older guys who's no longer scouting (Cook) said it first, and it just kind of stuck" Dodds said of the Louisiana Hayride name. "So then we just kind of kept it going. A few years back, there was the small group of us that kind of took pride hitting every school along I-10. What happened was the one year started at McNeese and every team wasn't there. Then from there we went to Northwestern State, so that's where we had had a retired janitor starting the 40s, and not every team was there. Then at Lafayette, everybody kind of showed up there, then at LSU every team was there. From there to Southeastern Louisiana, it dwindled a little bit."
By the time a small group of scouts hit Nicholls that year, "we were having a good time and laughing like maniacs," Dodds said. "We worked them out for 45 minutes, kids were falling out, one guy was puking. We just split it up. We didn't film any of it, because none of them were good enough, but we worked them all out, then drove to New Orleans that night, ate at ACME (Oyster House) in Metairie, and then the next day we had the big thing at the Saints facility with Tulane and local New Orleans players."
When scouts gathered for a commemorative picture at Saints headquarters, the small group that had hit every school kicked out of the photo anyone who had skipped the likes of McNeese State, Northwestern Louisiana or Nicholls.
"There were nine people who made every school, so I said, you know what, we're getting shirts made," Dodds said. And he did just that, getting Erik Kennedy, the Seahawks' director of equipment, to make them. At LSU's pro day, Dodds wore his 2015 Hayride shirt, which says "Jaguar Crew" a reference to the mascot at Southern, which had the lowest attendance that year, while New England's James Liipfert wore his 2014 shirt — "The Nicholls Group" — to Southern later that day. 
In the couple of years since, attendance has improved at the small schools in part because, as Dodds said, "guys heard about the shirts, so they started going."
There was also one year when a spring snow storm hit Mississippi as scouts were hitting schools like Alcorn State, Jackson State, Mississippi Valley State and Belhaven, creating what is now known as the Mississippi Sleigh Ride. And yes, there's a shirt for that too.
But we digress. Inside Ole Miss' indoor facility, one of Dodds' first stops was at the set of bleachers set up at the finish of the 40-yard dash that would be run several hours later. He, Jacksonville's Tim Mingey, the Jets' Dom Green and a few other early-arriving scouts dropped their bags to reserve seats right on the 40-yard line. Being right at the finish helps get the most accurate 40-time possible, as does the old timing method Dodds and other scouts learned from legendary Titans and Oilers scout C.O. Brocato — start the stopwatch when the runner's hand comes up, watch him for the first 20 yards, then turn your focus to the finish line, watching the line with your near-eye closed.
After claiming their spots for the 40, scouts filled an auditorium where Rebels coach Hugh Freeze gave a rundown of the players participating and answered any questions scouts might have. Trainers and strength and conditioning coaches were also available to talk about players with health concerns. When that part was over, Mingey, who has been with the Jaguars for the entire existence of the franchise, took over the room, handing out duties to various scouts: who will start the 40, who's running the 3-cone drill — Dodds volunteered for that — who will run the broad jump and the vertical, who's measuring height, weight, wingspan and hand size, etc. When discussing who would run the position drills, scouts cracked a few jokes at the expense of coaches who would show up eventually, but don't arrive as early as the scouts.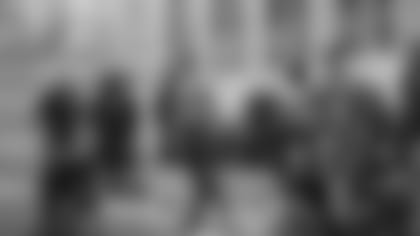 During down time, there's the typical small-talk you might find between co-workers in any field, just with a lot more swearing and ball-busting. Told that the unfamiliar face following Dodds around was there to write a story about this trip, the usual response from scouts ranged from "Sorry, you must have drawn the short straw," to "Hey, Ed, you're big time now. When does the 30 for 30 come out?"
It's an incredibly close-knit community despite also being incredibly competitive.
"Every scout would probably say the same; there's guys you respect and are close with," Dodds says, mentioning, among others, Mingey, Liipfert, Oakland's Calvin Branch, Minnesota's Mike Sholiton, and Miami's Matt Winston. "Calvin, we worked together at the Raiders. As close as we are, we never discuss, 'Hey, what do you think of this player, grade-wise?' You don't even talk about it."
As serious as this business is from a results standpoint — scouts who don't find talent don't last long — plenty of fun is had. When Ole Miss quarterback Chad Kelly had to cut short his workout due to a wrist injury, a few scouts, Dodds included, lobbied for Jeremy Liggins to take over throwing to receivers. Liggins played offensive line and tight end for the Rebels, but was a standout quarterback in high school, and he still has the same strong arm that helped him get recruited by LSU.
Liggins didn't end up throwing to receivers, but later in the day when defensive backs and linebackers were going through their drills, Liggins fired off a few short-range lasers that likely left bruises, as well as effortless 60-yard spirals. It was part of a very busy day for Liggins, an exceptional athlete with very limited playing time on his résumé. In addition to that unexpected quarterback duty, Liggins also worked out in both offensive and defensive line drills. 
Liggins played only 41 snaps in 2016 and 153 in 2015, splitting time between offensive line and tight end, meaning at times it wasn't even clear to scouts who they were watching on tape due to in-game number changes. Watching 2015 Ole Miss game tape, Dodds, who knew Liggins as a tight end who wore No. 15, was impressed with No. 66 at right tackle, even though he didn't realize at the time that No. 66 was Liggins. There wasn't much to go off of, but it was enough to cause Dodds and southeast area scout Jim Nagy to do a bit more work on Liggins. 
"He's just a (expletive) athlete," Dodds said of Liggins, who is expected to sign as an undrafted free agent, though to play defensive line, not offense. 
ACME Oyster House, Baton Rouge
One thing you quickly discover on a trip like this is that it's important to be flexible — and to book hotel reservations you can cancel on short notice. Dodds' original itinerary had him heading from Oxford to Hattiesburg for Tuesday's pro day at Southern Mississippi. But on Sunday night, Dodds received word that Southern Miss had changed the schedule, moving what was to be a Tuesday morning workout to an afternoon session, meaning Dodds' arrival in Baton Rouge that night would be delayed. This was a problem because Dodds had a dinner set up with a couple of LSU players Tuesday night, a dinner he wasn't going to make if he was in Hattiesburg into the evening, and a dinner he decided was more valuable than Southern Miss' pro day, especially since southeast area scout Jim Nagy was able to hit Southern Miss. So Southern Miss would have to be skipped this year, and instead Dodds reached out to one of his contacts in Baton Rouge to schedule a dinner for Monday night. After a five-plus hour drive from Oxford to Baton Rouge—on his 37th birthday, no less—Dodds was sharing grilled oysters with two members of the Tigers' athletic department, talking about the upcoming LSU pro day while the NCAA men's basketball national championship game played in the background.
At one point in the conversation, Dodds' LSU contact asked if he wants a list of what drills each player would participate in on Wednesday. That list, which arrived Tuesday morning, included a name that had not been on earlier Pro Day lists: Cyril Grayson. With a day to work at his hotel in Baton Rouge, Dodds did some quick homework on Grayson and came away intrigued enough to make a call to the league office to inquire about Grayson's draft eligibility. What Dodds learned, something a lot of teams didn't figure out until it was too late, was that the combination of Grayson being a fifth-year senior and someone who never played college football meant that he was a free agent who could sign with any team immediately.
Dodds called Grayson and invited him to the dinner at Roux 61 that had already been scheduled with a couple of other LSU players. Coincidentally, Grayson was already planning on eating at the popular Baton Rouge seafood spot before that call, but now he had to ditch his friends.
Roux 61, Baton Rouge
Grayson and two other LSU players joined Dodds for a dinner the night before their pro day. One player mentioned that he had to eat light before such an important day, but Grayson, who weighed in at only 178 pounds the next morning, wasn't opposed to eating a bit more and possibly packing on an extra pound or two, enjoyed some grilled oysters (yes, this is a popular dish down there), wings, and an entree called the Delta Queen, which is blackened redfish and shrimp served over pasta.
"(Dodds) calling me definitely threw me for a loop," Grayson would say later after signing with the Seahawks. "Right before, I had just told my guys that we should go to Roux 61 for dinner. Then probably five minutes after that, I got the call, he asked me all the background questions, then I got off the phone and it was like, 'Wow, I just got off the phone with a scout from the Seahawks.'… We had good conversations at the table. It was just kind of chill and relaxed."
Dinners like that one, in Dodds' opinion, are more valuable late in the draft process than a meeting with a top prospect. The Seahawks ended up picking LSU's Ethan Pocic in the second round of the 2017 draft, and Dodds obviously knew there was a lot of interest in Pocic within the organization, but he and co-director of player personnel Scott Fitterer had already done plenty of homework on the offensive lineman. Instead, this was a chance to meet with possible undrafted free agents who, given the chance to sign with multiple teams, might remember the night that a representative of the Seahawks took them to dinner. Spring pro days and meetings are also just as important for Dodds to help the Seahawks learn more about players on whom less work had been done up to that point.
"I think the biggest thing is the later-round types who weren't invited to the combine, this is their first time to run and get a verified speed, which is always important," Dodds said. "A lot of times it's also the first time we can talk to those guys. The other kids who were at the Senior Bowl and the combine, there's not as big of an issue… A lot of teams will schedule dinners and interviews with the more marquee names, and to me, that's kind of a waste of your time, because you've had time with them, you're not recruiting them — they're getting drafted. The guys we're having dinner with are potential later-round or free agents, so if they do slip through, now they might remember, 'This guy was talking to me, he took me to dinner.'"
The Governor Of Louisiana
Once again, scouts began arriving well before sunrise, while across the street, Tiger Stadium's lights turned the pre-dawn sky a bright shade of yellow. Inside LSU's indoor football facility, Tigers coach Ed Orgeron greeted the early arrivals with his unmistakable deep, gravelly voice.
"Anything you guys need, don't hesitate to ask," Orgeron said.
Now that things have moved across state lines Dodds was the one taking the lead organizing the day's drills, though Mingey was still involved as well. Anywhere you walk within LSU's football facilities, people seemed to know Dodds, who has been scouting this area for more than a decade. Dodds gathered the players who would be participating in the pro day in a lounge next to LSU's locker room, going over the schedule for the day. Scouts went over the list with players to confirm who would be doing what drills, a few scouts jokingly — or maybe not entirely jokingly — giving Leonard Fournette, the eventual No. 4 overall pick, a hard time about what he wasn't taking part in that day.
While Ole Miss, another SEC school, had a pretty big turnout two days earlier, LSU's pro day was still at another level. Several NFL head coaches and general managers worked among the scouts as they watched a large group of LSU players, eight of whom would get drafted four weeks later, three of them in the first round.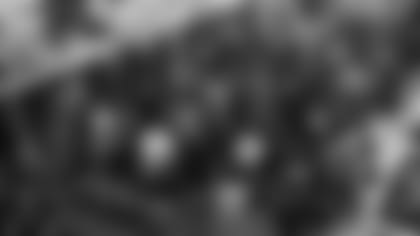 A few minutes later, LSU's weight room was packed, not just with players and scouts, but with media, other student-athletes who were there to support their friends, and a large athletic department staff that helped facilitate the day's activities. Knowing a long day was still ahead of them, the scouts were ready to get going a little bit ahead of the 9 a.m. start time, but this is big time college football in the south, and the SEC Network wasn't ready yet, so everyone stood around and waited so as to make sure that fans had their chance to watch football players jump, lift and get measured on live TV. 
When things moved onto the field, all eyes were on the 40-yard dash. Safety Jamal Adams, who ran a disappointing 4.56-second 40-yard dash at the combine, ran a blazing 40 that most scouts timed in the 4.3s, helping secure his status as a top pick—he would eventually be drafted sixth overall by the Jets.
Midway through the list of participants, Grayson came to the line, and a few scouts seemed unsure about who this mystery late-entry was. Forty-yards later, however, Grayson had everyone's attention, running a 40 that was officially listed as 4.33, though some scouts had him in the 4.2s.
"He looked even faster than his time," Dodds said, noting how effortless Grayson made that blazing time look.
But anyone who took the time to do a quick internet search on Grayson would have probably expected a fast 40 time. What was really going to make a difference for him was his workout with fellow LSU receivers. And when Grayson took the field, he did not look at all like someone who hadn't played football since high school. He ran crisp routes and caught everything thrown to him by former LSU and NFL quarterback Matt Flynn. Before the workout was even finished, Dodds quietly said, "We gotta get that kid on a flight tomorrow." It wasn't just that Grayson looked good as a receiver, but also that Dodds knew that Grayson, who at that point didn't have an agent, had not been training at one of the top facilities that help athletes prepare for pre-draft workouts such as EXOS or IMG.
"He didn't look out of place in workouts, he caught everything, and he had no agent, he's obviously doing this on his own," Dodds said. "It shows he's a self-starter."
The workout was still going, but Dodds had seen enough. Cell phone reception was terrible inside LSU's indoor facility, so Dodds headed outside to try to reach John Schneider. By the time Grayson's workout had ended, team travel coordinator Jeremy Young was already working on a flight, and by the time Grayson got home later that afternoon, he had an itinerary in his email inbox for a flight to Seattle the next afternoon. Dodds showing interest in Grayson early, and thinking to invite him to dinner despite having no idea what he would see the next day, was a big factor in Grayson signing with Seattle so quickly.
"It played a big part in my decision," said Grayson, who had to find an agent in the short time between his pro day and signing with Seattle. "Ed, he called me before the pro day, then after that, he talked to me at the pro day, he continually talked to me, then he got me on a flight, and that's what he said he would do. Once I got here, it was up in the air what I wanted to do. I kind of thought I didn't want to sign right away, because I wanted to see what the other options were, and my agent looked into those options and seeing what other teams might offer, and it was kind of the same thing."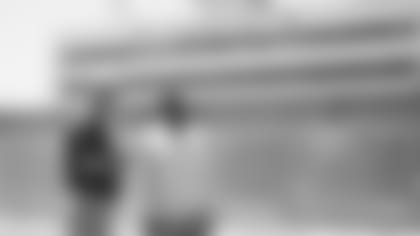 A Gravel Road, Somewhere North Of LSU And Near The Mississippi River
When things wrapped up at LSU, a handful of the scouts who were on hand for the Tigers' pro day head north in Baton Rouge for a very different experience at Southern University, an FCS school that had only seven players taking part in the workout. First, however, Dodds takes a bit of an unplanned detour thanks to the "piece of (expletive)" GPS system in his rental car. A couple of U-turns and two trips across the Mississippi later, Dodds is in the parking lot at A.W. Mumford Stadium.
Not long after his arrival, Dodds received bad news. The D.J. who had helped liven up past pro days at Southern had graduated and moved back to Florida. So popular was this D.J.'s past performance — even if a traditionalist like Mingey didn't love it — Dodds and other scouts took up a collection at LSU and Ole Miss to make sure they could hire him.
Southern's weight room is closer to what you'd find at a high school than it is to the facilities at LSU or Ole Miss, but the scouts made do, finding space for a broad jump and vertical before moving outside for the rest of the workouts. Because this pro day took place outdoors and there was a pretty strong afternoon breeze, the 40-yard dash had to be run in both directions to account for wind.
Off to the side of the field, head equipment manager Derek Price, or Coach Price to everyone who knows him, held court with any scout who came by. Price, who played at Southern, began coaching there in the early 1980s and seemed to know everyone who walked onto the field where he once saw Mississippi Valley State's Jerry Rice set an NCAA record by catching 24 passes in a game. Price, who helped recruit Seahawks Pro-Bowl linebacker Rufus Porter to Southern, can tell you anything you need to know about Southern's history or the Jaguars' current players.
This particular pro day proves rather unfruitful from a scouting perspective, but it was still worth the time — and the U-turns — because as Dodds has learned that in this business, you just never know what you might discover. In his current role as senior personnel executive, Dodds splits his time between evaluating college and pro personnel and spends a lot more time in Seattle than he used to, and he could easily decide a trip to a school like Southern wasn't worth the effort, but there's a reason he still makes this trip every year despite two promotions since he was an area scout.
"I asked to keep Louisiana as a primary, just because I still want to feel like I can come in and a discover a player who wasn't on any list at LSU, or a player at Louisiana College or Nicholls State or Southern, I still want to feel like, 'OK, I can go find somebody,'" Dodds said. "Because in my role now, a lot of times I'm only going to big schools and everybody else has been in there. I like the area, I did this area as an area guy for nine years, so I know everybody. You have friends down here, you have friends at every school."
When Southern's workout ends, some scouts headed back into town for dinner in Baton Rouge, while others went west to Lafayette. The latter group included Dodds, who had a dinner scheduled. After all, he's "going to find somebody at every (expletive) place."
Behind-the-scenes photos from Seahawks senior personnel executive Ed Dodds' scouting journey through college football's Southeast region, an annual trip Dodds and fellow NFL scouts have dubbed, 'The Louisiana Hayride.'