Inside a hotel room on the ground floor of the Crowne Plaza Hotel in downtown Indianapolis, Seahawks scouts and coaches shoot quick glances at each other that seem to say, "I can't be the only one noticing that noise, right?"
The college football player sitting at a table surrounded by Seahawks decision makers is confident when he answers questions, but his hands—and that sound—betray his otherwise poised demeanor. Facing what is the NFL's version of a job interview and speed dating all rolled into one, this particular prospect has developed a nervous habit, very loudly crushing an empty plastic water bottle with his hands.
Finally, Seahawks senior personnel executive Ed Dodds springs up from his seat on a couch and takes the bottle away. The interview resumes after an embarrassed chuckle and apology from one of more than a dozen prospects the Seahawks will interview on this night.
These formal interviews, which will go on for roughly three hours, are one of the most important parts of the NFL Scouting Combine, but they're just one part of a process that on this day began 12 hours earlier.
JW Marriott Lobby, 8:15 a.m.
These are important times for NFL talent evaluators, but their day starts off about mundanely as anyone else's, in a Starbucks line in the lobby of the downtown JW Marriott. This line just happens to be full of scouts, assistant coaches, team doctors and other influential NFL people. After Scott Fitterer gets his coffee, he and fellow co-director of player personnel Trent Kirchner meet a larger Seahawks contingent, which includes head coach Pete Carroll, for a ride to Lucas Oil Stadium where the real work begins.
Lucas Oil Stadium, 8:30 a.m.
As players warm up on the field, suites at Lucas Oil Stadium begin filling up with representatives of every NFL team. In the Seahawks' suite, Carroll fires up all three TVs while Kirchner and college scouting coordinator Kirk Parrish set up something of a mobile command center next to the head coach. General manager John Schneider keeps the mood light, as he is wont to do, mixing in sophomoric humor with, well, sophomoric humor.
After Carroll turns his back on the three TVs—two screens featuring combine coverage and one tuned into CNN—Kirchner flashes the mischievous grin of a child who knows he's about to do something he shouldn't. Picking up the remote Carroll just left on a chair in the middle of the room, Kirchner changes the channel of one TV to Fox News, so now CNN and Fox News are on neighboring TVs, the NFL Network remaining on the third.
"Just trying to be fair and balanced," Kirchner jokes, referencing the cable news network's slogan. Carroll eventually notices and reacts with mild amusement. Or maybe it's annoyance, but either way he can't help but laugh.
As 9 a.m. and the start of on-field workouts approaches, the Seahawks' suite continues to fill up with coaches and scouts. Receivers coach Dave Canales points out that his position group won't be on the field today, but jokes that he's still there anyway because of the free food.
Before things get going, a contingent of scouts makes their way to the other side of the stadium and into the bleachers where they'll time the 40-yard dash. Teams place scouts on the 10, 20 and 40-yard lines to record times. At the 40, Fitterer, Dodds and director of college scouting Matt Berry all sit with stopwatches in hand, while Berry is also on the phone to relay their times up to Parrish, who will record them on his computer in the suite.
This is important work, but it can also get a little mundane, which is why they find ways to have a little bit of fun with it.
When a player false starts, everyone holds up their stopwatch to see who was quickest to start then stop their clock. When Dodds "wins" on a false start, he talks some trash to his co-workers and tells Berry to make sure he radios the news up to the suite. The scouts also each make a pick of who will run the fastest in this position group, and this morning Berry gets to celebrate when TCU's Aviante Collins runs the fastest time among offensive linemen. It's also considered a small victory when all three stopwatches, which rarely differ by more than a couple hundredths of a second, all record the exact same time.
"We've got to pass the time," Berry says.
And if you're curious why so much effort goes into timing 40 times at the combine when there will eventually be an "official" time provided, it's because the Seahawks use those handheld times as their official times when it comes to the draft evaluation process, assuring that these times will offer a consistent comparison to the handheld times recorded at on-campus Pro Days where electronic timing might not be available.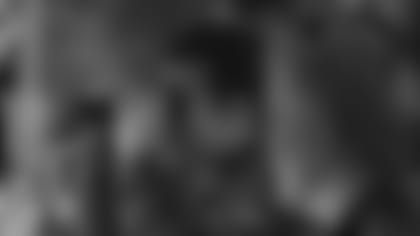 Back in the suite after O-line workouts, it's midday now and lunch is being served. Carroll is multitasking—of course he is—watching college tape of an offensive lineman on a tablet while also glancing down to the field, then back up at the TV in front of him that is tuned into the NFL Network. He floats around the room, consulting with everyone from offensive line coach Tom Cable to Kirchner to Parrish to various area scouts to his two sons, assistant offensive line coach Brennan Carroll and assistant wide receivers coach Nate Carroll.
Between workouts, Schneider and Carroll check out Saturday Night Live clips on Carroll's laptop.
When a prospect posts a workout number that's something of an outlier, Kirchner is able to, in a matter of seconds, pull up a spreadsheet to show Carroll how players who posted a similar number have performed in the NFL. As much as player evaluation depends on having an eye for talent, this operation also requires a lot of technology, which is evident in the laptops and tablets scattered throughout a suite that doesn't have quite enough outlets to go around.
As running backs prepare for their chance to run the 40, recently-promoted running backs coach Chad Morton doesn't bother trying to contain his excitement. "Let's go!" he shouts, clapping his hands while pacing around the suite. "I even get excited to watch them warm up."
On the field, meanwhile, other scouts are busy helping organize the drills. National scout Josh Graff measures the broad jump, while midlands area scout Aaron Hineline serves as a group leader, making sure players get to where they are supposed to be. It's a job that not only helps keep things moving along efficiently, but also gives him a chance to get a better feel for the players as he spends time with them throughout the day.
When the running backs finish their 40s, Berry radios up to the suite for a final time, and keeping with the theme of the news during this week, announces "I recuse myself from this phone call" before hanging up.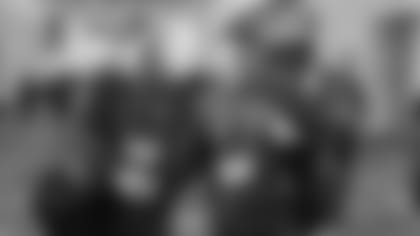 Indiana Convention Center, 3 p.m.
When running backs finish their workouts, there's a mass-exodus of coaches and scouts who walk out of the stadium and through the Indianapolis Convention Center on their way back to various downtown hotels or restaurants. Friends and acquaintances who have crossed paths over years of scouting on the road take a brief moment to catch up. Fitterer runs into Buffalo Bills national scout Chuck Cook and the two enjoy a short conversation, which includes Cook reminiscing about his day in Kansas City working with a young John Schneider. 
As busy as things are at the combine, this is the beginning of the one break in the day. If anyone wants to get in a workout or go to dinner, now's the time, because a long night of work still lies ahead.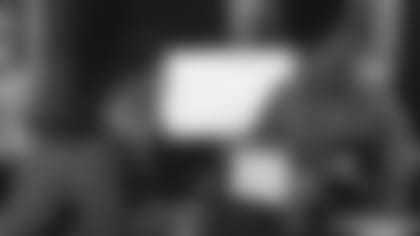 Crowne Plaza Hotel, 7 p.m.
Across the street from Lucas Oil Stadium is the Crowne Plaza, the well-guarded hotel where some of the most important meetings of the Combine will take place. In 15-minute increments, players will rotate through hotel rooms, one team next to another next to another throughout the first floor, going through the rapid-fire formal interviews that are a vital piece of the player-evaluation puzzle.
Just before Seattle's first interview at 7:15, the room fills up with scouts and coaches. Schneider, Carroll, Fitterer, Kirchner and most of the scouts stay in the room the entire time, while assistant coaches come and go depending on the particular player in the room. In any given interview, there are between a dozen and 16 people in the room, a group that, in addition to coaches and scouts, also includes Maurice Kelly, the team's vice president of player engagement, and Dr. Michael Gervais, a high performance psychologist who works closely with Carroll and the Seahawks. From the back of what is a standard hotel room, minus the bed being replaced by a round table, video assistant Drew Scharenbroch films every interview so the Seahawks can go back and revisit their 15 minutes with any of the potential draft picks who come through the door each night.
When one player's time is up, an air horn goes off in the lobby, and with that, he and a few coaches leave, while at the same time a new player enters the room with coaches who weren't in the last interview.
In a short span of time, coaches and scouts fire off questions, trying to cover everything from that player's upbringing to his knowledge of an offense or defense. Some interviews include players going over their college tape, both good and bad—one offensive player is asked what went wrong on a fumble—while others have position coaches grill them on technique.
When one player talks about leadership, Carroll decides to roll play, saying he's a freshman new to the team and asking what kind of advice that senior leader would offer. Another time, recently-hired defensive line coach Clint Hurtt wants to know how a player will use his hands to beat a block. When another player admits to letting an opponent get under his skin in a game, leading to a 15-yard penalty, defensive coordinator Kris Richard pushes him, wanting to make sure on-field discipline won't be an issue if that player were to end up in Seattle. Oh, and if you happened to have played high school basketball, there's a good chance that Carroll, a hoops junkie, wants to hear about your basketball career.
Depending on the player, different coaches or scouts are leading the conversation, but everyone is paying close attention, scribbling down notes and exchanging whispered observations until, once again, another horn sounds and it's time for another interview. More than 12 hours into the day, the Seahawks are less than halfway finished with their interviews for the night. Eventually there will be time for a late bite to eat and perhaps a couple drinks, but right now, five interviews into the night, as Kirchner puts it, "The fun is just getting started."
Spend a day operating behind-the-scenes with Seahawks general manager John Schneider and head coach Pete Carroll at the 2017 NFL Combine in Indianapolis, Indiana, where professional football's top prospects worked out and interviewed for the League's 32 teams.